What To Do On Election Day If Your ID Is From A State You Don't Live In Anymore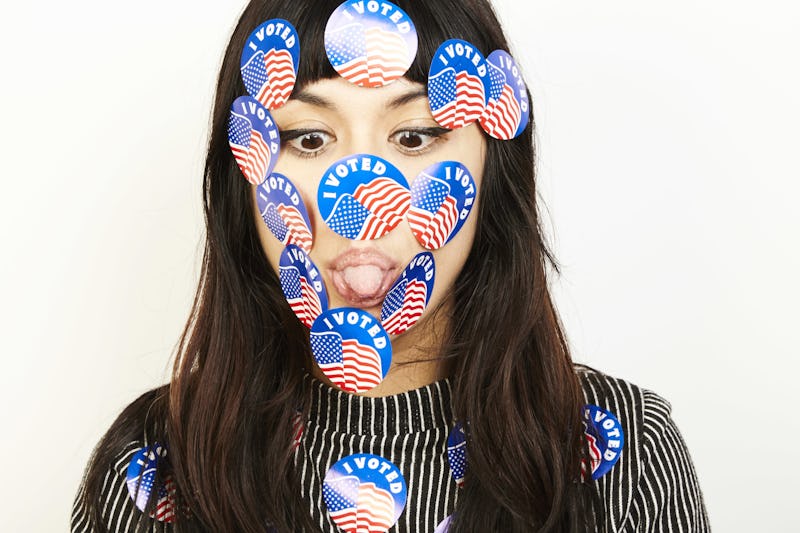 Hannah Burton/Bustle
When you move — whether you're relocating for a new job, going to college out of state, or just looking for a fresh start — the last thing you want to do is spend hours at the DMV getting all your new documents in order. But if you want to vote and your ID is from a different state, things could get a little hairy.
Whether you need to have an ID issued by the state you want to vote in depends on the requirements in the state where you currently reside. In Colorado and Ohio, for example, you can't vote with an out-of-state ID unless you present proof that you live at the address where you're registered, such as a utility bill, paycheck, or bank statement. In Georgia, you must have a photo ID issued either by the state of Georgia or the federal government in order to cast a ballot. There are also 19 states where you don't have to show any ID to vote, including California, Iowa, Nebraska, and New York.
Regardless of what state you reside in, you may need additional ID to vote if it's your first time. Your best bet is to check ID requirements in your state well in advance of heading to the polls.
Hey, what do I do if I'm out of town on Election Day?
OK, let's say you're from Colorado and you're in New Mexico on vacation Nov. 6. You cannot vote in New Mexico. You don't live there. But you may still be able to vote in Colorado if you vote absentee (aka by mail).
All states offer absentee voting, where your local election office mails you a ballot, and you fill it out, and then mail it back. In 27 states and Washington, D.C., you can request an absentee ballot for any reason. In some other states, however, you have to provide a valid excuse for why you'll be unable to vote in person on Election Day. Those valid reasons for voting absentee include vacation, illness, disability, a work shift, military duty, or if you're volunteering at the polls. Some states require you to send in a photocopy of your ID, and others don't. You can see all of the state rules for voting absentee at Vote.org.
OK, so how do I get an absentee ballot?
The first thing you need to do is request one. You can find applications through your local elections office's website. You can also use an online tool, like this one at Vote.org, to prepare your application. Once you're done filling it in, return your completed application to your local election office by mail or hand-deliver it by the deadline.
When is my absentee ballot due?
By now, you know the drill: It depends on where you're voting and how you're turning it in. For example, in Idaho, if you deliver your absentee ballot in person, you have to do so by 5 p.m. on the Friday before Election Day. If you're mailing it in, however, your ballot just has to arrive by 8 p.m. on Election Day. Check out the deadlines specific to your state at Vote.org.
And yes, you can still get a sticker if you vote absentee.
When are absentee ballots counted?
Voters mail in absentee ballots from all over the world, so your ballot sent from just a few states over will eventually be counted alongside ballots from overseas. Absentee ballots are often counted for days after election night, even though pundits start to predict the race's outcome moments after the polls close.
So, tell me straight-up, are absentee ballots really counted?
There's a common misconception that absentee ballots aren't counted at all, or that they're only counted if the race is close. Not so! Absentee ballots are always counted, but because many elections have a clear winner soon after the polls close, the result of a race is often announced before all the votes are tallied up.
That all sounds like a lot of work. Should I bother voting absentee?
You're right: Casting an absentee ballot involves a few more steps, and a lot more mastery of deadlines, than going to the polls in person. But your absentee vote counts just as much as a ballot you cast in person. All the reasons you go to the polls on Election Day — whether it's to do your civic duty, support a particular candidate or policy, vote for a ballot measure, or just to get one of those nifty stickers — are equally good reasons to vote absentee. And yes, you can still get a sticker if you vote absentee.
While most elections aren't overturned by the absentee vote, some have been. In 2014, the Alaska governor's race was too close to call on election night until absentee ballots were counted, making them key to the election results. Earlier this year, in another race that was too close to call without counting absentee ballots, Democrat Conor Lamb won a seat in the House of Representatives in a special election.
Just because you cast your vote early and it gets counted later doesn't mean it doesn't, you know, count.