Can Men Attend The Women's March On Washington?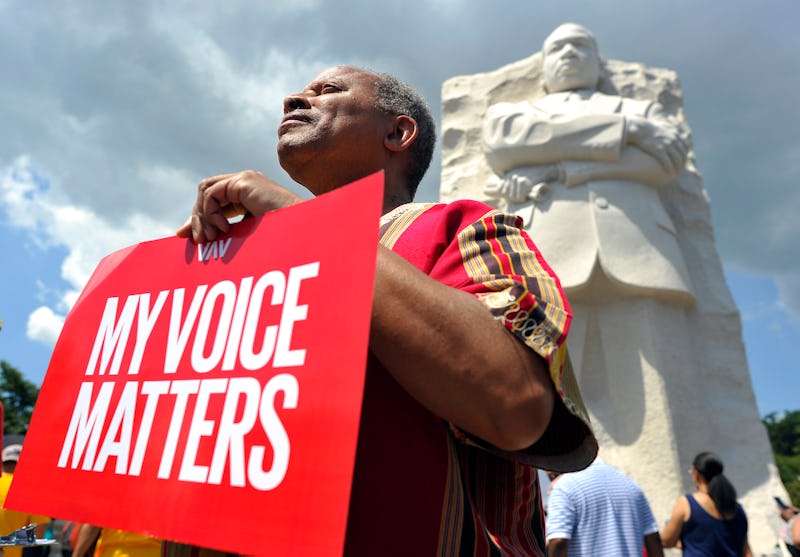 JEWEL SAMAD/AFP/Getty Images
Of course the Women's March, which is set to be held the day after Donald Trump's inauguration, is a big deal. There are 200,000 people set to march in Washington, D.C. on Jan. 21, and that's before the hundreds of thousands more participating in sister marches in 42 states and 20 countries around the world. But is this large number of marchers just women? Can men attend the women's march on Washington as well?
Um, yes please, that would actually be super helpful. Here's why.
Marches are being hosted around the world in order to fight for equal rights for women — and it's very necessary to have men join. Men would not only be fighting for what is right for their mothers, their wives, and their daughters… but they would also be fighting for the other women in their lives: their co-workers, their local townspeople, and much more. Men and women walking alongside each other shows the nation, and the world, that together people are fighting for what is right.
Second, this march is going to be huge. No post-inauguration march has ever hit such a high number, nor ever seen such worldwide support. According to Vox, turns out that one of the biggest marches came after the inauguration of Richard Nixon in 1973, in which 60,000 people marched in D.C. Thousands also marched against George W. Bush's inauguration in 2001, but none of those numbers come anywhere close to the amount of people set to march in D.C. on Jan. 21, 2017. This post-inauguration march is a huge deal — and men need to be a part of it. Of course, people have taken to Twitter to express those feelings.