Can Trump Reverse The Chelsea Manning Decision?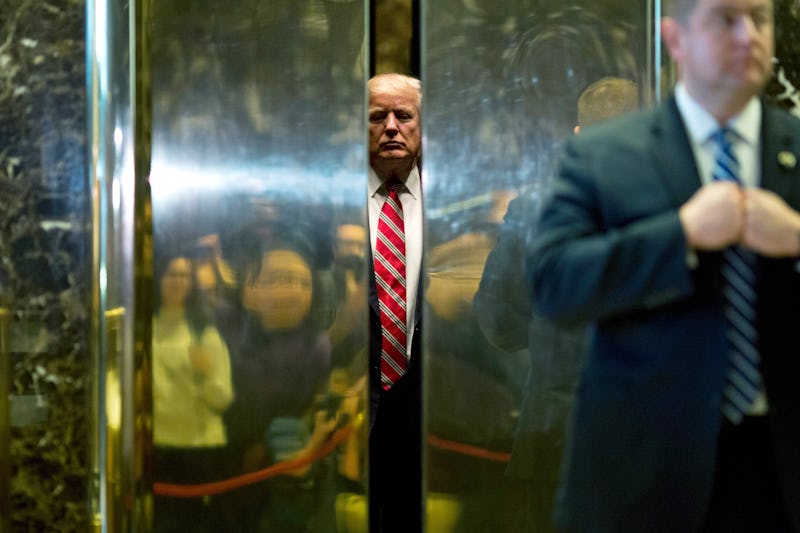 DOMINICK REUTER/AFP/Getty Images
On Tuesday, in a stunning 180 in the days before Donald Trump's inauguration, President Obama commuted Chelsea Manning's prison sentence. There's one question on everybody's mind: Can Trump reverse Obama's decision to commute Manning? The president-elect will have to decide whether to fight the commutation or allow Manning to walk free in May. Manning had been sentenced to prison until 2045, and is now set to be released in May of this year.
Trump and his incoming administration do not look kindly upon either Manning or transgender individuals in the army — a demographic of which Manning was a member. Last year, the Army began the process of no longer discharging soldiers who came out as transgender. Instead, the army agreed to provide resources and gender dysphoria treatment for transgender individuals in the future.
Trump mocked this policy in October, saying at a veterans' event campaign stop:
We have a politically correct military, and it's getting more and more politically correct every day. And a lot of the great people in this room don't even understand how it's possible to do that. And that's through intelligence, not through ignorance — believe me — because some of the things that they're asking you to do and be politically correct about are ridiculous ... We'd get our military people to come back and make recommendations to me, and I will follow those recommendations. I will follow them very strongly.
Meanwhile, Donald Trump's nominee for deputy security advisor has spoken out against Manning personally in the past. In 2010, KT McFarland wrote in a Fox News commentary piece:
We've had accused WikiLeaks leaker Army Specialist Pvt. Bradley Manning in custody since July. He's been charged with transferring classified data and "delivering national defense information to an unauthorized source." It's time to up the charges. Let's charge him and try him for treason. If he's found guilty, he should be executed.
At the time, Manning had not come out as transgender, and had not requested to be referred to using feminine pronouns; she did this in 2013.
It's unclear whether Trump will choose to fight Manning's commutation. What is clear is that Manning and her supporters feared that, without a commutation from Obama personally, Manning's chances of a commutation prior to 2045 were slim. Manning had tried to commit suicide twice behind bars, both occasions within the last year.
The Constitution grants Obama the right to make such a decision. The Constitution provides that the president "shall have power to grant reprieves and pardons for offenses against the United States, except in cases of impeachment." However, a pardon can be reversed — in 2008, George W. Bush rescinded a pardon for real estate developer Isaac Robert Toussie, one day after the pardon was given.
According to The Marshall Project, a nonprofit that works on issues relating to America's justice system, it would be difficult for Trump to reverse commutations made by Obama as president. However, executive orders are a different matter: Trump has pledged to reverse Obama's 200-plus executive orders once president.