'Queer Eye's Jonathan Still Does Hair — Here's How To Score An Appointment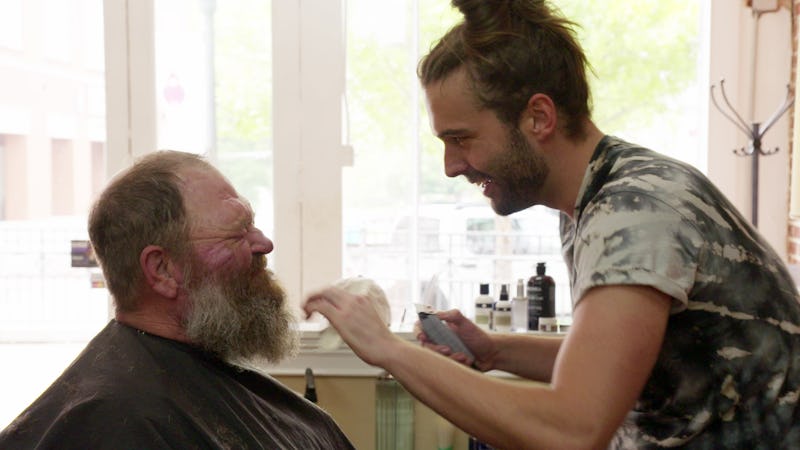 NETFLIX
Netflix's new Queer Eye reboot perfectly balances touching moments and light humor, as the Fab Five perform a multifaceted makeover of a new man's life each episode. Jonathan Van Ness of Queer Eye is in charge of grooming, and he takes each makeover subject to the next level of self-care with his arsenal of products. Jonathan's ease in front of the camera and quick wit are not coincidental. His other work prepared him for the show, but the hairstylist hasn't given up his chair. So, can you get your hair cut by Queer Eye's Jonathan?
According to his Twitter bio, Jonathan still works as a hairstylist at MojoHair in Los Angeles and Arte Salon in New York. (His personal website states that he co-owns Mojo with his business partner, Monique Northrop.) Despite his newfound television success, he continues to pursue his first passion. On Queer Eye he often cuts the makeover client's hair — and facial hair — himself, showcasing both his skills and personality. Per his bio, Jonathan's work has been shown up in print magazines as well as on Hollywood red carpets.
And since he's still very much in business, you can get a Jonathan cut and/or color of your very own. His personal website includes contact information for making an appointment in either New York or Los Angeles, though it's very possible that he'll be in even more demand than usual after fans marathon his entire Queer Eye run.
But don't have to make a pampering appointment to see more of Jonathan. Before becoming part of the new Fab Five, he hosted a hilarious Game Of Thrones comedic commentary series called Gay Of Thrones for the humor website Funny or Die. The parody series ran from 2013 to 2017, and featured Jonathan and a celebrity guest walking through each Game of Thrones episode and providing their own snarky commentary. Some of the guests included comedian Maria Bamford, writer Bryan Safi, and actor Amanda Seales.
Jonathan went on MSNBC's show So Popular! to discuss Gay Of Thrones with host Janet Mock. And it turns out that the origins of the web series bring together his two most prominent talents: styling and comedy. And one of his clients was heavily involved. Jonathan said:
"I was working with Erin Gibson, who's an amazing director at Funny Or Die. I've been doing her hair for a couple of years now and I was talking about Game Of Thrones. And when I came out of the fugue state of the recap, she's like, you gotta do that for Funny Or Die. And that's how it was born."
And basically, Jonathan recreated that exact set-up over and over again for the show. He told Mock that recapping Game Of Thrones for an online audience awakened a passion for performing that he didn't realize he'd had. "I was always very happy being behind the camera," he said. "Just wanted to do some hair, have some fun. It's new now but it's really fun... I love to work. I've always been a worker bee."
Van Ness may have been new to in front of the camera then, but he is certainly building up quite the media resume now. Aside from his TV, web series, and hairstyling work, he also has a podcast. Getting Curious, according to his website, was inspired by Jonathan's "ravenous curiosity for learning new stuff." In each episode, he invites an expert to school him in a new topic, ranging from historical events to hot political issues. You can subscribe for a new episode every two weeks and get informed along with your favorite GOT-loving stylist.
Jonathan is an artist who has built a very specific platform by showcasing his comedic skills, his expertise, and his passion for expanding his own horizons.