Twitter Is Crying Over Cardi B & Nicki Minaj's New Collab — And It's Not Because Of The Lyrics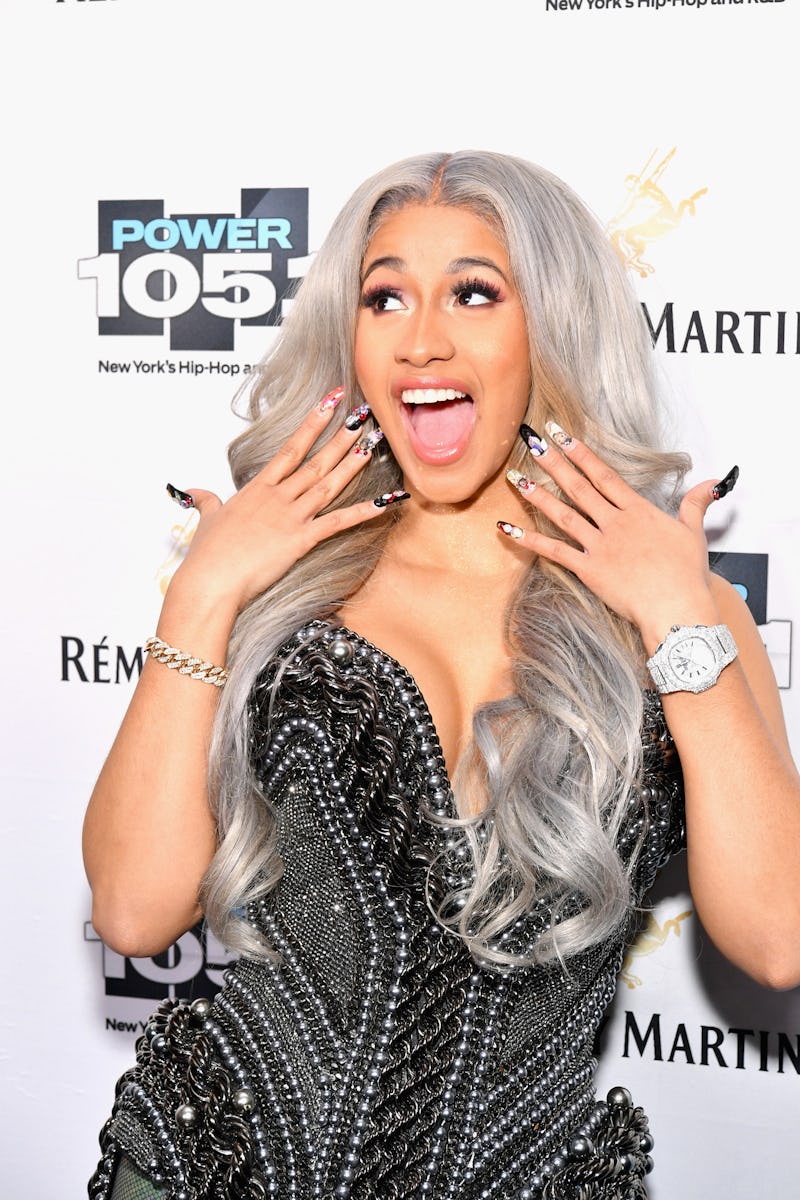 Dia Dipasupil/Getty Images Entertainment/Getty Images
It's a partnership in hip-hop that fans probably thought they'd never see: Cardi B and Nicki Minaj on the same song — without a glimpse of animosity in sight. Amid rumors that there was a beef brewing between the two, the female forces recently paired up with Migos on a single that has listeners going completely insane over its lyrical content. However, Cardi B and Nicki Minaj's "MotorSport" collaboration also seems to be causing a buzz for another majorly empowering reason — unity amongst female rappers.
Throughout the years, fans of hip-hop have become all too familiar with the disparaging deficiency of women within the rap genre. And to make matters even worse, the history of female unity in hip-hop, with a few exceptions, has long been documented by discord and infighting among those who risen to the top of the largely male-dominated industry.
As Nicki Minaj continues to, arguably, hold the crown as the top female rapper in the industry, it's worth noting that there really hasn't been anyone to come close to the accomplishments she's achieved over the past decade. With that said, however, it seems that 2017 has officially become the year of Cardi B within the rap world. As the new "it girl" of hip-hop, Cardi's infectious lyrical delivery and undeniable quality of likability quickly turned her into fan favorite. Following a stint on VH1's Love & Hip Hop, the popularity of Cardi's debut single "Bodak Yellow" boosted her into mainstream attention as she became the first solo female rapper to top the Billboard Hot 100 Chart since Ms. Lauryn Hill, a feat that took more than 19 years to conquer.
Given the history of hip-hop and its sometimes bravado nature, plenty of people assumed that Cardi's achievements would somehow become a point of contention for the two women as chatter began to surface about their rumored bad blood. However, "MotorSport," the first single from Migos' forthcoming album Culture II, entered the scene on Friday, Oct. 27 to prove just the opposite.
And it seems that fans couldn't be any happier about seeing two of their faves share the spotlight. Some of the fan reactions to the alliance between these feminine forces are simply priceless.
1. Trending Topic
One user hopes that the unity amongst women in rap becomes a trend.
2. Monumental Moment
Meanwhile, another person pointed out that this is a "great moment" for women in hip-hop.
3. Told Ya So
This fan was happy to rub the good news about Cardi and Nicki's alliance in the faces of naysayers.
4. Record-Breaking
Keeping finger crossed that Cardi B and Nicki Minaj will decide to drop an entire album together, this Twitter fan thinks that a full collab would be record-breaking.
5. So Emotional
Another fan used a meme to describe the feeling when they heard each rapper's verse on the track.
6. Too Cool For School
This fan is working hard to learn both Cardi and Nicki's lyrics ASAP.
7. In Sync
One social media user envisioned how the ladies were when they recorded the song together.
8. Snatched
Someone said their hair was completely blown away by the lyrical display from Cardi and Nicki.
9. For The Culture
This fan was in total disbelief, but seemed proud to see the two female emcees come together for the culture of rap.
10. Standing Ovation
One person had to give the collaboration a round of applause, using a meme to convey their feelings of elation.
11. Duet Dreams
This Twitter fan imagined a world where there was only Cardi and Nicki.
12. Pure Excitement
This meme explained it all for one fan of the merger between rappers.
13. Women Rule
This user shared the notion that the women were the highlight of the entire song.
14. What Else Did You Expect?
Meanwhile, this fan pointed out that it was always expected that Cardi and Nicki would be the best rappers on the track.
15. Too Much To Handle At Once
Another commenter used a meme to express excitement over the lyrical punchlines from the ladies.
The new song from Migos, Cardi B and Nicki Minaj certainly proves that there is room for more than one woman at the top of the rap game. If female rappers continue to unite, support, and empower one another in this way, it's quite possible that women could be ruling the entire hip-hop game in years to come.