Cardi B Revealed Who She's Supporting In The 2020 Democratic Primary RN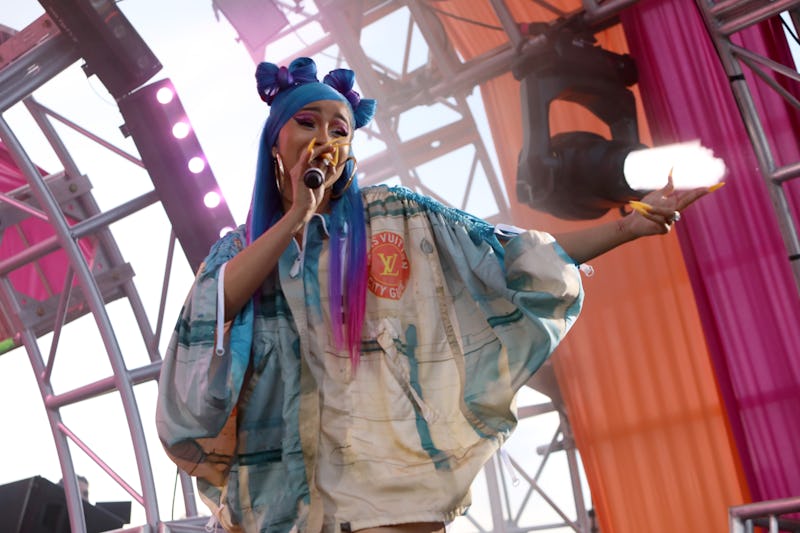 Rachel Murray/Getty Images Entertainment/Getty Images
While Cardi B has long been known for spitting rhymes, the rapper's thoughts on a government shutdown earlier this year has also established her as a rather unique source for political commentary. But Cardi B's no longer discussing the shutdown. Instead, she's looking ahead at the next election. Rapper Cardi B said she supports Bernie Sanders in 2020, telling Variety she would "always go with Bernie," and citing his long history of activism.
"I don't know. You know I'ma always go with Bernie," the Grammy-award winning rapper told Variety in an exclusive interview Friday at Swisher Sweet's 2019Spark Award Party in WeHo. "Because this the thing, right. Bernie don't say things to be cool. Like, there's pictures of him being an activist from a very, very, very long time."
There are indeed a few photos floating around that show Sanders at protests, civil rights marches, and political rallies in the 60s. The Chicago Tribune, for example, has a photo of Sanders, then a University of Chicago student, being carted away from a civil rights demonstration by police in August 1963. Sanders was reportedly arrested and later convicted on charges of resisting arrest, for which he paid $25, the paper reported.
This isn't the first time Cardi B has taken her support for Sanders' presidential ambitions public. In 2016, she was urging fans to vote for "Daddy Bernie" in the 2016 Democratic primary.
What's more, it seems as if Cardi B is on Sanders radar as well. In April 2018, he used some of her talking points from an interview with GQ magazine to expand on his argument for strengthening Social Security. "Cardi B is right," the Vermont senator tweeted. "If we are really going to make America great we need to strengthen Social Security so that seniors are able to retire with the dignity they deserve." He later tweeted a short video of himself sharing a similar message.
While speaking to GQ, Cardi B had admitted her love for Franklin Delano Roosevelt, America's 32nd president. "He's the real 'Make America Great Again,'" she told the magazine, borrowing a slogan made popular by Donald Trump. "Because if it wasn't for him, old people wouldn't even get Social Security." (FDR signed Social Security into law in 1935.)
While speaking to Variety on Friday, however, Cardi B also mentioned having been drawn to parts of the platform of Ohio Rep. Tim Ryan, who recently launched a 2020 bid. "I was watching the news and I saw this guy named Tim Ryan and his speech was very convincing to me," she told the magazine. "He really wants to give the United States free health care, so that's a big plus. We need health care!"
In fact, the rapper may still be a bit undecided about who she'll be voting for in 2020. "I don't know, we'll see," she ultimately ended up telling Variety.
But there's one person Cardi B definitely won't be voting for in 2020— President Trump. "I hate him. I just hate him," the rapper told Variety of the current commander in chief. Okurrr.