Cardi B Wore A $20 Target Dress That You Can Actually Buy Right Now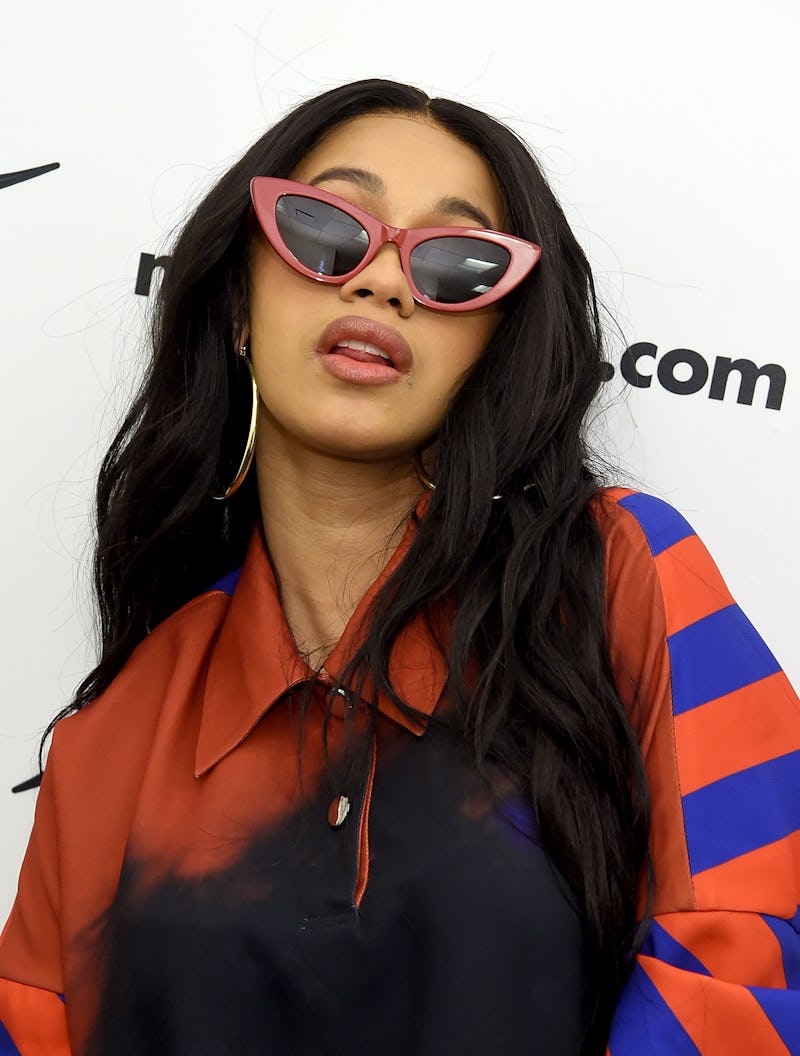 Jamie McCarthy/Getty Images Entertainment/Getty Images
When it comes to celebrity fashion, while the looks are fierce they're not always attainable. Usually clad in designer labels and wrapped in thousand dollar designs, fans can only watch and admire from afar. Which is why when Cardi B wore a $20 Target dress, fashion lovers threw up jazz hands — every now and again A-listers surprise us with a bargain find.
The rapper is renowned for her fashion sense, and she has become something of an icon in the fashion world. She has sat in the coveted spot next to US Vogue's Anna Wintour in New York Fashion Week, walked the Met Gala red carpet on Jeremy Scott's arm, and is constantly seen in Balenciaga, Vetements, and Gucci. While she has officially hit Vogue-like status when it comes to her wardrobe and sense of style, Cardi B keeps it down to earth by constantly pairing her high-end pieces with budget brands. For example, at a listening party for her newest album, Invasion of Privacy, the rapper wore Fashionnova shorts that cost around $33, topped off with an Altuzarra jacket that cost $2600. Relatable.
She continued the trend this week by revealing a new Target find, which — get your wallet ready — is still on sale. Posting a video onto Twitter of her rapping her newest single, "Who Wants the Smoke," Cardi B is shown singing in her house, rocking a floor-length, off-the-shoulder floral dress. It's ruched on top and features a row of buttons going down the middle, allowing you to create a flirty slit around your knees.
Light and breezy, it features a dark peasant print, giving it a bohemian yet prairie vibe. She matched the dress with plum colored fringe earrings and a middle-parted ponytail, giving them simple smock a luxurious feel.
After watching the video some fans — understandably — were curious to see where she got her summer dress, and the answer shocked many. Cardi B responded that it was, indeed, from Target, confirming that the rapper is just as obsessed with with the big box store as the rest of us are.
The dress is from Xhilaration, the young adult Target line, and is on sale for just $20, making it an affordable impulse buy. Knowing that her fans were going to charge into Target to copy the look, followers poked fun at the fact they were all going to own the same dress in the span of a day.
Originally $28, it is now a little over $20 since it hit the clearance rack. Which means you need to hurry if you want to snap up a dress yourself, seeing how sizes are selling out quickly.
The frock comes in two color choices, letting you either copy Cardi B's look or go for a softer, terracotta version with bigger blooms.
Cardi B's dress is the "black" option, which has a small and tight floral print, letting you walk the line between prairie and grunge, depending on how you style it.
You can easily go a bohemian route like Cardi did by pairing it with gladiator sandals, a straw tote, and a voluminous ponytail, or you can play up an edgier aesthetic by matching it with biker boots and dark lipstick.
The "terracotta" option is an orange-ish pink shade, and has a bigger and more sparse floral pattern. This option looks more like your typical summer dress, and has a more feminine flair. It also has more sizes available because it's not the version that Cardi wore!
While it's fun to see the beautiful designer pieces that our favorite celebrities wear, it's even more fun to see them don affordable and attainable fashion finds — mostly because we can follow suite and copy them!