Cardi B & Her Stylist Chose These Two IHeartRadio Outfits To Keep Her Pregnancy Secret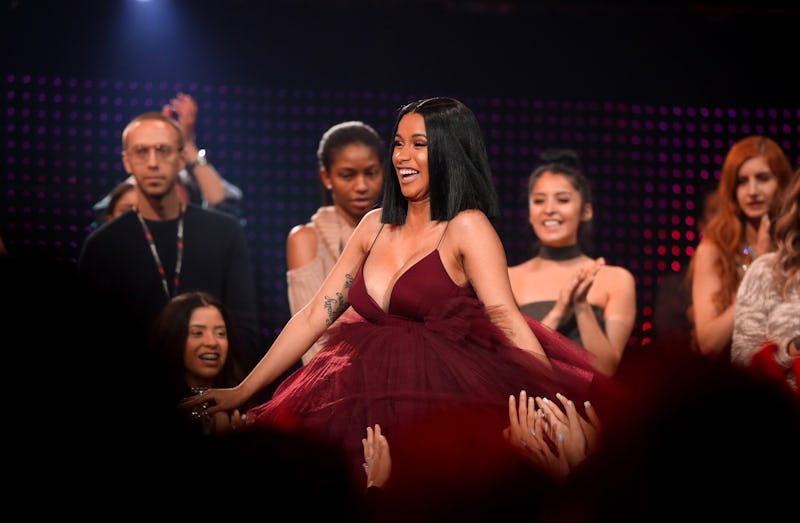 Christopher Polk/Getty Images Entertainment/Getty Images
By now you are probably aware that Cardi B is going to have a little BB with rapper Offset. Though no one knows how long the star has been expecting, one thing was apparent upon seeing the rapper in a tight dress on during Saturday Night Live on April 7: Cardi B hid her baby bump for a long time. And she used fashion to do it. Now, her personal stylist is revealing what went in to keeping Cardi's belly under wraps. Hint: There was lots of tulle and flared leather involved.
The "Bodak Yellow" singer shared news of her pregnancy on SNL, sporting a sizable baby bump while performing her new song "Be Careful." But Cardi B's stylist Kollin Carter told Vogue that she learned of the rapper's pregnancy in January, right around the time of the Grammy Awards. Though Carter also styled Cardi B with fur wraps and belted trenches during New York Fashion Week in February to help conceal even the slightest signs of Baby Bardi, the stylist didn't have to work hard to cover the bump until the iHeartRadio Awards in March. By that time, Cardi was showing, but she wasn't ready to tell the world a little Cardi B was on the way.
"They weren't dependent on hair or makeup, they were dependent on wardrobe to hide this big secret," Carter told Vogue. "It was a lot of pressure, but I went into it with confidence knowing that it was something that I could do. I knew I wasn't going to be the one to let the cat out of the bag."
And Carter certainly didn't. Though rumors of Cardi's pregnancy were circulating after iHeartRadio, many just thought the star was taking a fashion risk. And that was a win for the duo.
While Carter describes the process of concealing baby as "stressful," he says it also left him with an understanding of what the struggle for privacy is like for women in the public eye.
"When it was just a rumor, to see her being criticized online with people saying things like, 'You're stupid. Your career is over. Why would you get pregnant at the peak of your career?' I was just like, wow, I don't feel like it's fair that people try to make a call on when it is right or wrong for a woman to make a decision in regard to her own body," Carter tells Vogue. "I couldn't imagine going through that as a woman on a platform that big and remain standing, sticking with my decision. It takes a strong person to stick with that. She should be able to be the biggest artist that she wants to be and also have a family."
Now that fashion has no limits for Cardi, Carter says that the pair plan to keep her attire "super-chic and classy" while still pushing fashion boundaries. But the game of hiding Bardi's baby bump definitely brought the stylist and star closer together since January, meaning the most daring outfits are yet to come. Think of the past few months as a radical trust exercise, which is a pillar of any stylist's relationship with a celebrity.
With such a successful outcome of the sartorial secret, Carter tells Vogue he looks back on the taxing time with pride.
"The process leading up to it was stressful, but afterward, I was like, this is kind of fun," Carter tells Vogue. "I have one of the biggest secrets in fashion and music, and in culture more generally, and we're getting away with this every time. How cool is that?"
Pretty cool indeed. And super sneaky.