This Is What The Mayor Of San Juan Had To Say About Trump's Hurricane Maria Denial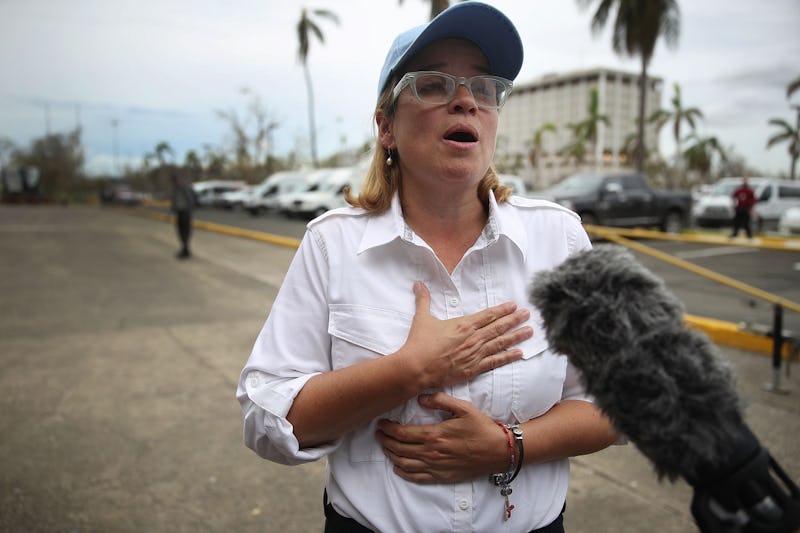 Joe Raedle/Getty Images News/Getty Images
Hours before Hurricane Florence was expected to make landfall in the southeastern United States, President Trump took to Twitter on Thursday morning to dispute the death toll of last year's devastating hurricane in Puerto Rico. Later in the morning, San Juan mayor Carmen Yulin Cruz responded to Trump's Hurricane Maria denial, reminding him that "people died on your watch."
A government-commissioned study from George Washington University estimates that nearly 3,000 people died as a result of Hurricane Maria, a jump from the initial 64 reported in September 2017. In his tweet, Trump claimed the study's number was inflated by Democrats to make him look unfavorable. "3000 people did not die in the two hurricanes that hit Puerto Rico," he began. "This was done by the Democrats in order to make me look as bad as possible when I was successfully raising Billions of Dollars to help rebuild Puerto Rico... Bad politics. I love Puerto Rico!"
Including screenshots of the president's tweet in her response, Cruz pushed back against the denials to remind Trump that his administration was in part responsible for the aftermath of Maria. "This is what denial following neglect looks like: Mr Pres in the real world people died on your watch. YOUR LACK OF RESPECT IS APPALLING!"
The Trump administration was criticized for a slow response to Hurricane Maria and the destruction it caused to the Puerto Rico. Distribution of supplies and food appeared especially slow in comparison the administration's quick response to Hurricane Harvey, which hit Texas a few weeks earlier, according to The New York Times. Full power was restored to the island only last month.
According to The Times, Trump visited Texas just four days after Harvey hit land, but took six days before even pledging to visit Puerto Rico. When he finally did visit, several weeks after landfall, he remarked that officials should be "proud" that the death toll was lower than "a real catastrophe" like Hurricane Katrina.
Trump and Cruz have been at odds since last year's hurricane, after which Trump accused the mayor of demanding "everything to be done for them when it should be a community effort." Cruz has been especially critical of the president's self-congratulatory attitude toward his administration's response to Maria. In an interview on August 29, the day after the George Washington University report was released, increasing the death toll from 64 to 2,975, the president said "I think we did a fantastic job in Puerto Rico." Cruz responded saying Trump's messaging shows he is "incapable of feeling solidarity and empathy."
Then, on Wednesday the president lashed out again. In a tweet in which he deemed the administration's relief efforts in Texas and Florida "A Plus" work, he also claimed it did an "unappreciated great job in Puerto Rico," and called Cruz "incompetent." In an interview with CNN's Anderson Cooper on Wednesday, Cruz warned against the president's response again, this time in light of an approaching Hurricane Florence.
"The president continues to refuse to acknowledge his responsibility," she said. "If he didn't acknowledge it in Puerto Rico, God bless the people of South Carolina and the people of North Carolina."
"If he doesn't learn from his mistakes," she continued. "People are going to continue to die."