This Story About Carrie Fisher Giving An Alleged Sexual Predator A Cow Tongue Is So Kickass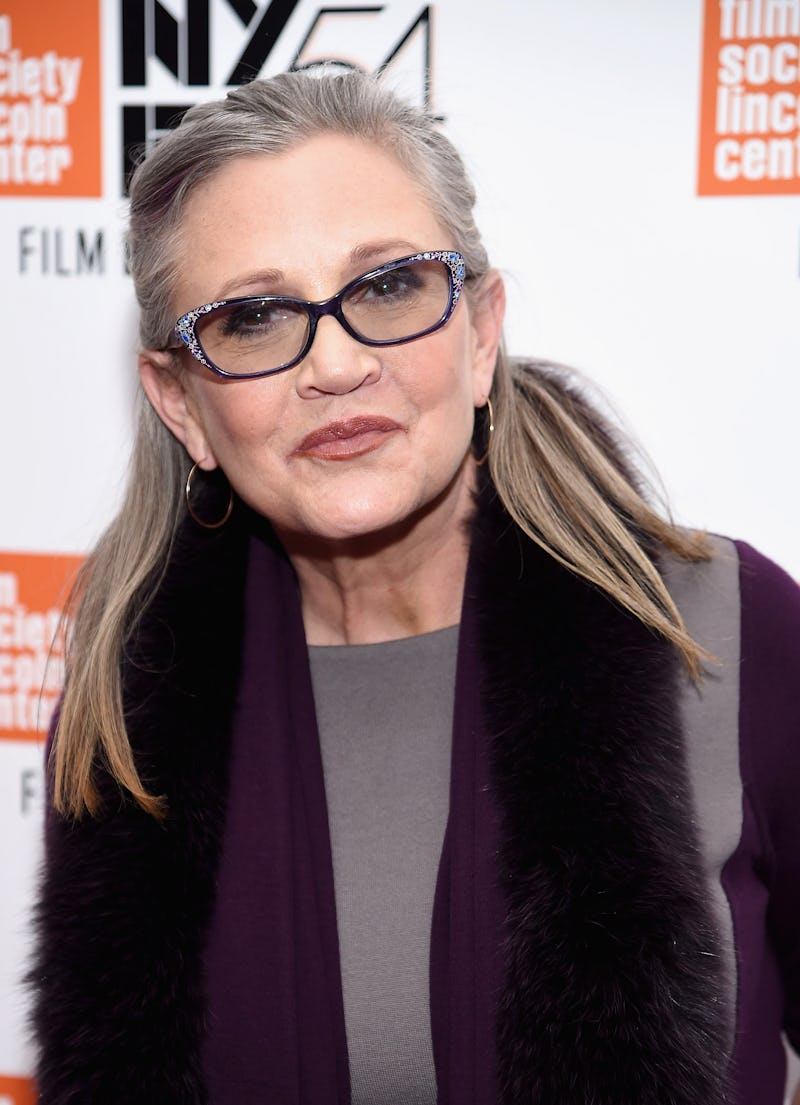 Dimitrios Kambouris/Getty Images Entertainment/Getty Images
If you need further proof that the woman who brought Princess Leia to life was a truly amazing person, here you go. On Tucson, Arizona's the 94.9 Morning Mix Monday, it was revealed that Carrie Fisher used a cow tongue as a part of a method to defend her friend who was allegedly sexually assaulted. Said friend is screenwriter and producer Heather Ross, who told the story herself.
Ross claimed she was once sexually assaulted by an unnamed "Oscar-winning producer." It wasn't Harvey Weinstein, who has recently been accused of allegedly sexually assaulting and harassing numerous women, as reported by The New York Times and The New Yorker. (Weinstein plans to sue the New York Times, according to his attorney, claiming their story is "saturated with false and defamatory statements." Weinstein's spokesperson denied the "allegations of non-consexual sex" to The New Yorker.)
According to Ross, she met the anonymous producer online, but they did not have sexual or romantic conversations, and rather he said he wanted to meet with her to discuss her getting involved with one of his projects. "I felt safe thinking, 'I'm overweight, I'm not attractive to these people, I'm not looking to become an actress,'" she said on the radio show.
Ross claimed he picked her up in his car and after making an excuse to pull the car over, he allegedly reclined her seat and forced himself on her. "When it happened, it happened so quickly that I was ashamed of myself." She added, "I thought I did something wrong. And I thought, 'Well, maybe by meeting up with him...I was asking for it.'"
After the radio host asked if there was anyone who stuck up for her, Ross revealed that Fisher did. Eventually, Ross said she received a message online from Fisher, who ran into Ross' alleged attacker. Per Ross, the Star Wars actor's message began, "I just saw [blank] at Sony Studios. I knew he would probably be there, so I went to his office and personally delivered a Tiffany box wrapped with a white bow." Fisher's message explained to Ross what was inside the box as follows:
"It was a cow tongue from Jerry's Famous Deli with a note that said, 'If you ever touch my darling Heather or any other woman again, the next delivery will be something of yours in a much smaller box!'"
That definitely sounds like something Fisher would do, because she was so bold and fearless. It really is an unforgettable Carrie Fisher story that deserves all the praise — and not just because a cow tongue played a part. It shows how wonderful of a friend she was. She believed Ross without any question and then supported her by going straight to the man who allegedly violated her friend.
"That's just how she was," Ross said. "I miss her dearly. She stood up for people." She added, "That's who Carrie Fisher was. She put things out there and in your face." That's exactly what she did in all areas of life, including when discussing her mental health issues.
In addition to Fisher, Ross said that she told her story to her mother and other friends, but remained silent otherwise, especially since she said the producer's power was overwhelming compared to herself, "a kid from Tuscon". Thankfully, Ross had a great support system — and someone like Fisher by her side.
During such an emotional time with the allegations surrounding Weinstein and all of the accusers continuing to step forward, this Fisher story is truly powerful. It's a reminder that there are people willing to confront those who are responsible and won't back down no matter how powerful the alleged sexual predator is — or thinks they are.
If you or someone you know has been sexually assaulted, call the National Sexual Assault Telephone Hotline at 800-656-HOPE (4673) or visit online.rainn.org.