Cecile Richards Laid Out Why GOP-Led Panels Questioning Women Are A "Political Spectacle"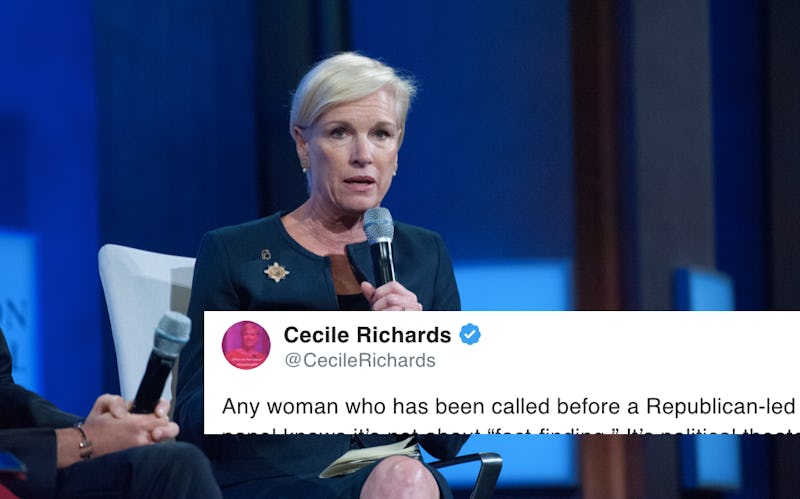 Stephanie Keith/Getty Images News/Getty Images
The former president of Planned Parenthood — who testified before the House Oversight and Government Reform Committee in 2015 — cautioned others about the perils of a male-dominated, partisan panel on Twitter Wednesday. Cecile Richards' tweets on these GOP-led hearings got into how such panels were more about political spectacle than it was about verifying the truth, she wrote.
"Any woman who has been called before a Republican-led panel knows it's not about 'fact-finding,'" Richards tweeted. "It's political theater masquerading as a search for truth." In her first tweet, Richards shared three photos: one of herself from September 2015 where she could be seen addressing questions from a House committee about Planned Parenthood; another of former Secretary of State Hillary Clinton during a 2015 congressional hearing led by Republicans concerning the 2012 Benghazi attacks; and a third from former United States attorney general Sally Yates — whom Donald Trump fired — who was questioned by the Senate Judiciary Committee's Subcommittee on Crime and Terrorism in 2017.
Such hearings, Richards tweeted, were more about debasing women. "It's really a chance to grandstand, humiliate women on national television," Richards tweeted, "and probe anything and everything unrelated to the topic at hand." Such things, she tweeted, could include the woman's income and "attitude" along with her "history with men." (During her own hearing in 2015, Richards was interrupted more than 40 times.)
Richards then mentioned Palo Alto professor Christine Blasey Ford — who accused SCOTUS nominee Brett Kavanaugh of sexual assault in an incident that she said took place in the 1980s (Kavanaugh has denied the allegation). "Dr. Blasey Ford deserves an honest investigation of her charge, by the FBI — not a political spectacle where the entire goal is to discredit and embarrass," Richards tweeted.
Ford and Kavanaugh have been called on by the Senate Judiciary Committee to testify about the alleged incident on Monday. CNN reported that Senate Judiciary Chairman Chuck Grassley received a letter from Ford's attorneys in which they asked for the FBI to probe the incident before senators can hold a public hearing. Her attorneys wrote that "a full investigation by law enforcement officials will ensure that the crucial facts and witnesses in this matter are assessed in a non-partisan manner, and that the Committee is fully informed before conducting any hearing or making any decisions."
So far, Kavanaugh has issued two statements on separate occasions, both denying Ford's allegation. In his first statement, which was released through the White House, Kavanaugh said, "I categorically and unequivocally deny this allegation. I did not do this back in high school or at any time."
Later on, after it was reported that both Kavanaugh and Ford were to appear in front of senators on Monday, Kavanaugh issued a renewed denial. "This is a completely false allegation," he said. "I have never done anything like what the accuser describes — to her or to anyone. Because this never happened, I had no idea who was making this accusation until she identified herself yesterday." The SCOTUS nominee added that he looked forward to "defending" himself in front of the committee.
With Ford's request for an FBI probe, others too have expressed support for the notion. Among them was California Sen. Kamala Harris. "I support Dr. Blasey Ford's request for an FBI background investigation before a hearing," the senator tweeted. "She should not be bullied into participating in a biased process and we should not rush forward before facts are gathered."