Celebrities Honor John Hurt On Social Media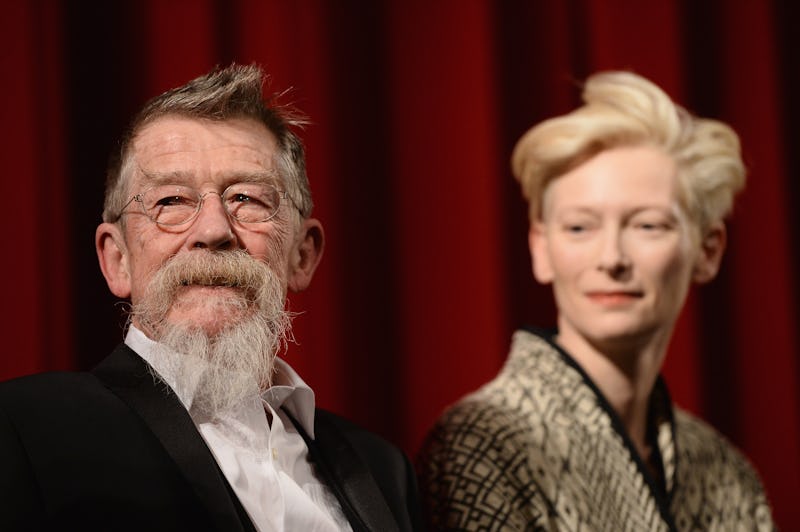 Ian Gavan/Getty Images Entertainment/Getty Images
Actor John Hurt, who starred in The Elephant Man and appeared in the Harry Potter films, passed away on Wednesday, Jan. 25. News of the 77-year-old's death spread on Friday and his loss has greatly affected cinephiles, friends, and fans, including many of the celebrities who mourned Hurt on social media. His representative released the following statement to Bustle on behalf of Hurt's wife Anwen:
"It is with deep sadness that I have to confirm that my husband, John Vincent Hurt, died on Wednesday 25th January 2017 at home in Norfolk. John was the most sublime of actors and the most gentlemanly of gentlemen with the greatest of hearts and the most generosity of spirit. He touched all our lives with joy and magic and it will be a strange world without him. I ask that we are allowed to come to terms with our loss without further intrusion."
Hurt's impact on those around him is clear from the numerous posts that his various co-workers and celebrity fans have made following his death. Whether they knew him as Mr. Ollivander from Harry Potter or the ill-fated Kane in Alien, it's clear that the actor was beloved. Here are some of the sweetest celebrity posts about Hurt so far.
J.K. Rowling
Rowling, who wrote the character that many millennials most closely associate with Hurt, honored Mr. Ollivander's legacy in this tweet.
Jamie Lee Curtis
The actor praised one of Hurt's best-known roles, which earned him an Oscar nom and Golden Globe.
Chris Evans
Evans and Hurt worked on Snowpiercer together, and it's clear that Hurt made a big impression on the younger actor.
Bonnie Wright
Wright, who played Ginny in the Harry Potter movies, paid tribute to Hurt with a sweet Diagon Alley reference.
Naomi Campbell
The supermodel honored her British compatriot.
Sam Clemmett
One of the new generation of Harry Potter actors was moved by Hurt's loss; Clemmett stars as Albus Potter in the Harry Potter and the Cursed Child play.
Guillermo del Toro
The director posted many times about the late actor, retweeting many of his most memorable roles.
Kumail Nanjiani
The Silicon Valley star expressed his sadness that Hurt wouldn't grace any more movies with his presence.
Octavia Spencer
Spencer, who also starred with Hurt in Snowpiercer, shared a great memory of Hurt on Instagram. Here's an excerpt of her post: "#JohnHurt WAS the craft at its finest. It was an honor and a great joy to work with him on Snowpiercer."
Stephen Fry
Fellow British legend Stephen Fry expressed his sadness on Twitter.
It's clear that Hurt left an impression on all who knew him, both as an artist and a human being. He will be missed.