Chad Michael Murray's Photo On The 'One Tree Hill' Bridge Will Make You Miss The Show Even More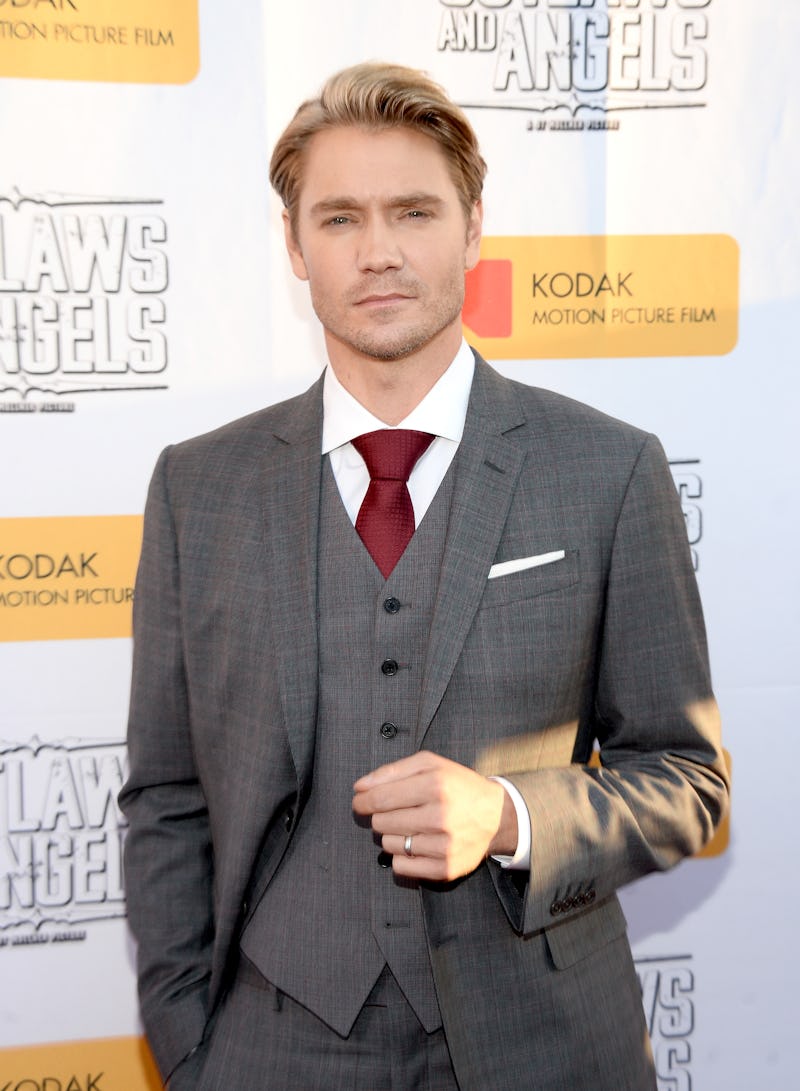 Matt Winkelmeyer/Getty Images Entertainment/Getty Images
It's time to grab your tissues, because this photo of Chad Michael Murray on the One Tree Hill bridge is going make you miss the show even more. The post, which Murray shared on Instagram on Tuesday, comes almost three weeks after the beloved series was pulled from Netflix. Fans were obviously devastated to learn that the series had been removed from the streaming service in October. However, Murray's latest post could prove to be just the thing OTH fans needed to help fill some of the void left behind. The snapshot, which features Murray in front of the iconic bridge —where the show's opening credits were filmed in Wilmington, North Carolina — will take you on a trip down memory lane, for sure.
Murray lightheartedly captioned the photo with a message to fans. He wrote,
"Who's bridge? OUR BRIDGE! Wonder how many (basketball emoji) have accidentally bounced off & are living down below... #OTH"
The series, which aired for nine seasons from 2003-2012, had a cult following during its run. And it's continued to be a huge favorite for many since it concluded in April 2012. Us Weekly reported that CMM snapped the photo while he was in town for EyeCon's sixth annual "Return to Tree Hill" fan convention, which features meet-and-greets with cast members, Q&A sessions, and concert performances from entertainers who appeared on the show, including Bryan Greenberg (Jake), Tyler Hilton (Chris Keller), Kate Voegele (Mia), and Michael Grubbs (Grubbs).
Murray is widely known for his role as Lucas Scott, a high school basketball player who initially competed against his half-brother Nathan Scott (James Lafferty) for a spot on their school's basketball team. As the show progressed, it would continue to feature the lives, drama, and romances that the brothers endured over the years — ultimately setting aside their rivalry and forming a solid bond. Murray left the series in 2009, but would return to reprise the role during a guest appearance in OTH's final season.
Fans of the show will recall that the bridge in the photo is the same structure where Murray's character bounces his basketball across during the opening credits during Seasons 1 to 4. The visual was scrapped during Seasons 5 to 7, but later returned due to audience demand in Season 8. There's also a scene where Murray's TV nephew, Jamie Scott, symbolically makes his way across the overpass during a Season 8 episode.
The 6th Street Bridge —which happens to be in the actual city of Wilmington where all 187 episodes of the show were filmed — has long drawn attention from fans of the teen drama and still continues to receive visitors who wish to relive the glory days of One Tree Hill, according to U.S. News. The site explains that although the show has been off-air for five years, the number of visitors has managed to soar recently, thanks in part to the trend of gatherings such as the EyeCon convention.
In addition to Murray, Entertainment Weekly reported that several other OTH cast members were also in attendance at the recent EyeCon gathering, including James Lafferty who portrayed Murray's on-screen brother Nathan, Lee Norris (Mouth), Antwon Tanner (Skills), Stephen Colletti (Chase), Barry Corbin (Whitey), Robbie Jones (Quentin), and Bevin Prince (Bevin).
In light of OTH's recent removal from Netflix, the now 36-year-old Murray sent out a touching tweet to fans on Oct. 4, reminding them that they are forever the "heartbeat" of the long running series and declaring that the show will "never b gone!"
As the 6th Street Bridge continues to serve as a sweet reminder of the love, life, and laughter once shared on-screen between the cast of One Tree Hill, fans can take solace in the fact that memories of the long-running show will live on forever.