Chance The Rapper's Horror Movie Has A Trailer & It's Literally A Video Game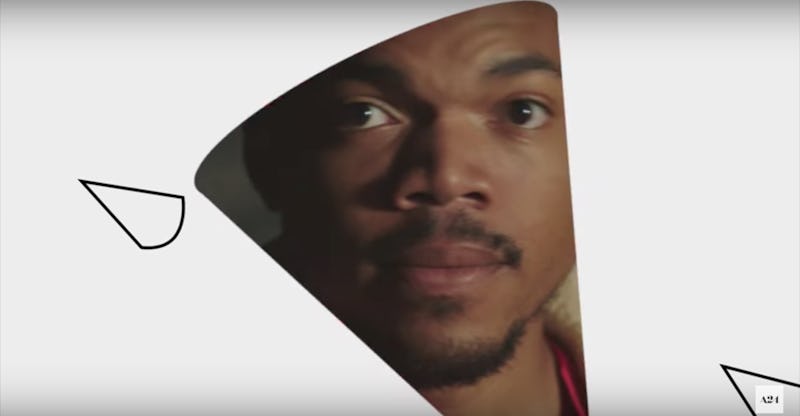 A24/YouTube
Rapper, entrepreneur, activist, and friend of the Obamas are just a few of the ways you may describe Chance the Rapper, but now he's adding "actor" to the list. Chance the Rapper will star in the horror movie, Slice, a dark comedy that focuses on "an enigmatic outlaw framed for a killing spree that targets unsuspecting pizza delivery boys," according to Variety. Chance — real name Chancelor Johnathan Bennett — plays that outlaw, Dax Lycander, a former Chinese food delivery guy who just so happens to also be a disgraced werewolf. Honestly, the latest Slice trailer, which features an animated Chance riding a moped, doesn't reveal anything at all — except, maybe that you should be prepared to look at pizza very differently after seeing this movie.
The movie, which stars Atlanta's Zazie Beetz, The OA's Will Brill, How Did This Get Made?'s Paul Scheer, and Stranger Things' Joe Keery, marks Chance's feature film debut. So, how did the Chance, who has just five acting credits to his name, get the starring role? Look no further than the film's writer/director Austin Vesely, who is a frequent collaborator of Chance's. Vesely has directed Chance's videos for 2012's "22 Offs" and "Brain Cells," along with 2013's "Juice" and last year's clips for "Sunday Candy" and "Angels." Vesely's also a friend of Chance's, who admires his true artistry, making him an easy choice for the film that also marks his debut as a feature film director and writer. "I'm always surprised and excited for the next groundbreaking thing Chance does to shake up the status quo," Vesely told Pigeons and Planes last year.
Now, the two will be shaking up the status quo with their film, which was filmed in Chicago last year and will be released by A24 in 2018. And, over the course of the last two years, Vesely has spilled some details about the movie that should get you excited for what's in store.
This movie has been in the works since 2015, when Vesely first told Red Eye that Chance the Rapper's character is inspired by The Joker. "That scooter or that moped in the poster is kind of like a totem for Chance's werewolf character," Vesely said then. "He speeds in and out like how the Joker comes in and out of The Dark Knight."
A year later, Vesely told Pigeons and Planes that Chance's character wouldn't be like the Joker, but would have a similar feel. He also that Chance's character would be inspired in part by Orson Welles' character Harry Lime in the 1949 British film noir The Third Man, too. "I don't think his actual character is similar to either the Harry Lime character or The Joker, but their use within the films was interesting to me," Vesely said. "I wanted to make Chance's first screen appearance exciting."
Considering that Chance's character is a werewolf, it may be no surprise to hear that the film takes place in a supernatural city where non-humans will be hanging out. While that may sound a bit scary, Vesely promises there will be some darkly funny moments, not unlike what you may find on Twin Peaks or in a Paul Thomas Anderson movie. In the end, he told Pigeons and Planes, Slice "is like Magnolia with ghosts. Just kidding. Kind of."
What is obviously no joke is Chance the Rapper's comic timing. If you're not convinced the rapper can act, you'll get to see him show his funny side on the small screen next month. Chance The Rapper will host Saturday Night Live for the first time on Nov. 18. He was a musical guest on the show last year alongside host Casey Affleck and there were some, like Esquire, who thought Chance deserved a chance to host since one of the sketches he pitched was one of the episode's best.
That would be the Run-DMC song parody sketch called "Jingle Barack" where Chance and Kenan Thompson rapped about the last Christmas with President Barack Obama. Let's hope Slice allowed Chance to do some improvising since I think we'd all like to see what kind of werewolf humor he can come up with.