Channing Tatum's Response to Weinstein Will Remind You that Some Men Aren't the Worst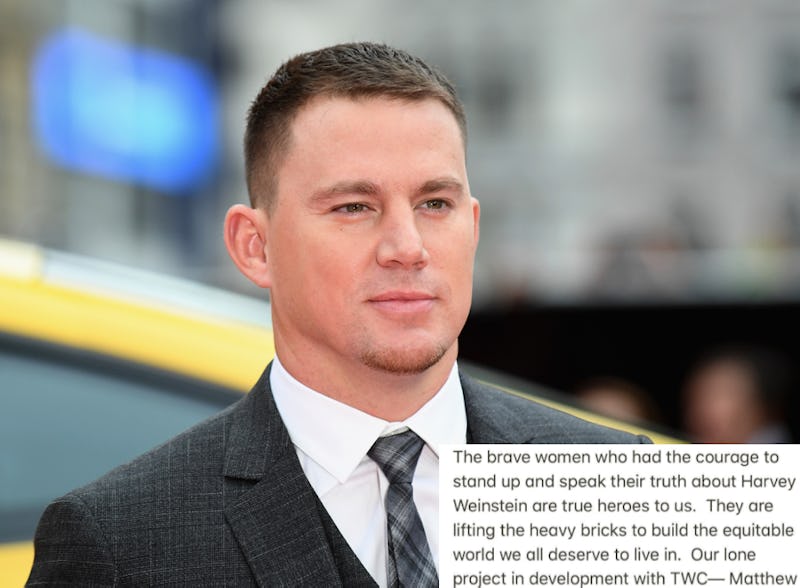 A week after the New York Times and The New Yorker broke stories that brought to light three decades worth of sexual harassment allegations against Harvey Weinstein, Channing Tatum is standing alongside the "brave women who had the courage to stand up and speak their truth." In an Instagram post on Wednesday, Tatum announced he was pulling his upcoming film project with the Weinstein Company. More importantly, Tatum added that this wasn't a one-time thing; he will cease doing any business with the company, which fired Harvey Weinstein following the allegations, from now on. By cutting ties with Weinstein and the company that features his name, Tatum is not only showing his support for the victims, who he says are "true heroes," but giving the men in Hollywood an example of what it truly means to be an ally.
Tatum and his producing partner Reid Carolin were working on an adaptation of the 2013 novel, Forgive Me, Leonard Peacock, which "is a story about a boy whose life was torn asunder by sexual abuse." In his statement, Tatum wrote that "while we will no longer develop it or anything else that is property of TWC, we are reminded of its powerful message of healing in the wake of tragedy."
As for how Hollywood moves on after a tragedy like this, Tatum wrote that it can't be to go on as if everything is fixed, as if it's just business as usual "This is a giant opportunity," he wrote, "for real positive change that we proudly commit ourselves to."
Tatum's not just saying let's do better, he's actually showing how one can do better by breaking all ties with the Weinstein Company because Harvey Weinstein isn't the only problem. (Earlier this week, his brother Bob Weinstein was also accused of sexual harassment by a female showrunner on a project the Weinstein Company produced.) The person who commits the assault is to blame, but there are others that should also be held accountable for aiding, and often profiting off, this behavior.
In fact, in a statement to Variety, the all-male board of the Weinstein Company said they were "shocked and dismayed" by sexual assault allegations, but the New York Times later reported the board knew of payoffs to alleged victims since 2015. Not to mention, accusations that have arisen about other powerful men in Hollywood including Amazon Studios head Roy Price, who resigned after Man in the High Castle producer Isa Hackett accused him of sexual harassment.
Ben Affleck condemned Weinstein's behavior, who he had worked with in the past, only to be called out by Hilarie Burton, who said he had groped her when she was the host of TRL. Video footage confirms the incident, which at the time, was treated as if it was a joke. (Affleck would later apologize to Burton, tweeting, "I acted inappropriately toward Ms. Burton and I sincerely apologize.") Makeup artist Annamarie Tendler also tweeted that Affleck groped her at a Golden Globes party in 2014. (Affleck hasn't responded to Tendler's accusation.)
Clearly, this is a pervasive problem, one that can't just be swept under the rug, and everyone in Hollywood needs to work together to make sure that it doesn't. "The truth is out," Tatum wrote to end his statement. "Let's finish what our incredible colleagues started and eliminated abuse from our creative culture once and for all."
Tatum's message stands out alongside some of the other Hollywood men who have shown their support for the Weinstein accusers in one very big way: Nowhere in his statement does he say that he is the father of a daughter.
So many men, including Affleck and Matt Damon, did this after the allegations came to light. "Look, even before I was famous, I didn't abide this kind of behavior," Damon said in an interview with Deadline. "But now, as the father of four daughters, this is the kind of sexual predation that keeps me up at night. This is the great fear for all of us."
Damon gave his statement about his daughters after he was accused of helping kill a New York Times story about the Weinstein allegations in 2004. (Damon denied this. "For the record," he told Deadline. "I would never, ever, ever try to kill a story like that. I just wouldn't do that. It's not something I would do, for anybody.") The problem with his daughters comment, however, is that it implies that this is the reason why men should be outraged about this behavior.
What Tatum makes clear in his statement is that the fact that this is happening at all is enough for any man to be outraged. Period, full stop. But, as a man in Hollywood, you don't have to just feel outraged, you can do something about it. And he's not the only one who is taking action to show solidarity with the victims.
Director Kevin Smith announced on Wednesday that he would be donating any residuals from his Weinstein-produced films to Women in Film, a nonprofit organization that supports women filmmakers. And if the Weinstein Company does cease to exist, he will still donate $2,000 a month for the rest of his life to the nonprofit.
On his podcast Hollywood Babble-On, Smith, who tweeted that Weinstein financed the "first 14 years of my career," said that "I know it's not my fault, but I didn't f*cking help," which is something he plans to do now.
Like Smith, Tatum is separating himself from Harvey Weinstein, but he isn't separating himself from the bigger problem. Instead, Tatum is making sure that he's part of the solution, because it's every man's job to stand up and fight for an industry that respects women.
If you or someone you know has been sexually assaulted, call the National Sexual Assault Telephone Hotline at 800-656-HOPE (4673) or visit online.rainn.org.