Chelsea Clinton Defends Barron Trump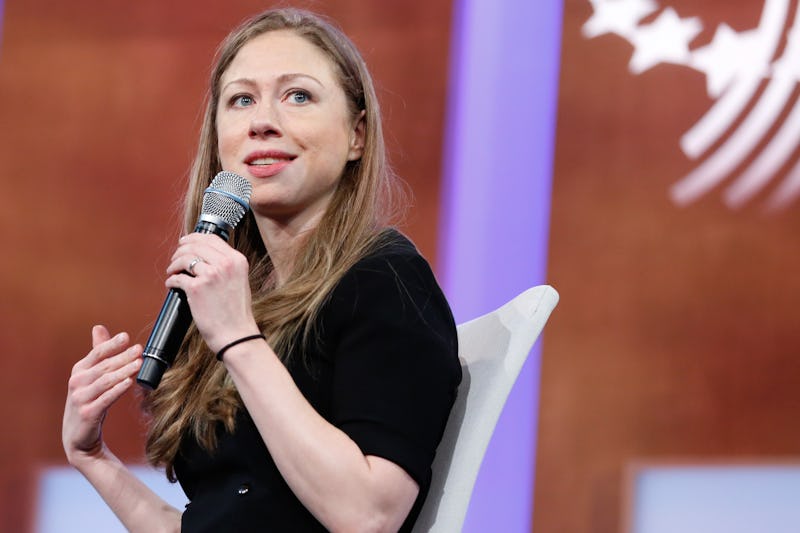 JP Yim/Getty Images Entertainment/Getty Images
Though their parents spent almost two years being fierce competitors in a nasty presidential campaign, Chelsea Clinton defended Barron Trump against the online bullying that the 10-year-old had been subjected to following Inauguration Day. Clinton took to to her Facebook and Twitter on Sunday to speak out against the harassment. "Barron Trump deserves the chance every child does - to be a kid," she wrote. Taking time to slip in a dig against President Trump, she added, "Standing up for every kid also means opposing POTUS policies that hurt kids."
Barron Trump's name became a trending topic on Twitter as America watched the inauguration proceedings on television, which resulted in a slew of "jokes," insulting his appearance and mannerisms, with some using autism — which Barron is speculated to have, though Melania Trump has denied it — as an insult. Saturday Night Live writer Katie Rich tweeted (and later deleted) a "joke" predicting that Barron would become America's "first homeschool shooter."
Chelsea, who was 12 years old when her father became president, probably relates to Barron and what he's currently going through. After all, Rush Limbaugh made a joke about Chelsea looking like a dog just three days after she became America's first daughter.
Barron spends the majority of his time with his mother, Melania, in New York City. The first lady spoke about shielding her young son from hateful comments last August. "We're dealing with it and I'm teaching him the right way and giving him morals and tradition and teaching him values at home," she told Us Weekly.
The Trumps and Clintons had a friendly past prior to the election, so it seems only natural that their children built good relationships along the way. Chelsea has spoken about her close friendship with President Trump's daughter Ivanka in the past, and Ivanka has done the same in return.
The president himself has publicly expressed his fondness for Chelsea multiple times throughout the years, and after the first presidential debate, he claimed to have held back on insults out of respect for Chelsea. "I'm very happy that I was able to hold back on the indiscretions with respect to Bill Clinton," Trump told reporters. "Because I have a lot of respect for Chelsea Clinton and I just didn't want to say what I was going to say."
Ivanka Trump recently revealed that she and Chelsea have not spoken since Election Day, but has emphasized that their friendship will surely continue and that she intends to reach out soon.