Chelsea Clinton Went To A Muslim Ban Protest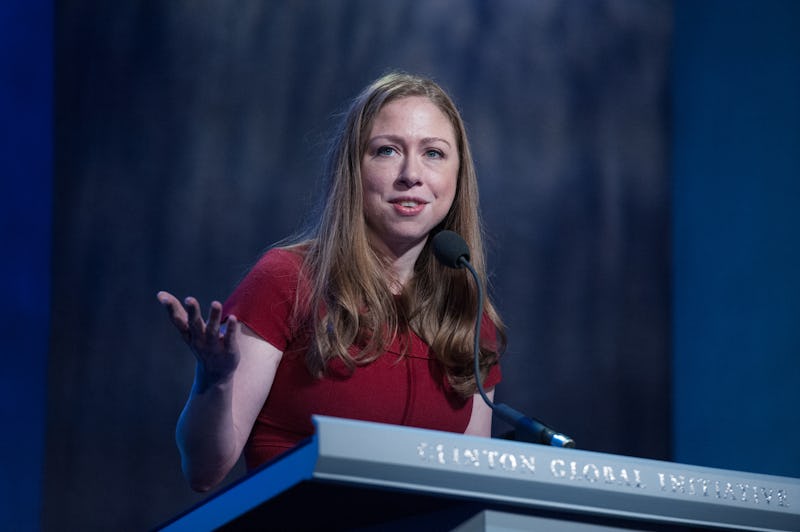 Stephanie Keith/Getty Images News/Getty Images
Former First Daughter and campaign surrogate Chelsea Clinton attended a Muslim ban protest Sunday, according to a photo posted on her Twitter account. She is the first member of the Clinton family to be actively involved in the ongoing movement against Donald Trump's latest executive order, which bans all refugees and migrants from select Muslim-majority countries from entering the United States.
Americans gathered at more than 40 protest sites across the country Sunday to object to Trump's imposed ban, including several locations in New York City, where Clinton presumably participated in the protesting. Clinton is a longtime resident of the city with her husband and two children, and a strong political force there due to her work with the Clinton Foundation, though it has not announced any direct involvement with the movement. Her presence at the protest seems to have been intended on a very individual level rather than any kind of representation of the foundation, which mainly focuses on international projects.
Her mother Hillary Clinton has kept a low profile since losing the Electoral College vote in November, though she has also taken to Twitter to express her support for the recent protest movements. "I stand with the people gathered across the country tonight defending our values & our Constitution. This is not who we are," Clinton tweeted Saturday night. In response, many longtime fans and recently convinced supporters reached out to Clinton to express their wishes that she had assumed the presidency rather than Trump.
Chelsea Clinton isn't the first First Daughter to participate in recent anti-Trump protests. Malia Obama was seen protesting the Dakota Access Pipeline, another product of Trump's busy week of signing executive orders, at the Sundance Film Festival last week. Though she didn't speak out about her experience, her attendance at the protest generated significant news and sustained attention to the pipeline, a serious issue which was quickly overshadowed by Trump's other executive orders.
Clinton's participation in the protests will undoubtedly spark rumors about her political future, which has long been hinted at in pop culture and political circles. While it would be pretty awesome if she avenged her mother's loss by winning the presidency one day, Clinton's attendance at the protest as a private citizen is also powerful, as is anyone's participation in these demonstrations. All voices, especially the ones with less influence or visibility, are important to supporting these protests. Clinton is just one voice among many who deserve recognition for their protection of American values.