Cher Wore Two Of Her Signature Looks At The Billboard Awards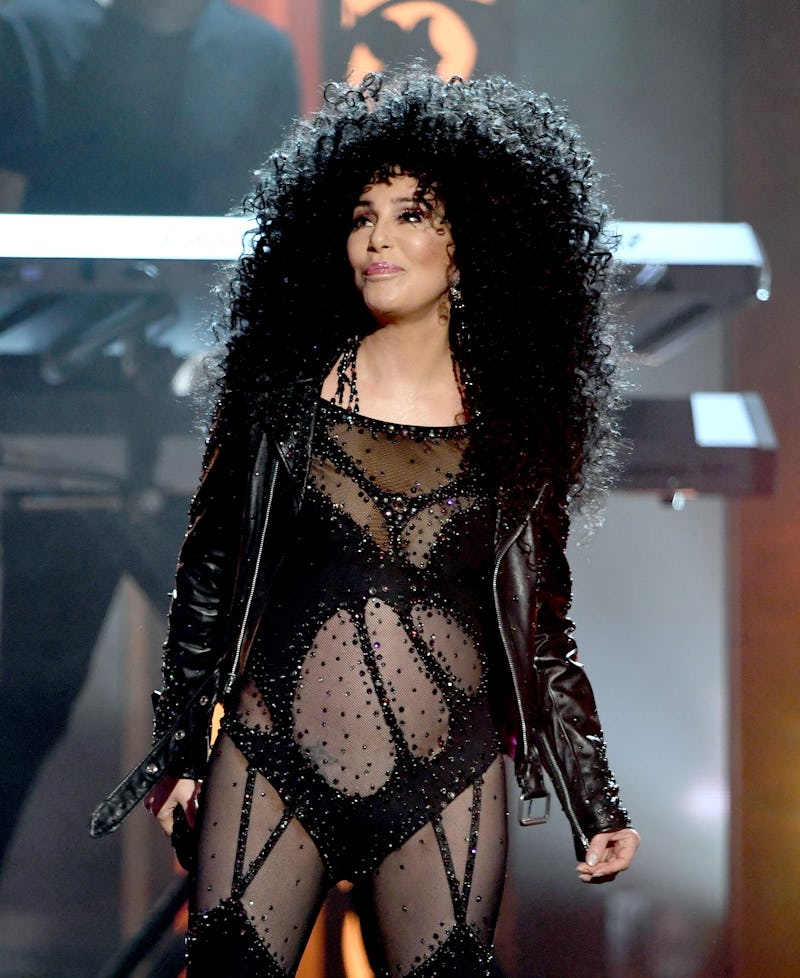 Ethan Miller/Getty Images Entertainment/Getty Images
Out of all the Billboard Awards Show performers this year, this one will go down in history as one of the best of all time. Although she hasn't performed at the awards show in 15 years, according to E! News, Cher wore some of her most iconic outfits to perform at the Billboard Music Awards, and it was epic. There aren't many things that the singer can't pull off, and I'd say that this moment proves it.
She might not have been up for any awards in 2017, but this woman's performance stole the show. Yes, the one and only Cher hit the stage, and it was incredible to say the least. Not just because she's the winner of the 2017 Icon Award, but because she looked pretty darn awesome too. Of course, her singing he 1998 hit 'Believe' was a major highlight, but her outfit definitely deserves a closer look — as all Cher outfits do. The star started out her performance by wearing her signature Cleopatra-style, all-jewel outfit that she loved to replicate int he '70s. It was perfect for celebrating such a major award.
But that wasn't all. She then took the stage for a second performance. Cher sang 'Turn Back Time' in the exact same outfit that she rocked in 1992. The shimmery black jumpsuit had cutouts in all the right places. Of course, she finished the look off with her iconic teased black hair as well. There's no better way to celebrate the award, in my opinion.
"I'm honored to receive the 2017 Billboard Music Awards Icon Award and take the stage to celebrate my love of music with my fans," Cher said in a statement. "Seeing so many powerful artists - especially female artists emerge and take their place in history through the years - has been incredible. I'm honored to be amongst the previous Icon Award winners and to celebrate this milestone achievement by performing 'Believe' on the show."
Cher mentioned in her acceptance speech that she turned 71 on May 21 and couldn't be happier to be doing what she loved for so many years. In my personal opinion, she's completely killing it and her performance proved it. Here's another look at her first on-stage outfit, because it's just too good.
This wasn't just a look-a-like outfit, my friends. This was the real deal. I just wish there was time for her to rock every single one of her signature looks, because she is such a fashion force to be reckoned with.