Chris Pratt's Foreword For Anna Faris' Book Includes Super Honest Joke About Their Split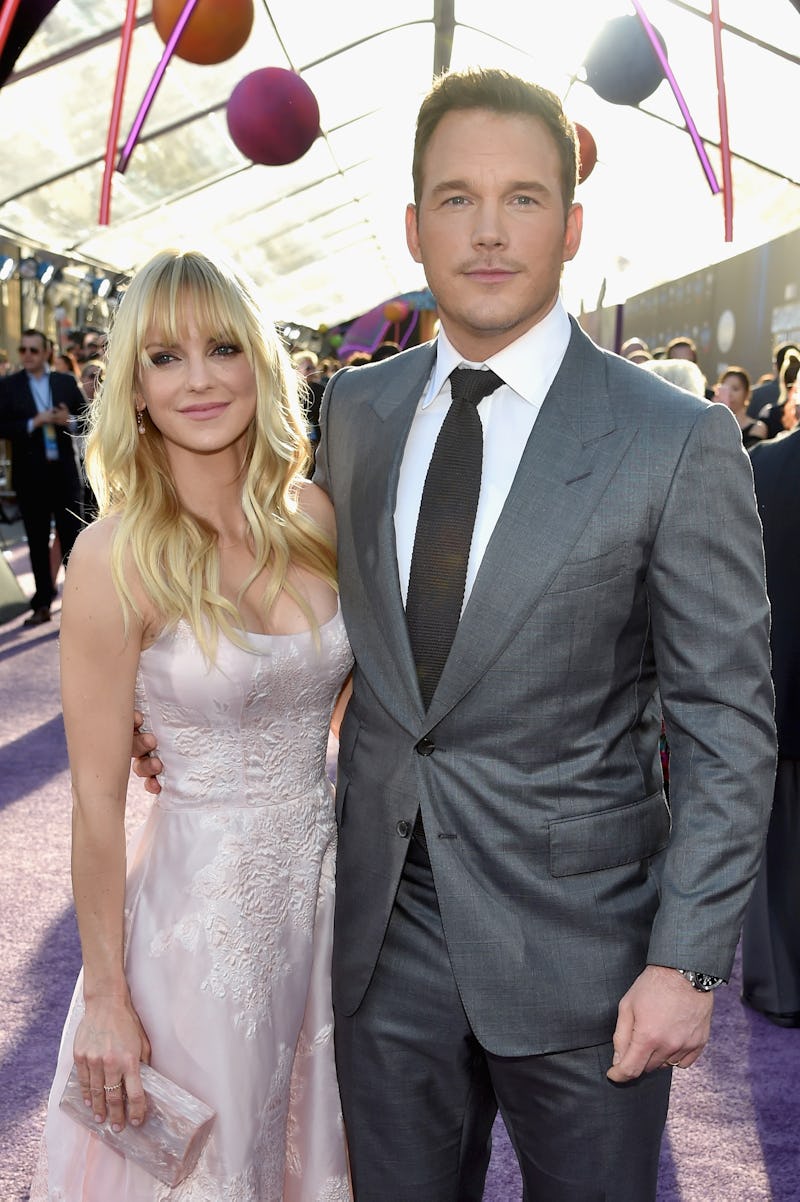 Frazer Harrison/Getty Images Entertainment/Getty Images
In August, Anna Faris and Chris Pratt announced their separation after eight years of marriage. Now, two months after their split Faris and Pratt remain good friends, as Faris explained on Live with Kelly and Ryan on Monday. The actor also discussed the foreword to her new book, Unqualified, which Pratt wrote. The majority of the memoir was written before the news of her breakup with Pratt was announced, and she had asked her him to write the foreword in advance. But, his pages were completed after the split, and despite the uncoupling, he still penned a thoughtful contribution to the book.
While on the morning show, Faris discussed writing the memoir, which documents her dating history and intends to offer advice for others, much like her podcast of the same name. When asked, she commented on Pratt's role in the book's creation. While both stars have been vocal about their continued love and support for each other, Faris reiterated to the hosts that their friendship remains strong. She also stressed how thankful she was that Pratt took the time to write the introduction. "He was so kind to do that," Faris said. "We're great. He's amazing, and we're great friends." She also joked around about him receiving an advanced copy of the book for his work.
An interview with Faris for the New York Times included details on Pratt's foreword. He tackles the separation head on, and intentionally calls the section the "forward" based on an inside joke. And the foreword itself jokes about their split occurring while the book was still being completed.
"When I was asked to write the forward for Unqualified, Anna's memoir, I immediately said yes without even thinking about it," he wrote. "And boy did a lot happen between then and now. So much. Like … soooo much."
While the memoir was written before Faris' separation, according to NYT, she chose not to make major changes or put off the publication date. "At first, I was really nervous about the idea of the book coming out and coinciding with these major life changes we were having, but Chris is amazing," Faris said in the interview.
Aside from the book being released after her separation, writing the book itself turned out to be a much bigger endeavor than she first imagined. "I decided to write a book about my life experiences and when I started it I was like this will be a great journey. This is a good idea. I know what I'm doing. I can write a book, I'm 40," she told hosts Kelly Ripa and Ryan Seacrest. "No, what was I thinking?"
Even if it was difficult to write, the Mom star hopes the book will serve as a source of guidance for readers, much as her podcast is for listeners. "I hope the people who read it understand that a lot of our problems tend to be universal," she said. "The idea of jealousy, loneliness, heartbreak, there's a commonality no matter what profession you're in, no matter where you live. I think that's something the podcast has really taught me too."
Pratt writing the foreword for Faris' book isn't the first time the stars have supported each other in the months following their breakup. Since the split, they have only had kind things to say about each other in the press. After the 2017 Emmys Pratt gushed about Faris' presenting duties at the show. "I know she did great," he told TMZ. "Anna did an amazing job, man. She rules. Her and Allison Janney, they both looked great. Go watch Mom on CBS."
Faris has spoken just as highly of Pratt. Earlier in October she once again opened up about the split in an interview with People. "We'll always have each other and be incredible friends," she told the magazine. "There is still so much laughter in our lives together, and he is so proud of me, still. We watched each other grow, and he still cracks me up all the time. And I think I crack him up — unless he's a really good actor and great at faking laughter."
Unqualified will be released on October 24, and it's bound to be an intimate (and funny) look at Faris' romantic history. The timing of the book release might not be the most convenient for the actor as she navigates her recent split with Pratt, but their mutual support and friendship might make this period a bit easier.