Chrissy Teigen Was Best Dressed At The BBMAs Despite Being MIA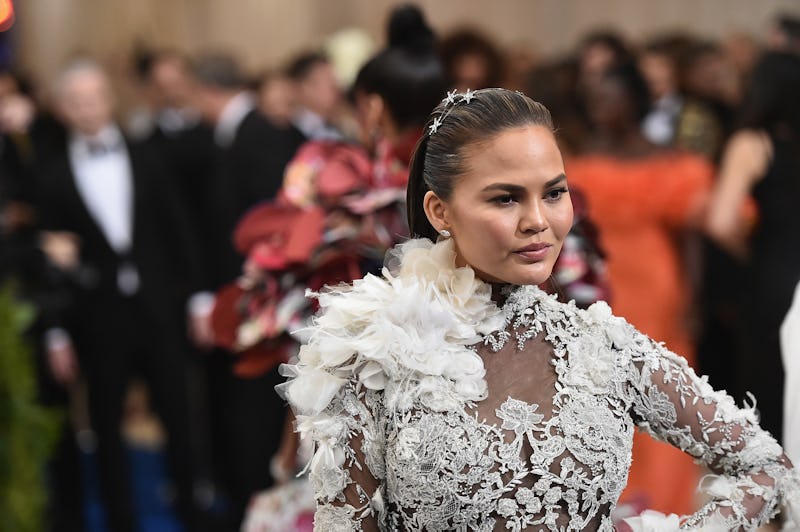 Mike Coppola/Getty Images Entertainment/Getty Images
Fashion watchers were likely quick to notice that John Legend attended the 2017 Billboard Music Awards a la carte. It was surprising, since he and wife Chrissy Teigen are always a united front and rarely, if ever, miss an opp to get dressed up and be seen. Teigen was MIA at the 2017 BBMAs, but still declared herself "best dressed" at the event in the most hilarious way.
The model missed the ceremony in order to hang out with her sister and niece, who reside in Las Vegas, which is where the festivities took place. Teigen also tweeted that she had absolutely no interested in try to force herself (and her back) into a dress for the red carpet extravaganza.
Even a well-dressed and visible celebrity like Teigen needs a night (or an event) off here and there. It didn't kill Legend, who performed during the ceremony, to hit the circuit while solo. He held down the fort just fine.
Teigen also shared a video with a voice-altering, cartoon Snapchat filter, joking that she was best-dressed while wearing terrycloth. With her hair swept off her face in a ponytail and looking to be wearing a basic towel while lounging out of the spotlight, Teigen still managed to insert herself into the evening, albeit from afar.
Teigen's sense of humor is always on display to her social media followers.
You'll get 'em next time, killer!!