Chrissy Teigen Had A Nip Slip & Her Reaction Is Hilarious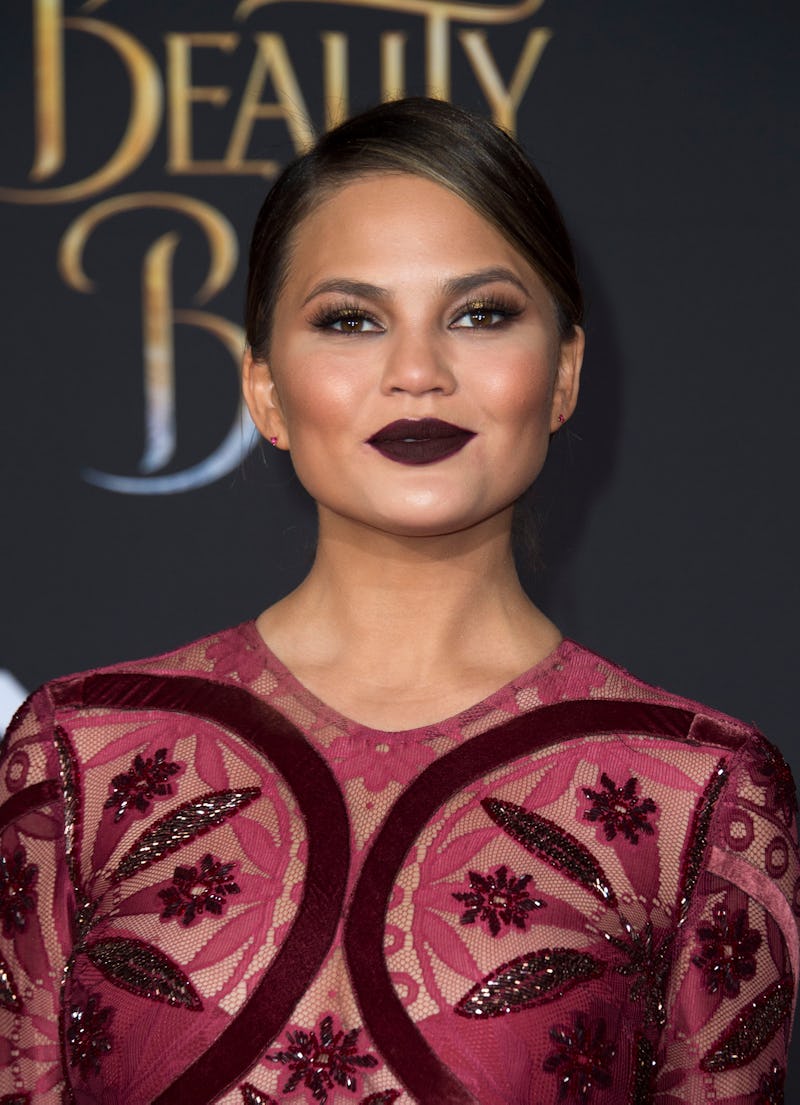 VALERIE MACON/AFP/Getty Images
If you're not following Chrissy Teigen on Twitter, you're seriously missing out. The 31-year-old is well known for having one of the best social media games of any celeb out there, and Chrissy Teigen's response to having a nip slip on Snapchat is one of her best reactions on the social media site yet.
Teigen experienced something that may be a tad relatable for some people: a wardrobe malfunction. The model uploaded a video to her Snapchat account that accidentally featured her with her nipple out. Teigen's assistant later deleted the snap (as one of Teigen's tweets highlights). But, it was still uploaded, and instead of freaking out about the mistake, like many might, Teigen decided to respond to it with a little bit of humor in classic Chrissy fashion.
Teigen started off her response to the pic by tweeting, "Whoops," and she then tackled the issue head-on in a video that may go down in history as the best celeb response to a wardrobe malfunction ever. She tweeted out a video of her "apologizing" for the malfunction. In the video, she sarcastically says, "I just want to apologize to everyone I know. I've let my friends down. I've let my family down. I have nipples. It's not something I'm proud of."
It's awesome that Teigen took on something that could have been construed as controversial and addressed the issue herself. This way, she's getting ahead of the video and, with her sarcastic drawl, implying that it's no big deal. She's not going to let anyone (or any image) faze her.
After she posted the video, Teigen also included a conversation with her assistant, who was the one to delete the video. In the text convo, Teigen's assistant said, "FYI your nipple was fully out in one of your snaps" and then said, "I deleted it". Teigen posted the texts to showcase the odd tasks her assistant does for her, like being on top of some revealing Snapchats. Just another day in the life of a Hollywood assistant.
This isn't the first time that Teigen's had an amazing reaction to something potentially embarrassing. Her iconic comebacks know no bounds.
She Took On The American Music Awards "Controversy"
Like this most recent case of a wardrobe malfunction, Teigen found herself in a bit of controversy after she wore a revealing dress at the American Music Awards in November 2016. Her dress, which included an incredibly high slit, caused the model to accidentally reveal her private parts to the cameras. But Teigen, of course, took it in stride, and offered another fake apology on Instagram: "apologies to anyone harmed mentally or physically by my hooha." She also reposted a meme of herself in the dress next to an image from Family Guy.
Her Joke That Got Blown Out Of Proportion
One publication didn't get the note about Teigen's brand of humor, but Teigen had the best response to the mix-up and said, "Reminder to never ever joke, ever (I did do the armpits, no regrets except it clearly came back)".
When She Got "Dissed" By A Puppet
Teigen found herself dissed by someone totally random and unexpected: Kermit The Frog. She said that she's glad that she never got the Kermit The Frog tattoo that she wanted when she was younger. Kermit didn't let her get away with that one and said that he was glad he never got a Chrissy Teigen tattoo. Who knew a puppet could come back with such a funny response? Teigen owned her "diss" and didn't let the embarrassment from it get to her. She actually loved that he clapped back at her. It showed how she can not only dish it but can also take the joke, too.
All of these responses show why Teigen should just officially be named crown the Twitter Queen. Someone get her a well-deserved crown already.