Chrissy Teigen Has Some Advice For Democratic Women In The House & It's So On Brand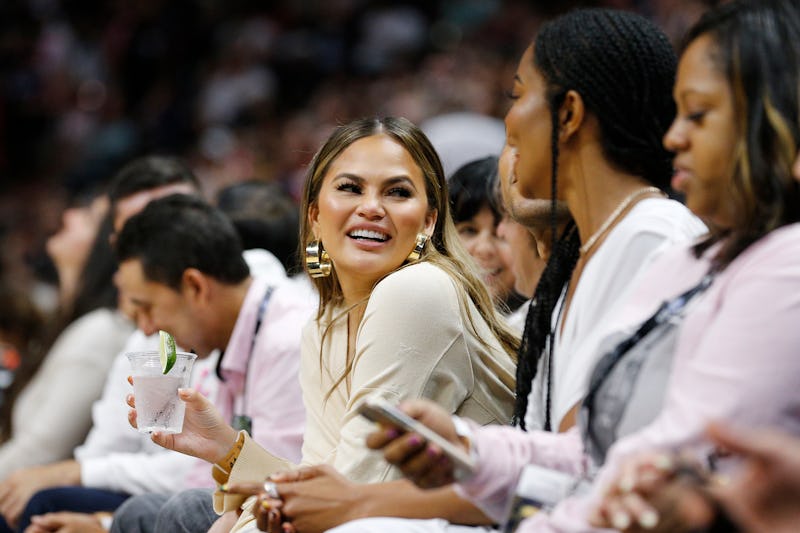 Michael Reaves/Getty Images Sport/Getty Images
The pressure to be accommodating can follow women even as they enter the most powerful offices in the country. If it were up to one model and activist, female members of Congress wouldn't hold back when standing up for themselves. At a policy retreat for liberal representatives on Wednesday, Chrissy Teigen advised Democratic women in the House to use bold language — specifically, to embrace the phrase "f*ck you."
Teigen and her husband, John Legend, appeared on a panel at the event. Both are prominent members of the "resistance" to President Donald Trump's agenda who have heavily criticized the administration's family separation policy and rhetoric on immigration, among other things. The couple condemned Trump frequently during Wednesday's event, and Teigen also had some words for women in the House.
Political commentator Melissa Harris-Perry asked Teigen about advice that House Speaker Nancy Pelosi often gives to women to say the word "no" more, according to Politico. Harris-Perry then asked Teigen for a phrase that she thinks women should use more frequently.
"F*ck you," Teigen said, which reportedly elicited laughter in the room. Legend piped in to sing a snippet from his song "Preach."
Legend also praised his wife for her long-standing denunciation of Trump. She "knew well before a lot of America did that [Trump] was a joke and a conman and a clown," Legend said, per Politico. "And she was prescient long before he ever thought about running for president. She was on point with that."
Legend referenced "Preach" again when asked for a playlist he'd recommend for House Democrats. The Grammy-winning singer also offered up the songs "Fight the Power" by Public Enemy and "Glory," which Legend produced with the rapper Common.
The panel took place during a three-day retreat that Democratic House members take annually to discuss their policy agenda for the year. The 2019 event was at Virginia's Lansdowne Resort and featured not only political representatives but other prominent cultural figures, including comedian Jordan Klepper and reporter Kara Swisher. Teigen and Legend were considered to be "headlining," according to The Hill.
The Trump administration's family separation policy — which drew condemnation last spring before the president ended it by executive order (though reports indicate that some children are still being held separately from their parents) — also came up during Wednesday's panel. Teigen criticized the first daughter, who infamously posted a series of photos of her children while the policy was ongoing.
"When it comes from people like Ivanka, I will say, that can post all day pictures of her children that are just in her home, and, 'Oh my daughter is having trouble in her crib,' or 'My daughter is doing this'.... There are children out there that don't have that opportunity," Teigen told the audience, per The Hill. "Honestly, I cannot fathom for a second how scared our children would be if they were without us."
The Democratic policy retreat was aimed at promoting unity among the caucus, according to The Washington Post. Leaders have already discussed topics like infrastructure and workers' wages. The event began on Wednesday and will end on Friday afternoon, per Roll Call.