Stop What You're Doing & Watch Baby Luna's Cameo In Chrissy Teigen's 73 Questions Video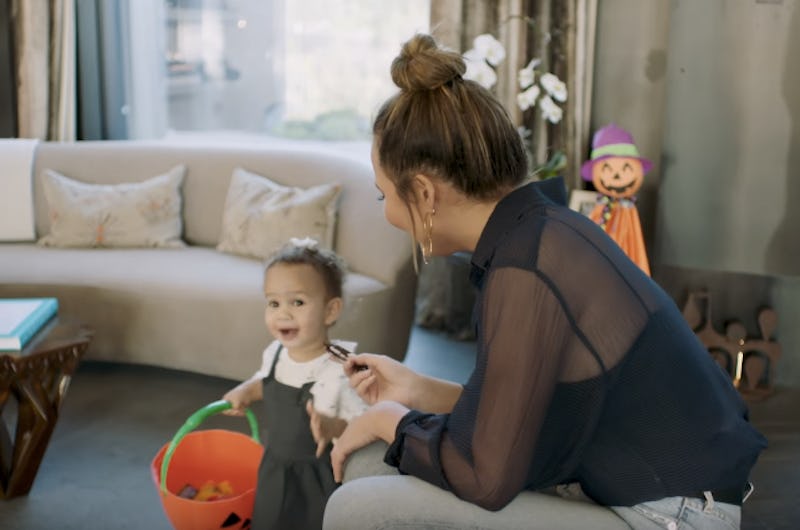 Vogue/YouTube
If you're looking for a mid-week pick me up, here it is. On Thursday, Chrissy Teigen's Vogue 73 Questions went live, and it's just as magical as you'd expect it to be — mostly because of a cameo made by everyone's favorite celebrity baby. During the tour of her house, not only did the model and host talk about her love for Twitter, cooking, and her husband, John Legend, but she also showed off her Halloween decorations, so basically, there's nothing not to love about this video.
Of course, Teigen injected her fun personality into all seven minutes (and 16 seconds) of the video, and if you didn't adore her already, this interview will definitely convince you. Like we've seen on Instagram many times, her kitchen is absolutely gorgeous, and she was even cooking that banana bread she's been talking so much about lately while she was chatting. Fortunately, her interviewer showed up with a bundle of over ripe bananas, and Teigen even offered up her most helpful cooking tip: "having your mom live with you. That helps."
Every inch of Teigen's house (which she revealed used to belong to Rihanna) is gorgeous and so clean considering a toddler lives there, but then again, Teigen knew Vogue was coming. Either that, or her house is always spotless, which isn't totally out of the realm of possibility for someone this magical.
Teigen mentioned Legend a lot, saying that she misses him when he's not home — duh — and that she's always sending him photos of their daughter when he's on tour.
And speaking of their daughter? Even though Luna passed by in the background, being carried by her grandmother, her true time to shine didn't come until the end of the interview, when she walked into the room toting a pumpkin basket filled with candy. If you don't think this child is the cutest ever, you are lying to yourself.
It's hard to tell when Luna shone most: When she giggled at her mom or when she decided to share her candy. From what Teigen has shared on Instagram, it's already obvious that Luna has quite a personality, and even though she was a bit shy in the video, she pulled it off really well. Could she have a future in entertainment? Does she need her own 73 Questions interview? The answer to both of those questions is yes.
Oh, and Luna wasn't the only adorable guest star in this interview, either. Because guess who else was present? That's right, the family's new puppy, Pepper, who Teigen woke up from a nap so she could get her moment in the spotlight. Not many dogs have been featured in a Vogue video, let alone people in general, so Pepper is obviously already more accomplished than most of us.
Just look at this wrinkly, perfect little baby with her mom:
There's a reason that Teigen is so loved by her fans, and it's evident in this video. You might as well be standing in her house along with her and Luna (and Pepper and Teigen's mom, of course) for how welcoming she seems to be. Besides, anyone who has been blocked on Twitter by the president and describes it as a "euphoric" experience obviously has plenty of interesting things to say.
Of course, the only way to truly absorb all the wonderful, warm and fuzzy feelings this video gives is to watch it yourself. Honestly, there's something for everyone: comedy, drama, selfies. The 73 Questions series almost never disappoints, but Teigen's edition sets a new standard for all of the videos that will come after her.