Chrissy Teigen's Response To John Legend's Instagram Will Slay You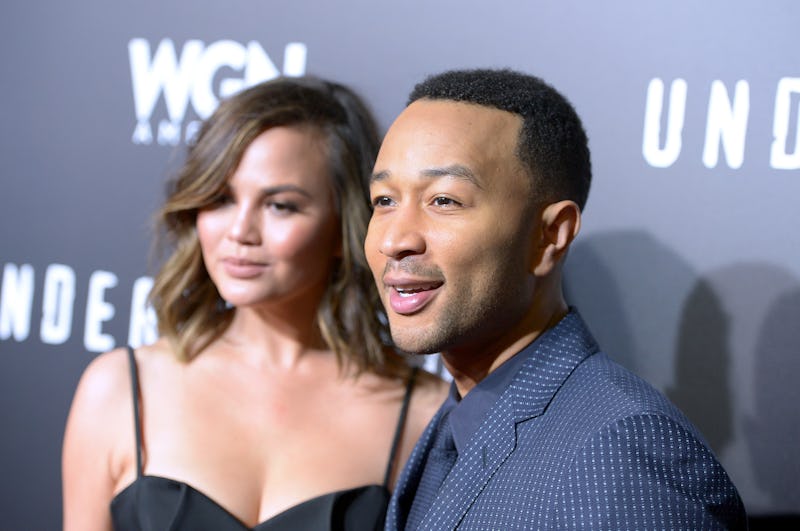 Charley Gallay/Getty Images Entertainment/Getty Images
Many people daydream about being serenaded by John Legend, but his talented wife Chrissy Teigen is the only person aside from their daughter, Luna, who can ask for a performance anytime she wants. That's why Teigen's response to Legend's Instagram serenade is so hilarious. It turns out that Legend's beautiful voice will only go so far with Teigen when the man won't answer her FaceTime message.
Legend posted a video of himself on Instagram singing his hit song, "Coming Home." The singer captioned the post with the sweet message, "Hi @chrissyteigen. Hi Luna." But Teigen was hilariously unimpressed. In the comment section she called her husband out for missing her call. She commented,
"Ok well u didn't answer my facetime but okay"
Teigen's shade game is on point, and Legend's Instagram comment section is so here for it. His feed is now full of people who are loving Teigen's comment, and relating so hard to the couple's dynamic. Teigen's honest response is so much better than a gushing ode to her husband's sweetness. It's a reminder that these two have a real relationship, and they're happy to call each other out despite the fact that they're celebrities — even on social media.
If you needed further proof that these two were goals, you definitely have it now. Because real marriage goals include being unimpressed when your husband tries to sing you a love song after he missed your call. Still, there's no denying that Legend gave the performance his all. Maybe he was recording when Teigen tried to call in, and he didn't want to miss out on the excellent acoustics in what appears to be a shower.
This is far from the first time Teigen and Legend have taken their banter online. The adorable couple has always been candid — that's one of the many reasons they have so many fans. Sometimes they share sincere odes to each other's greatness, but other times they get involved in deep discussions about whether or not Legend looks like Arthur from the classic PBS kid's show.
One thing is certain, when these two take their conversations to the internet, you're in for something special. It's amazing how Teigen and Legend can be both open with their fans about marriage and all of its ups and downs, while still maintaining their privacy. This is one celebrity couple that has found the perfect balance of sharing themselves with the public and having a strong family life with little Luna.
The two recently added another member to their family as well, a too cute for words bulldog puppy. The new puppy joins Puddy, Pippa, and Penny. He's going to have "p" name as well, but it seems the family can't decide between Pablo and Paul. In an Instagram post on Saturday, Teigen shared the name dilemma, and her struggle to find the perfect moniker for the pup is so relatable. She wrote,
"Super secret shooting with Paul. Or Pablo. We can't decide. Both mom and Luna cannot pronounce Pablo. John won't call him Paul. This freaking house, let me tell you."
Raise your hand if you would love to be part of the Teigen-Legend household.
No matter what name Teigen and Legend settle on for their new fur baby, the cutie is officially part of an amazing family. Not only does he have three doggy siblings to look out for him, he also has Luna to play with, and the best pet parents ever. Maybe he can even get a song from Legend when he gets home — it's clear Legend's not going to be able to sing his way out of missing Teigen's call, but maybe he can at least charm Paul/Pablo.