Chrissy Teigen's Video Of Luna Talking Will Make Your Heart Smile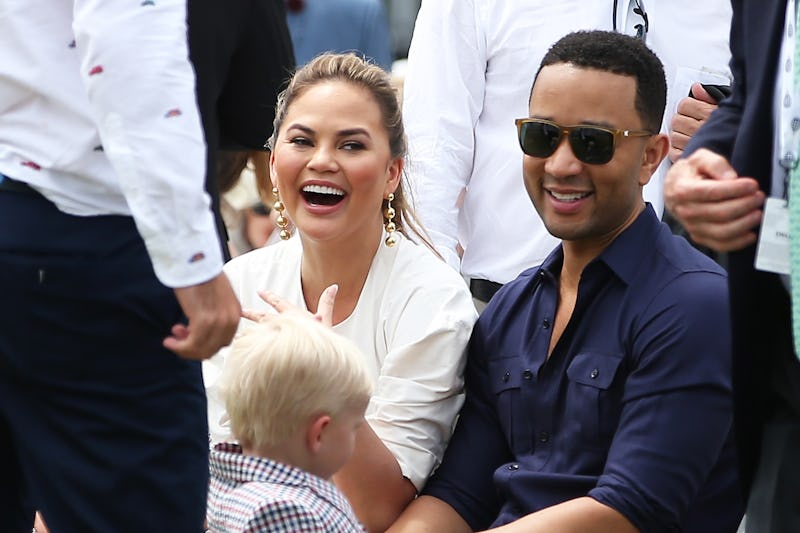 Adam Glanzman/Getty Images Sport/Getty Images
There are cute babies, there are fun babies, and then there's Luna Simone Stephens. The daughter of John Legend and Chrissy Teigen is a whole new level of adorable, and fans just got the best look at her yet. Chrissy Teigen's video of Luna talking has to be seen to be believed. The 18-month-old, being her cute self as always, is prompted by Teigen to show off her speaking ability. Luna is only a year and a half old, but she tries! She really does and she's already doing so well.
One of the Instagram video's highlights has to be the different way Luna pronounces everything in her own way. The clip is short, but shows off the toddler's full range of early speaking skills. Teigen's video of Luna talking is basically a baby flex, if babies could flex intentionally, and stumbling over the name "Christine" (Teigen's full name, ahem) counted as one. Luckily, Luna is so good at saying the words "Mama," and "Dada."
Right now, Luna is the couple's only child. But oh, how fans hope they have another adorable baby. Legend and Teigen have taken Luna around the world, including to the Lake Cuomo in Italy where the couple filmed Legend's "All Of Me" video and where Teigen and Legend got married. Luna is one-well traveled toddler and now, as this Instagram video shows, she can soon start telling the world about it. Before we know it, Luna will be crafting epic and amazing tweets just like her mom — and Teigen and Luna could be tweeting to each other. They grow up so fast, don't they? Sigh.
"I am living for this age," Teigen captioned the Instagram video, "Give me all the 18 month olds." Honestly, who could blame her? Look at Luna's big, round cheeks! Her cute hair. Luna's adorable lil face, being so, so adorable. The way she wants to please her mother and repeating Teigen's words in her own Luna way. It's all too much. The cuteness is something you'll want to bask in. Your heart will immediately grow many sizes just by watching young Luna talk.
Chrissy Teigen's video of Luna talking is yet another installment in her incredible online presence. Teigen is known for practicing vulnerability, humor, self-protection, and self-reliance with every post. She's never been afraid to correct the record about her family, or address rumors about her relationship to Legend, or have fun with a meme of her crying, or anything else. She has also posted so many cute Luna videos and photos, letting fans watch her and Legend's daughter grow up before our very eyes. Teigen is genuinely, boldly herself, all the time. She's warm and genuine and silly and famous, and that's part of why it's so fun to watch her relationship with her daughter bloom.
In case you're searching for fashion inspiration from Teigen, you won't find it in the video of Luna talking. She's off-screen, probably holding the phone as it records, so there's no way to tell what she rocks for a casual Saturday afternoon at home. It's a still a great video with Luna totally stealing the show. The excitement in Teigen's voice, the joy in Luna's voice as she squeaks out words like "Mama!" and "Thank you!" just makes the entire clip the ideal morning day-brightener.
Towards the end, you can also hear a slight chuckle of pride from dad Legend. If the Teigen-Stephens ("Legend" is John's stage name, FYI) household wanted to invite a million fans over for brunch one weekend to gab with Luna, that would be totally cool. Just a thought. Just saying.