Christine Blasey Ford Says She's Willing To Testify In Front Of The Senate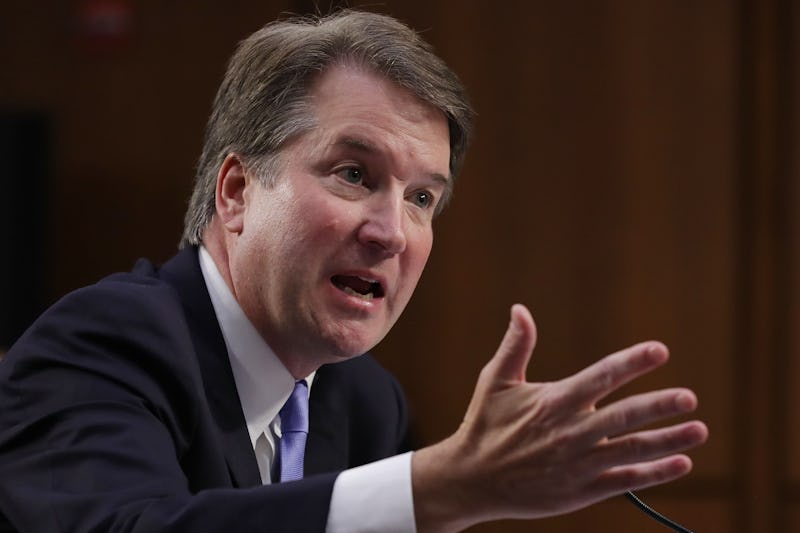 Chip Somodevilla/Getty Images News/Getty Images
Less than a week after she spoke publicly for the first time about her allegations against Supreme Court nominee Brett Kavanaugh, Christine Blasey Ford has agreed to testify before the Senate Judiciary Committee next week, The New York Times reported. However, Ford — who has accused Kavanaugh of sexually assaulting her when they were both high school students back in the 1980s — has asked for more time to negotiate specific details of her appearance before the committee. Bustle has reached out to a representative for Kavanaugh for comment.
Lawyers for Ford told the Senate Judiciary Committee on Saturday that Ford "accepts the Committee's request to provide her first-hand knowledge of Brett Kavanaugh's sexual misconduct next week," according to CNN. But Ford's lawyers did not include a specific date or time for Ford's testimony in their message; instead, they requested another meeting to "continue our negotiations." They also criticized "the leaks and the bullying" that Ford reportedly faced while deciding whether or not to testify.
Senate Judiciary Chairman Chuck Grassley had given Ford and her lawyers a Saturday afternoon deadline to decide whether or not she would testify, NPR reported. Grassley said that if Ford did not respond by 2:30 p.m. on Saturday, the committee would vote on Kavanaugh's nomination on Monday.
In an interview with The Washington Post that was published on Sunday, Ford publicly revealed that she was the author of a widely discussed letter received by California lawmakers over the summer. In the letter, Ford alleged that Kavanaugh sexually assaulted her by holding her down at a party, covering her mouth, and attempting to remove her clothes. Kavanaugh has since denied Ford's allegations, and in a statement issued by the White House, the Supreme Court nominee stated that he "did not do this back in high school or at any time."
Despite widespread criticism, Donald Trump has defended Kavanaugh. Earlier this week, he suggested on Twitter that Kavanaugh's reputation was unfairly under attack, and questioned why Ford had not reported the alleged assault to law enforcement officials at the time. Trump's tweets prompted thousands of survivors to talk about their own experiences with sexual violence under the hashtag #WhyIDidntReport, and also resulted in swift backlash from other lawmakers — including Maine Sen. Susan Collins, who will be a key swing vote on Kavanaugh's nomination.
On Friday, Collins joined other senators in calling on both Ford and Kavanaugh to testify before the Senate Judiciary Committee, and they are both slated to do so next week. However, although Ford's lawyers have communicated her willingness to testify before the committee, Ford has previously indicated that she would only do so if senators took certain measures to "ensure her safety."
According to The Washington Post, Ford has faced numerous attacks since speaking out publicly against Kavanaugh. Her email was reportedly hacked, and she has received death threats. She and her husband have had to look into security services so that their children can make it to school safely.
For decades, Ford told very few people about her allegations against Kavanaugh, but now that she has gone public with her story, she told The Washington Post that she expects something similar to the 1991 Anita Hill and Clarence Thomas hearings, during which she will be asked for every detail of the alleged incident when she returns to the Washington D.C. area to testify.