The Senate Judiciary Committee Has Hired Someone Else To Question Christine Ford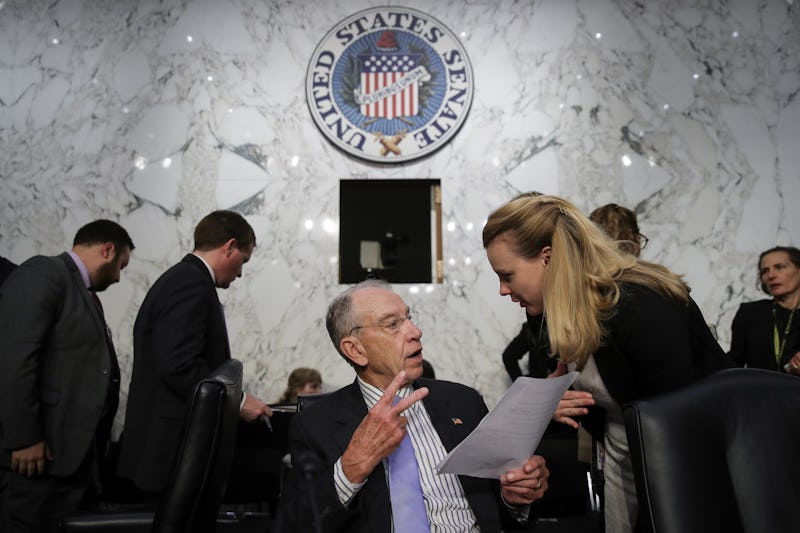 Drew Angerer/Getty Images News/Getty Images
On Tuesday, Chairman Chuck Grassley confirmed that Christine Blasey Ford will be questioned by outside counsel when she testifies before the Senate Judiciary Committee on Thursday. This news comes after a public request by Ford's lawyers that the SJC not take this approach, lest it turn the hearing into a "circus." Regardless, the decision has been made: both Brett Kavanaugh and Ford will be questioned by an externally hired lawyer, the identity of whom is still unknown.
This decision is one of many controversial moments that have occurred after two women came forward with sexual misconduct allegations against Kavanaugh. As of now, Ford is the only woman scheduled to testify before the SJC with her claim. Kavanaugh has vehemently denied all of the sexual misconduct claims laid against him. In a Fox News interview on Monday night, he said,
The truth is I've never sexually assaulted anyone, in high school or otherwise. I am not questioning and have not questioned that perhaps Dr. Ford at some point in her life was sexually assaulted by someone at some place, but what I know is I've never sexually assaulted anyone.
In a letter to Grassley on Monday, Michael Bromwich, one of Ford's lawyers, argued that the hiring "of an unnamed 'experienced' lawyer" could turn the hearing into a "circus." He warned, "This is not a criminal trial for which the involvement of an experienced sex crimes prosecutor would be appropriate. Neither Dr. Blasey Ford nor Judge Kavanaugh is on trial. The goal should be to develop the relevant facts, not try a case."
In the last week, the 11 Republican members of the SJC have reportedly considered several strategies to avoid the "optics" of an all-male, all-white interrogation of Ford by the GOP. The Huffington Post reports that another option that was considered was the deployment of female GOP staffers to ask Ford questions on behalf of the Republican senators.
To reporters on Tuesday afternoon, Senate Majority Leader Mitch McConnell further clarified that the outside counsel was a "female assistant," so it's actually unclear whether the "counsel" in question is currently a practicing lawyer or not. McConnell said,
As I said earlier, and I think you already know, we have hired a female assistant to go on staff and to ask these questions in a respectful and professional way. We want this hearing to be handled very professionally, not a political sideshow like you saw the -- put on by the Democrats when they were questioning Judge Kavanaugh.
As for the 10 Democratic members of the Senate, there will be no hiring of outside counsel to question Ford. The Daily Beast reports that Sens. Kamala Harris and Amy Klobuchar are expected to be in charge of most of the questioning for Ford from the Democratic side, due to their shared background in the prosecution of sex crimes.
In an interview with The Daily Beast, Harris said of her role as one of the primary questioners, "In this situation, let's be clear about this, this is about whether or not this guy should get a promotion. That's the inquiry. And we do not have the burden of proving this beyond a reasonable doubt."
As for Klobuchar, she said to The Daily Beast, "A lawyer's job at a hearing is to establish the facts and the evidence. When you're asking someone to relive an experience like this, you need to treat them with respect."