Christine Blasey Ford's Friend Issued A New Statement & Will Cooperate With The FBI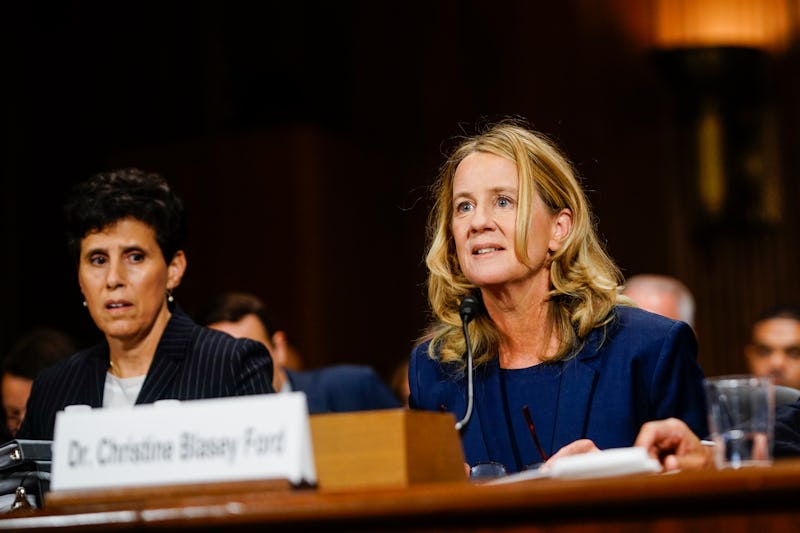 Pool/Getty Images News/Getty Images
There could be another wrinkle to the potential week-long delay of Judge Brett Kavanaugh's confirmation vote by the Senate. Friend Leland Ingram Keyser says she believes Christine Blasey Ford's allegations against Kavanaugh and that she will cooperate with an FBI investigation.
Ford accused Kavanaugh of attempting to rape her at a small gathering when they were both in high school in the 1980s. She testified about her experience in front of the Senate Judiciary Committee on Thursday, as did Kavanaugh. Kavanaugh vehemently denied the allegation, citing, among other things, his detailed calendar records of that summer. Bustle has reached out to Kavanaugh for comment.
"Ms. Keyser does not refute Dr. Ford's account, and she has already told the press that she believes Dr. Ford's account. However, the simple and unchangeable truth is that she is unable to corroborate it because she has no recollection of the incident in question," wrote Howard Walsh, Keyser's attorney, in the letter sent to the committee overnight on Friday and obtained by CNN.
Keyser's attorney said she will "cooperate fully" with the FBI investigation into Ford's allegations. Walsh said Keyser wanted to clarify her previous statement on the allegation. Previously, Walsh released a statement on Keyser's behalf that read, "Simply put, Ms. Keyser does not know Mr. Kavanaugh and she has no recollection of ever being at a party or gathering where he was present, with, or without, Dr. Ford," according to CNN.
Keyser's updated statement is the latest development in Kavanaugh's nomination to the Supreme Court. In her testimony on Thursday, Ford said that on July 6 she reached out to her congressional representative in an effort to relay her allegations against Kavanaugh, who was then just a shortlisted potential nominee. Then, on July 9, Kavanaugh was nominated by President Donald Trump to succeed Justice Anthony Kennedy, according to USA Today.
On July 30, Ford sent a confidential letter to California Sen. Dianne Feinstein, who is both Ford's senator and the ranking member on the Senate Judiciary Committee. Kavanaugh's hearings were announced by Judiciary Committee Chairman Chuck Grassley in August and began on Sept. 4, according to USA Today. On Sept. 12, Ford's letter was sent to the FBI by Feinstein's office.
On Sept. 16, Ford went public with her allegations for the first time. In an interview with The Washington Post, Ford alleged that Kavanaugh and his friend Mark Judge drunkenly pushed her into a room. Then, Ford said Kavanaugh attempted to drunkenly take off her clothes while Judge watched and laughed.
Kavanaugh immediately denied the accusations, saying, "I categorically and unequivocally deny this allegation. I did not do this back in high school or at any time," according to USA Today.
After Ford came forward, Grassley decided to hold a hearing for her to testify about her alleged experience with Kavanaugh. Before Ford's hearing, The New Yorker published another sexual misconduct allegation against Kavanaugh from Deborah Ramirez, who says Kavanaugh drunkenly put his penis in her face at a party she attended while the two were at Yale. Kavanaugh has denied the allegation, and Bustle has reached out to him for additional comment.
On Thursday, both Ford and Kavanaugh testified before the committee. On Friday, the committee voted along party lines to send Kavanaugh's nomination to the full Senate for a vote. That afternoon, Republican Sen. Jeff Flake of Arizona seemed to indicate he would not vote to confirm the federal judge to the nation's highest court unless an investigation took place, according to The New York Times.
The next week will tell if Keyser will be a part of that investigation.