Christine Blasey Ford's Lawyers Say The FBI Hasn't Contacted Them Yet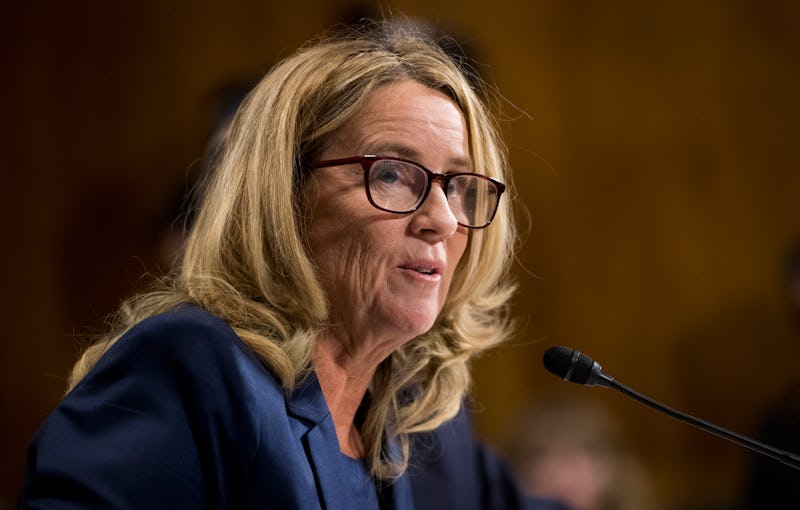 Pool/Getty Images News/Getty Images
As of Sunday afternoon, the FBI had not contacted Christine Blasey Ford, one of her lawyers told a reporter from The New York Times. The bureau re-opened an extended background check to investigate sexual assault claims made against Supreme Court nominee Brett Kavanaugh, all of which he has vehemently denied. Bustle has reached out to Kavanaugh for comment via the White House.
"We have not heard from the FBI, despite repeated efforts to speak with them," Ford's lawyer Debra S. Katz told Times reporter Sheryl Gay Stolberg.
After a whirlwind Senate Judiciary Committee session on Friday, President Donald Trump ordered that the FBI reopen the background check on Kavanaugh, according to The Washington Post. The investigation is scheduled to last a week, and is intended to take into consideration Ford's sexual assault allegation against Kavanaugh, per CNBC. However, the FBI has not communicated with Ford, though it has contacted Kavanaugh's second accuser, Deborah Ramirez, according to Ramirez's attorney, John Clune.
"We can confirm the FBI has reached out to interview Ms. Ramirez and she has agreed to cooperate with their investigation," Clune tweeted on Saturday. "Out of respect for the integrity of the process, we will have no further comment at this time."
To be clear, although the FBI has not yet contacted Ford, that doesn't mean that the agency won't reach out to her or her legal team at all. But given the political frenzy surrounding Ford's allegation, the small time frame allowed for the investigation, as well as her historic testimony before the committee on Thursday, it is surprising that contact has not yet been established.
On Friday, Press Secretary Sarah Huckabee Sanders tweeted a statement from President Trump, announcing the investigation. "I've ordered the FBI to conduct a supplemental investigation to update Judge Kavanaugh's file," the statement read. "As the Senate has requested, this update must be limited in scope and completed in less than one week."
The White House has asked the FBI to interview four witnesses, according to The New York Times, which has angered some senatorial Democrats, who believe four people is not enough. However, one of the four people listed so far is Ford, per The Times.
President Trump tweeted about the Democrats and their frustrations on Sunday afternoon, alleging that they would never truly be pleased with what the FBI accomplishes. "Wow! Just starting to hear the Democrats, who are only thinking Obstruct and Delay, are starting to put out the word that the 'time' and 'scope' of FBI looking into Judge Kavanaugh and witnesses is not enough," Trump wrote. "Hello! For them, it will never be enough - stay tuned and watch!"
Until Friday, it seemed as though Kavanaugh's confirmation would continue as usual, without a refreshed FBI investigation. But at the very last moment, Sen. Jeff Flake said that he would vote to move Kavanaugh's nomination forward but requested a one-week delay before the next vote, allowing for the FBI to look into the sexual assault allegations in the meantime, according to The Times. Shortly thereafter, Trump announced that Kavanaugh's background check would be reopened.
The FBI is widely expected to reach out to Ford at some point, but whether or not their investigation will impact Kavanaugh's long-term confirmation process is entirely unclear. Thus far, the entire procedure has been filled with unanticipated surprises.