Christine Ford Says This Is How She Wishes The Kavanaugh Process Was Different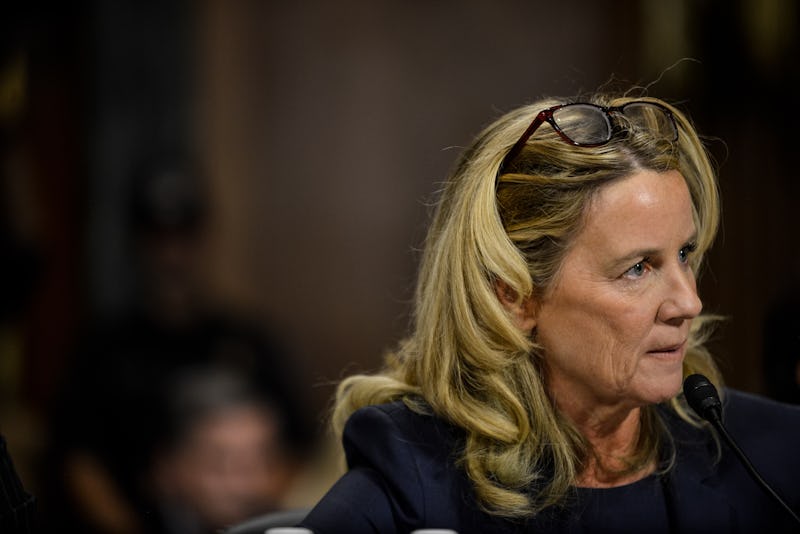 Pool/Getty Images News/Getty Images
During her testimony before the Senate Judiciary Committee on Thursday, the first woman to accuse Brett Kavanaugh of sexual misconduct spoke about how coming forward with her allegation has disrupted her life and risked her family's safety. But Christine Ford wishes this process was different so the committee could better get to the truth about the alleged encounter between her and Kavanaugh that she claims took place in the 1980s (which he denies).
"I wish that I could be more helpful, and that others could be more helpful, and that we could collaborate in a way that would get more information," Ford said on Thursday.
Ford and her attorneys repeatedly called for the FBI to investigate her allegations before she appeared before the committee. In a letter to the Senate Judiciary Committee last week, Ford's attorney asserted that "a full investigation by law enforcement officials will ensure that the crucial facts and witnesses in this matter are assessed in a non-partisan manner, and that the Committee is fully informed before conducting any hearing or making any decisions."
No such investigation was granted, but Ford and Democrats on the committee stood by the calls for the FBI to get involved during the hearing on Thursday.
"You have called for an independent FBI investigation into the fact. Judge Kavanaugh has not. And we owe you that," Sen. Kamala Harris (D-Calif.) said to Ford on Thursday.
While testifying, Ford mentioned multiple times that information about when Mark Judge, who she alleged attempted to assault her with Kavanaugh (which both men deny), worked at the Potomac Safeway. Ford told the committee that she ran into Judge there after the alleged assault, and she believes knowing when he was employed there would help her further narrow down the date of the alleged assault.
"I can't give an exact date and would like to be more helpful," Ford said, explaining that she was using the memory of when she got her drivers license to determine which summer the alleged assault took place. "I was 15 and didn't drive to or from that party," she said. "Once I had my license I liked to drive myself."
Although many Democratic senators called for Judge to testify as a witness, there are currently no plans for him to do so. He did submit a written statement to the committee, but The Washington Post reports that Judge went to a beach house while the hearings took place.
Ford said multiple times on Thursday that she wished she "could be more helpful." Many people (and mostly Democratic senators) said in commentary and on Twitter that she was already going above and beyond her civic duty to detail an alleged trauma she suffered as a teenager before the entire nation.
But her comment about a lack of collaboration highlighted the fact that Republican leaders weren't meeting her halfway, as she saw it. Sen. Chuck Grassley again refuted claims that an FBI investigation could help shed light on what really took place and didn't respond to Democrats' requests for Judge to testify.
Ford made it clear that she just wanted to get to the truth — but, as she noted, she couldn't do it comprehensively alone.
If you or someone you know has been sexually assaulted, call the National Sexual Assault Telephone Hotline at 800-656-HOPE (4673) or visit online.rainn.org.