The FBI Reached Out To Christine Ford — But Not About The Kavanaugh Allegation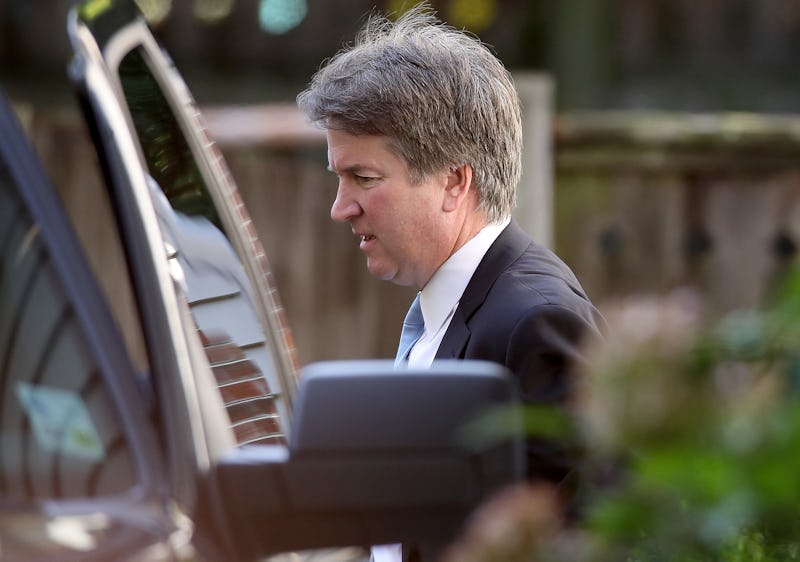 Win McNamee/Getty Images News/Getty Images
Supreme Court nominee Brett Kavanaugh's confirmation hearings took an unexpected turn when Dr. Christine Ford, a former acquaintance of the nominee, accused him of sexually assaulting her when she was 15 (Kavanaugh denies the allegation). Now, Ford and the FBI are in touch — but they're not talking about her accusation against Kavanaugh.
Ford's lawyer Debra Katz confirmed to The Washington Post that her client had plans to meet with the FBI on Friday afternoon, telling The Post that the bureau contacted Ford with "material" concerning threats to her life. Katz added that although the death threats only came in after Ford accused Kavanaugh of assaulting her, Ford will not discuss her allegation against Kavanaugh with the FBI, only the death threats themselves.
"This is strictly about the death threats she has been receiving," Katz told The Post.
Ford says that at a party in 1982, Kavanaugh pinned her to a bed, groped her, attempted to forcibly remove her clothes, and pressed his hand against her mouth when she tried to scream. Kavanaugh categorically denies the charges; Senate Republicans, eager to confirm another conservative judge to the Supreme Court, immediately cast doubt on Ford's story, with many immediately accepting Kavanaugh's denial and accusing Ford of misremembering the situation.
Nevertheless, Ford's accusation against Kavanaugh has thrown his confirmation hearing into disarray. There has been a lot of talk of her testifying before the Senate Judiciary Committee regarding the allegation; however, it's unclear whether she and the committee will be able to agree on a set of guidelines and conditions for such a testimony. Republicans have rejected some of her requests but accepted others; as of this writing, she hasn't yet responded to the GOP's latest counter-offer.
The situation became even more chaotic after Ed Whelan, a conservative activist and personal friend of Kavanaugh, accused Ford of misremembering the identity of her alleged assailant. In a series of now-deleted tweets, Whelan argued that Ford was actually assaulted by a former classmate of Kavanaugh's; Whelan identified that classmate by name, published childhood photos of him and concluded that Kavanaugh had never assaulted Ford.
Ford immediately denied Whelan's claim, however, telling The Post that she knew the other man, had once visited him in the hospital, and that there's "zero chance" she would confuse him with Kavanaugh. Whelan later apologized for his "appalling and inexcusable mistake of judgment." The Post reports that if Kavanaugh is called to testify again before his vote, Senate Democrats plan to question him on whether he had advance knowledge of Whelan's plan for defending him.
Despite all of this, Senate Republicans are determined to move forward with his nomination despite Ford's allegation, with Majority Leader Mitch McConnell saying Friday that the GOP will "plow right through" and get Kavanaugh confirmed to the Supreme Court before the midterm elections.
Ford had previously revealed, through her lawyers, that she's received a barrage of death threats since coming forward with her accusation. As a result, she says, she and her family have moved out of their home and hired a private security detail.