Christine Ford Wants An FBI Investigation Before She Testifies About Brett Kavanaugh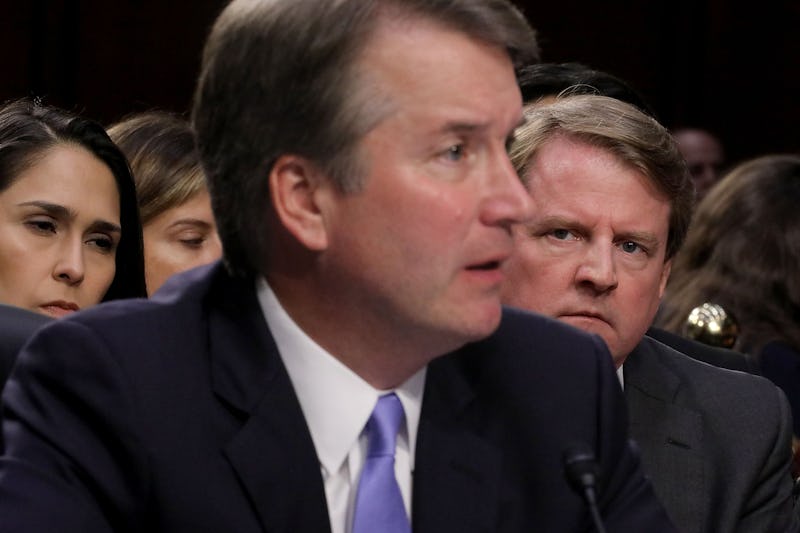 Chip Somodevilla/Getty Images News/Getty Images
In a move that could push back the planned hearing on Monday, Dr. Christine Blasey Ford wants the Brett Kavanaugh allegation to be investigated by the FBI before a Senate hearing happens, CNN reported. Ford's attorneys explain their reasoning in a letter to Senator Chuck Grassley that was obtained by the news network.
Ford's attorneys are asking that "a full investigation by law enforcement officials will ensure that the crucial facts and witnesses in this matter are assessed in a non-partisan manner, and that the Committee is fully informed before conducting any hearing or making any decisions," according to CNN.
Kavanaugh denied the allegations again in a statement released by the White House on Monday, Politico reported, and said he was willing to testify in front of Congress. "I have never done anything like what the accuser describes — to her or to anyone," Kavanaugh said. "Because this never happened, I had no idea who was making this accusation until she identified herself yesterday. I am willing to talk to the Senate Judiciary Committee in any way the committee deems appropriate to refute this false allegation, from 36 years ago, and defend my integrity."
Take a look below at the letter, uploaded by CNN, that Ford's attorneys sent to Grassley on Tuesday.
The letter offers insight into what Ford is now grappling with after her decision to come forward. Her attorneys revealed the "vicious harrassment" and "death threats" Ford received and the subsequent decision to leave their home over safety concerns.
But perhaps the most scathing portion of the letter was in accusing some senators of being insensitive. One, for example, has already expressed his skepticism of Ford's credibility.
"While Dr. Ford's life was being turned upside down, you and your staff scheduled a public hearing for her to testify at the same table as Judge Kavanaugh in front of two dozen U.S. Senators on national television to relive this traumatic and harrowing incident," Ford's attorneys wrote. "The hearing was scheduled for six short days from today and would include interrogation by Senators who appear to have made up their minds that she is 'mistaken' and 'mixed up.'"
Ford's letter comes one day after Grassley said the Senate Judiciary Committee would hold a hearing next Monday to allow Kavanaugh and Ford to testify in an appearance that would have been open to the public, according to CNN.
Democrats are firmly behind Ford. On Tuesday, all 10 Democrats on the Senate Judiciary Committee argued that the FBI needed to launch an investigation before a hearing was scheduled in a letter to the FBI and White House, according to NPR, but the GOP and Trump's administration have argued that it's not the place of the FBI to do so.
In a Justice Department statement, according to NPR, a spokeswoman seemed to agree with the boundaries of the FBI.
"The FBI does not make any judgment about the credibility or significance of any allegation," the statement reads, according to NPR. "The purpose of a background investigation is to determine whether the nominee could pose a risk to the national security of the United States. The allegation does not involve any potential federal crime. The FBI's role in such matters is to provide information for the use of the decision makers."
Grassley has a number of considerations to take into account before deciding on whether to keep the Monday hearing date. What he decides with regard to Ford's request on her health and safety will set the tone for what many are expecting to be one of the most compelling hearings in Supreme Court nomination history.