Christine Ford's Family Wrote This Letter Asking That She Be Treated With Respect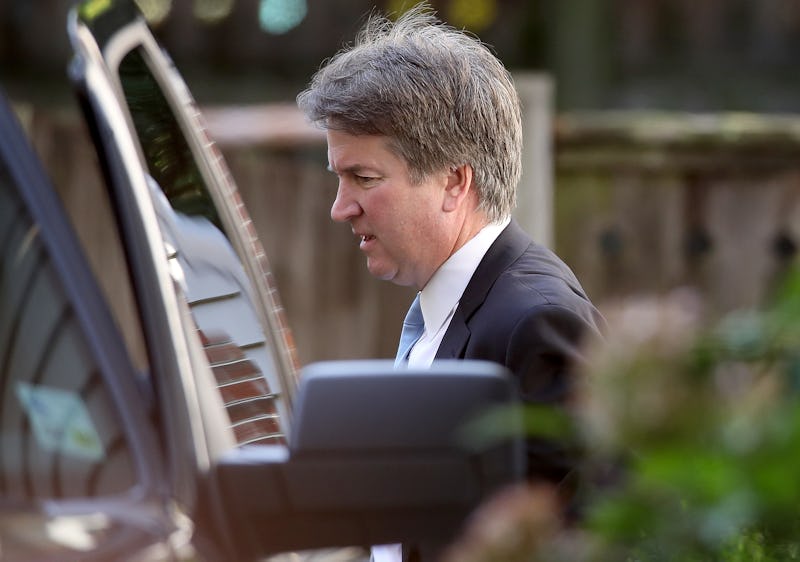 Win McNamee/Getty Images News/Getty Images
Supreme Court nominee Brett Kavanaugh's confirmation hearings were thrown into disarray earlier in the month when a childhood acquaintance accused him of sexually assaulting her when she was 15. Kavanaugh denies the accusation, and Senate Republicans are determined to get him confirmed to the high court before the midterms. Meanwhile, his accuser Christine Blasey Ford's family has written a letter in support of her, attesting to her integrity and urging the public to respect her privacy.
Senate Republicans had initially announced that Ford, along with Kavanaugh, would testify before the Senate Judiciary Committee on Monday regarding the accusation. However, Ford's lawyers then sent a letter to Sen. Charles Grassley, chair of the committee, demanding that a full FBI investigation be carried out before she testifies. Preliminary reporting suggests that the bureau won't launch such an investigation, however, and as of this writing, it's uncertain whether or not Ford will ultimately testify on Monday as planned.
Here's the full text of the letter, which Ford's niece Bridget Mendler published on Twitter on Thursday:
As members of Christine Blasey Ford's family, we wish to express our full support for our sister-in-law, daughter-in-law, aunt and dear friend. She is married to our brother, son and uncle Russell Ford, and is a loyal, reliable, involved family member of the most impeccable character. Chrissy has tremendous compassion for others, goes out of her way to support and encourage the young ones in our family, and does so with great warmth and generosity.
She listens to others with full attention, interested in their ideas and their concerns, and spends time with young family members, giving surf lessons, attending soccer matches and school plays, and brainstorming about college planning with nieces and nephews. We especially admire the way she is raising her children to be genuinely good people who are considerate of others.
Chrissy is also a very highly respected professional in the field of Psychology. She is devoted to helping researchers get at the truth through detailed statistical analysis and research. She shows great devotion to her work and to her community of colleagues and students. When discussing her work, she recognizes the team effort at work, never speaking of "I" but always of "we," and is diligent about research findings, always careful not to exaggerate results.
As a family member, Chrissy can be counted on in any kind of difficulty. Her honestly is above reproach and her behavior is highly ethical and respectful of everyone's point of view. We believe that Chrissy has acted bravely by voicing her experiences from the past, and we know how difficult this is for her. Chrissy is not someone who chooses to be in the spotlight. We ask that her decision to share a private and difficult recollection be treated seriously and respectfully, and we ask that you please make every effort to respect Chrissy's and our family's privacy as this issue is investigated.
The letter is signed by Russell Ford; Deborah Ford Peters, Ph.D.; Sandra Ford Mendler, AIA; Charles Mendler; Rev. Jackie Clement; John Ford; Ruth Ford Guthery; John Guthery; Katie Thurman; Bridget Mendler; Nicholas Mendler; and Haley Peters.
In addition to the signatories of Thursday's letter, many of Ford's other friends have publicly defended her and said that they believe her allegation against Kavanaugh. Over 200 members of her alma mater — including actress Julia Louis-Dreyfus  — have signed a letter in support of her as well.