Christine Ford's Lawyer Wrote That Rushing The Hearing Is Anything But "Fair"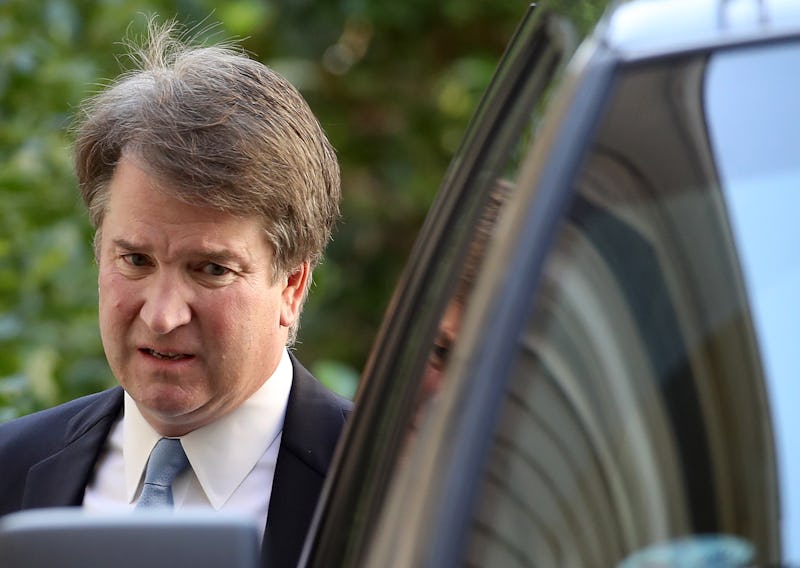 Win McNamee/Getty Images News/Getty Images
As the Senate Judiciary Committee prepares to meet to discuss the sexual misconduct allegation against SCOTUS nominee, Brett Kavanaugh, Christine Ford's lawyer, Lisa Banks says rushing the hearing is unfair, and not in "good faith." In a statement on Wednesday, Banks denounced committee members for pushing confirmation proceedings forward without a formal investigation, or even including other witnesses involved in the allegations. Kavanaugh has vehemently denied the allegation. "I did not do this back in high school or at any time," he said in a statement last week.
"The Committee's stated plan to move forward with a hearing that has only two witnesses is not a fair or good faith investigation," she wrote. "There are multiple witnesses whose names have appeared publicly and should be included in any proceeding. The rush to a hearing is unnecessary, and contrary to the Committee discovering the truth."
The committee was initially supposed to vote to confirm Kavanaugh's nomination on Thursday, but postponed the hearing after an allegation arose last week that Kavanaugh attempted to sexually assault Ford when they were in high school in the 1980s. Both Ford and Kavanaugh have stated that they would be willing to testify in front of the committee, but on Tuesday, Ford asked that the FBI to conduct an investigation first. In a letter addressed to committee chairman Sen. Chuck Grassley, Ford's lawyers said, "an FBI investigation of the incident should be the first step in addressing her allegations," before any hearings are conducted.
Republican senators have given a range of responses on how they think the hearings should proceed. Several members, including Sens. Jeff Flake of Arizona, Lisa Murkowski of Alaska, Susan Collins of Maine, and Bob Corker of Tennessee are among those who have pushed the committee to hit pause until it can hear from Ford.
On Wednesday, after Ford had expressed her hesitation to testify before an FBI investigation is conducted, Collins, a crucial swing vote, appeared to suggest she owed it to Kavanaugh. "I don't think she can reject, having made all of these serious allegations, I don't think that she can reject all those options," she said in an interview with WVOM radio in Maine. "I think it's not fair for Judge Kavanaugh for her not to come forward and testify."
Corker followed up, saying "Republicans extended a hand in good faith," by setting up Monday's hearing, but "if we don't hear from both sides on Monday, let's vote." In a statement on Tuesday night, Grassley was dismissive of the idea that an FBI investigation could contribute relevant information to the hearing. "Dr. Ford's testimony would reflect her personal knowledge and memory of events," he said. "Nothing the FBI or any other investigator does would have any bearing on what Dr. Ford tells the committee, so there is no reason for any further delay." The Post reported that an FBI investigation wouldn't result in an assessment of the credibility of Ford's allegations, but rather evidence and interviews, which would leave it up to the White House what to do with Kavanaugh's nomination.
In an interview with CNN's Anderson Cooper on Tuesday, Banks left it unclear whether Ford would still be testifying on Monday. "What we're saying is that there should be an investigation, because that's the right thing to do," she said, adding, "any talk of a hearing on Monday is premature." Meanwhile, Ford and her family have moved out of their home after receiving death threats.