Christine Ford's Lawyer Says She Is Willing To Testify Soon — If The Terms Are "Fair"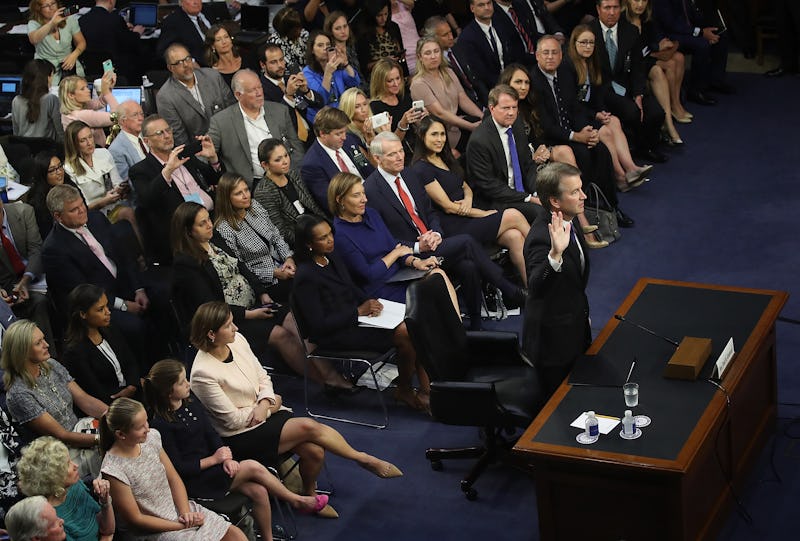 Win McNamee/Getty Images News/Getty Images
"She should not be bullied into participating in a biased process and we should not rush forward before facts are gathered." As the Senate Judiciary Committee prepares for a hearing on Monday to examine the sexual misconduct allegation brought against Brett Kavanaugh (which he has denied), Christine Ford's lawyer says testifying is a possibility if the terms are "fair." More specifically, in an email to the committee on Thursday, Debra Katz assured senators that Ford is willing to testify as long as "we can agree on terms that are fair and which ensure her safety."
Katz also stated that Ford would not be appearing at the hearing on Monday, which committee chairman Sen. Chuck Grassley scheduled after postponing the confirmation vote on Kavanaugh's nomination. "A hearing on Monday is not possible and the committee's insistence that it occur then is arbitrary in any event," she wrote, echoing Democratic senators who have criticized Republicans for rushing the proceedings ahead of the midterms.
In a phone conversation with committee leaders on Thursday, Katz reportedly discussed several conditions to ensure Ford's safety if she testifies, according to The Washington Post. Among these were keeping reporters at a safe distance, having Kavanaugh testify first, and keeping the nominee out of the hearing room while Ford testifies. Katz apparently also proposed that a subpoena be issued to Mark Judge, a classmate of Kavanaugh's who Ford alleges was present during the assault. Politico reported Katz additionally raised the possibility of having just one camera in the hearing room and said that Ford does not want to be questioned by an outside counsel.
The committee has reportedly been interviewing lawyers to be outside counsel at what is shaping up to be a highly politicized hearing. According to CNN, they are looking for a female lawyer to question Ford, in order to soften the appearance of the 11 Republican senators on the committee, all of whom are men.
In her letter, Katz also raised concerns over Ford's safety, writing, "She has been receiving death threats, which have been reported to the Federal Bureau of Investigation, and she and her family have been forced out of their home." Politico reported Katz requested help protecting Ford, which means she could receive a U.S. Capitol Police detail on her hearing date. Katz suggested that could be as early as next Thursday, according to The Post.
Grassley is set to deliberate with staff on next steps, though it is almost certain that he and other GOP senators will push back on some of Ford's terms, including her request to issue a subpoena to Judge, and have Kavanaugh testify first, reports The Post.
In all the back-and-forth over Ford's potential testimony on Thursday, Kavanaugh has remained steadfast about both his denial, and his willingness to testify on Monday. "I continue to want a hearing as soon as possible, so that I can clear my name," Kavanaugh wrote in a letter to Grassley on Thursday.
Kavanaugh's eagerness to testify seems to mirror the urgency Republican senators are expressing to move the confirmation proceedings along. "If [Ford] doesn't want to participate and tell her story, there's no reason for us to delay," Sen. John Cornyn told CNN on Thursday. "If we don't hear from both sides on Monday, let's vote," Sen. Bob Corker tweeted on Tuesday.
Democrats have pushed back on the notion, however, arguing that Ford deserves to have her allegations investigated before Kavanaugh is appointed to highest court in the nation. On Tuesday, Sen. Kamala Harris tweeted, "She should not be bullied into participating in a biased process and we should not rush forward before facts are gathered."