This Democratic Senator Will Vote No On Kavanaugh — But Not Because Of The Allegation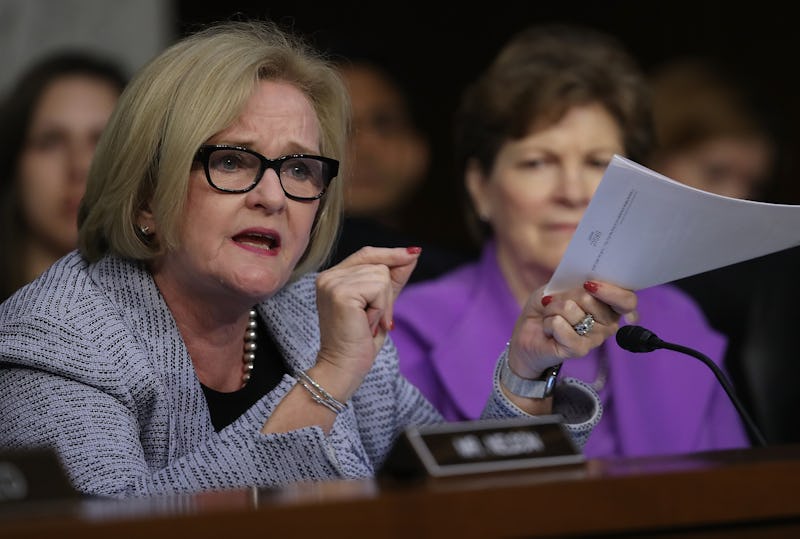 Win McNamee/Getty Images News/Getty Images
As the Senate moves toward a vote on the confirmation of Brett Kavanaugh to the Supreme Court, the country is closely watching Congress' lawmakers. According to a statement released on Wednesday, Missouri Sen. Claire McCaskill's vote on Kavanaugh will be a no, clearing up any uncertainty. McCaskill said that although she takes the new sexual misconduct allegation against Kavanaugh very seriously, her decision is based on something else. Kavanaugh has denied the allegation.
In particular, McCaskill cited the nominee's position on dark money, which according to Investopedia, "refers to the funds donated to nonprofit organizations that in turn spend it in order to influence elections." Certain categories of nonprofit organizations can receive unlimited amounts of donations and aren't required to disclose their donors. This loophole can allow corporations and other wealthy benefactors to sidestep campaign finance laws and significantly influence elections. In her explanation, McCaskill denounced Kavanaugh for supporting the "avalanche of dark anonymous money" that is currently "crushing our democracy."
"[Kavanaugh] has revealed his bias against limits on campaign donations which places him completely out of the mainstream," she wrote, citing an email in which he said, "I have heard very few people say that limits on contributions to candidates are unconstitutional although I for one tend to think those limits have some constitutional problems."
McCaskill also expressed disdain for Kavanaugh's views on election advertising, which she says also come from dark money. So called "issue ads," she said, are "drowning the concept of individuals having the strongest voice in our democracy," adding Kavanaugh's opinion that restrictions on dark money advertising are "blatantly unconstitutional," even when the money comes from foreign nationals.
"While I am also uncomfortable about his view on Presidential power as it relates to the rule of law, and his position that corporations are people," she concluded, "it is his allegiance to the position that unlimited donations and dark anonymous money, from even foreign interests, should be allowed to swamp the voices of individuals" that determined her no-vote.
Many Democratic senators from states more liberal than Missouri came out in opposition shortly after Kavanaugh's nomination, citing his positions on abortion rights, executive power, and gun control. Sen. Bob Casey of Pennsylvania, like McCaskill, called out the nomination for supposedly being tied up with special interests. "I will oppose the nomination the President will make tonight because it represents a corrupt bargain with the far right, big corporations and Washington special interests," Casey said on July 9, even before Kavanaugh was named.
In the lead-up to the president's SCOTUS pick announcement, Kavanaugh was reportedly placed on a list of candidates vetted by the Federalist Society, a conservative organization that has played a role in many of the Trump administration's judicial appointments. Since the nomination in July, a conservative political organization tied to the Federalist Society called the Judicial Crisis Network (JCN) has spent at least $4.3 million on ad buys supporting Kavanaugh's confirmation.
JCN is almost entirely funded by a group called the Wellspring Committee, which according to The Daily Beast, was founded by billionaires Charles and David Koch. Americans for Prosperity, another Koch-funded political organization also announced a seven-figure ad campaign supporting Kavanaugh earlier this year, according to The Washington Post.
Overall, supposed dark money, referred to as "special interests" by many Democratic senators, isn't just a concern for McCaskill. "I am convinced Judge Kavanaugh would side with special interests over working people," Ohio Sen. Sherrod Brown said in August. "Working people need Justices who will put their rights first, not Justices who will side with ... massive corporations over American workers."