Kylie Jenner Is Teasing All Of Us With These Pregnancy Clues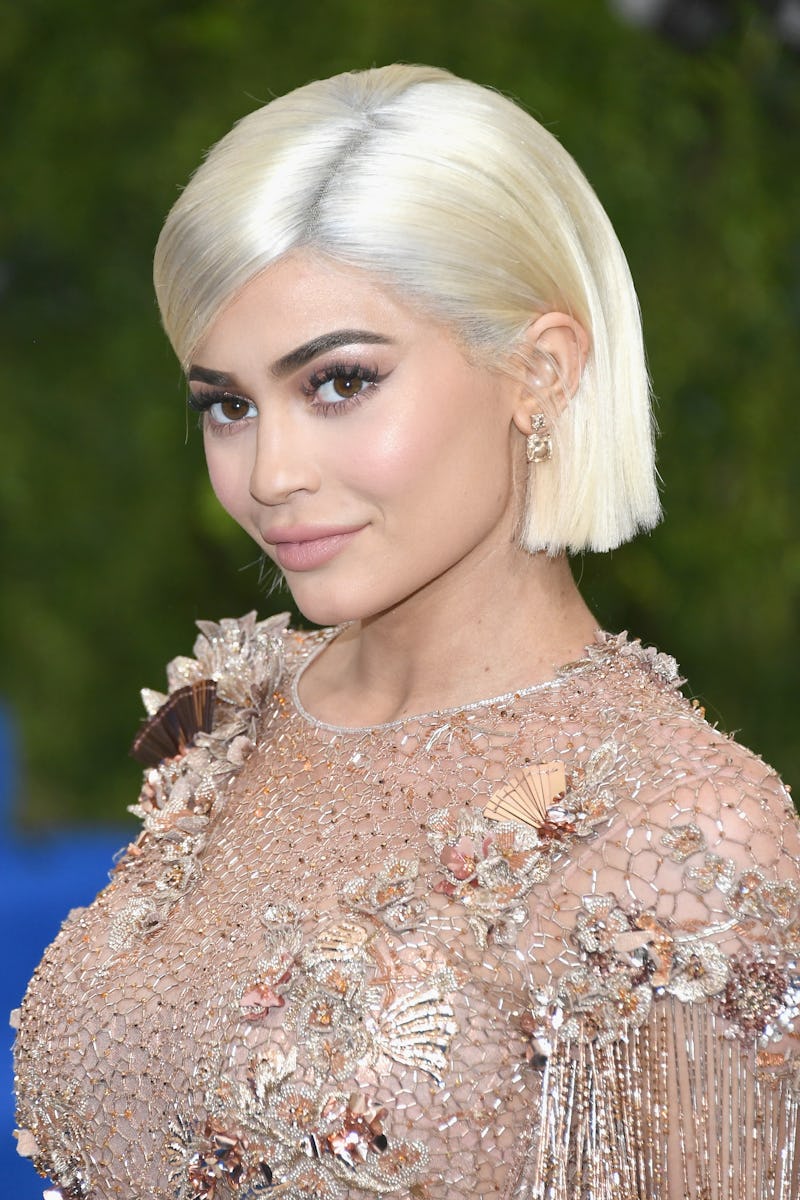 Dia Dipasupil/Getty Images Entertainment/Getty Images
Despite the fact that it's been weeks since rumors that Kylie Jenner is pregnant first began to surface, fans still don't have confirmation that she's expecting a baby. But now, it seems like Jenner is dropping clues that she's pregnant for real... and some of them are actually kind of mind blowing. Of course, it's impossible to know for sure whether or not she has a bun in the oven until she makes the announcement herself, but who knows when that could be? In the meantime, detective work is necessary, and it's starting to look like that might be exactly what Jenner wants her fans to do.
If you care about the status of Jenner's womb, chances are good that you already follow her on social media and that means you've probably noticed she's been sharing a few posts that might be meant to slyly comment on the pregnancy rumors to her followers. As a member of modern society with access to the internet, of course Jenner herself is aware of these rumors, and it seems like intentionally dropping hints about being pregnant is something she might do.
Here are the clues Jenner has possibly given as a way of purposefully confirming her pregnancy without actually confirming it. The jury's still out on this mystery, but this stuff makes it hard to argue that she's not currently with child.
This Photo She Shared Wearing A Giant Shirt
This is too good. Of course, there's that chance that Jenner is just wearing an oversized shirt, but there seems to be a bigger chance that she's either hiding a baby bump or she wants her followers to think that she's hiding a baby bump in an attempt to make us all crazy. Spoiler alert: It's working.
This Potential Gender Reveal
To some, this is just a Snapchat photo of the lip kit-themed phone cases Jenner is selling, and to others, it's a gender reveal. It's hard to deny that her use of pink and blue could be telling... especially since she chooses one of them and even posed with it in another Instagram photo later. Is she trying to tell fans that her baby is a boy, that she's hoping for a boy, or that she just likes the color? The world may never know.
She Possibly Already Showed Off Her Bump
Soon after rumors of Jenner being pregnant started to circulate, this photo surfaced on her Instagram. Just the tiniest bit of her belly is showing, but some people took it as her low-key way of showing off her baby bump for the first time. Make of that what you will.
She's Been Posting Old Photos On Her Instagram
Why would someone post an old photo of themselves instead of sharing a new one? Maybe she's trying to hide the fact that she's pregnant... or maybe she just really liked this picture and wanted to post it. Where do the mysteries end?
Then There's This Suspicious Shot
See that hand down by her belly? Her fans are talking about how this could be yet another "bump" shot... even though she still hasn't even admitted what's really going on. At this point, this photo could go either way.
She (Maybe) Insinuated That She Has A Bun In The Oven
The same day she posted the phone case photo on Snapchat, she also shared this pic of three cinnamon buns. Could she be referencing a bun in the oven? Could she be referencing three buns in the oven (for her, Khloé, and Kim)? Could this just be a picture of her breakfast?
She's Been Talking About Having Kids Lately
Last year, on Keeping Up With The Kardashians, Jenner casually mentioned that she wants to have kids before she's 25, so a pregnancy now would make sense. And then, in an episode of Life With Kylie that aired in August, Jenner brought up the idea of kids again, saying, "I do want kids. Who doesn't want kids?" Well, plenty of people, but there's no doubt that Jenner sees a future with babies in it.
Of course, Jenner will fill us in on the baby issue when she's ready, so all there's left to do is wait — and keep an eye out for more clues. Knowing her, there will probably be a few more before an official announcement is made.