Colin Kaepernick Has Reportedly Signed A $1 Million Book Deal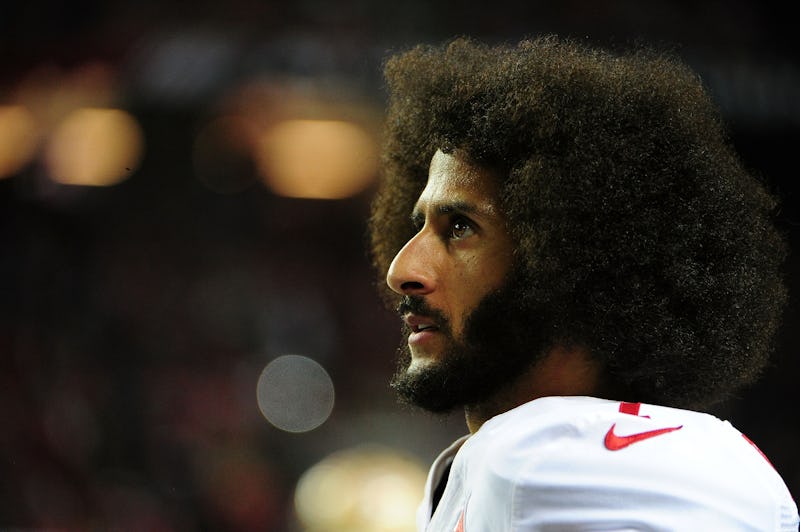 Scott Cunningham/Getty Images Sport/Getty Images
Former San Francisco 49ers Quarterback Colin Kaepernick may not be able to find a gig playing in the NFL, but he's allegedly found one writing for one of the world's most esteemed literary imprints. According to PageSix, Kaepernick has reportedly inked a $1 million book deal with Random House's One World imprint, which is headed by editor Chris Jackson and publishes Between The World and Me author Ta-Nehisi Coates. On Monday, PageSix reported that Colin Kaepernick was taking meetings with publishers out of talent agency William Morris Endeanvor's New York City offices.
It would not be untrue to call Colin Kaepernick the most divisive figure in modern day sports. The quarterback launched a movement last year when he began taking a knee during the playing of the "Star-Spangled Banner" at NFL football games to protest the systemic oppression of people of color in the United States, with a particular emphasis on police brutality.
"I am not going to stand up to show pride in a flag for a country that oppresses black people, and people of color," Kaepernick said after the first game in which he took the knee. "To me, this is bigger than football, and it would be selfish on my part to look the other way. There are bodies in the street, and people getting paid leave, and getting away with murder.""
His actions were met by both widespread support and widespread condemnation, but unfortunately, his allies couldn't help him when he became available as a free agent at the end of the 2016-2017 season. When the new season kicked off in September of this year, Kaepernick did not have a job. He has since filed a collision lawsuit against the NFL, which must prove at least two teams (or one team and the NFL) acted together to keep him from getting a job.
Ironically, the real boiling point in the controversy came this season, when Kaepernick was out of a job. In September, Donald Trump referenced the protests during a campaign rally in Alabama, telling the crowd: "Wouldn't you love to see one of these NFL owners, when somebody disrespects our flag, to say, 'Get that son of a b*tch off the field right now, out, he's fired. He's fired."
Over the course of the next month, Donald Trump tweeted about the NFL protests 37 times, even as more and more players (and occasionally, entire teams) took the knee in protest. Kaepernick may not have a job playing football at the moment, but hopefully, with his book, he'll be able to share his story and keep the spirit of the protest alive.