Colin Kaepernick's Nike Ad Has People Cutting Up Their Socks & Burning Their Shoes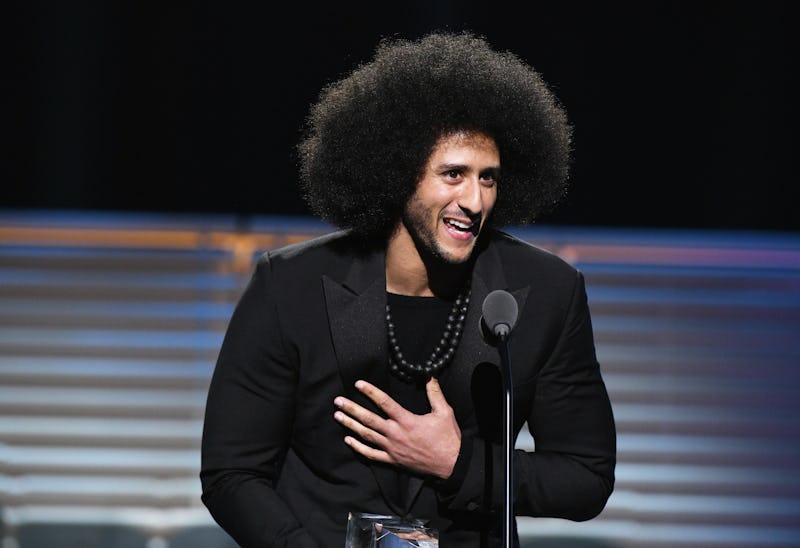 Slaven Vlasic/Getty Images Entertainment/Getty Images
Former 49ers quarterback Colin Kaepernick has long been singled out by the president for his role in the NFL protests, and now Nike has brought the spotlight back to the football player as a part of their 30th anniversary of "Just Do It" ad campaign. The Nike's Kaepernick ad has spurred #NikeBoycott protests and a drop in the company's share prices Tuesday morning while the hashtag trended.
The political controversy, once largely fought on Twitter, has spilled into the world of athletic gear as some call for a boycott online. Those opposed to Kaepernick and his message — many fans of President Donald Trump — are cutting up their socks, removing the Nike Swoosh, and even going out back to shoot up or burn their sneakers.
Others are tweeting their support for the shoe brand and liking or retweeting the ad that was posted by Kaepernick on Monday. It features a picture of the athlete emblazoned with the words, "Believe in something. Even if it means sacrificing everything." Some 260,000 people retweeted and 630,000 liked the post as of Tuesday afternoon.
That support hasn't transferred to Wall Street. By Tuesday afternoon, the company's share prices were down more than 2 percent in trading on the New York Stock Exchange.
While the boycott has taken place IRL, with the actual damage to the Nike gear, the argument over its validity and effectiveness has taken place back on Twitter.
One country music singer, John Rich, tweeted a picture of cut up socks. "Our Soundman just cut the Nike swoosh off his socks. Former marine," he wrote. "Get ready @Nike multiply that by the millions."
Others tweeted their shoes literally burning. "First the @NFL forces me to choose between my favorite sport and my country," user @sclancy79 posted with his video. "I chose country. Then @Nike forces me to choose between my favorite shoes and my country. Since when did the American Flag and the National Anthem become offensive?"
Still more online didn't see how destroying the Nike gear hurt the company — or helped anyone. "Here's an idea," wrote Matthew Chapman. "If you think America's veterans deserve more respect, why not donate your clothes to a veterans' charity instead of cutting them up with scissors like a dumb, spiteful little brat?"
Mansoor Shams, a U.S. Marine, also posted his frustration with the boycott. "Let me guess we're boycotting Nike because by them supporting Colin Kaepernick they are somehow 'disrespecting the flag,'" Shams posted. "We all know this to be untrue/unfounded but a segment of our population will continue to seek division over unity. I'm putting on my Nike shoes!"
In one of the bigger condemnations of the boycott, Ali Rizvi tweeted a connection to Charlottesville:
The people who were burning Tiki torches last year are burning Nike shoes this year. Either way, you've got to buy 'em to burn 'em. Can't be too bad for Tiki or Nike. I'll be buying Nikes for the first time in years this week. To wear.
Only time will tell whether the boycott is successful. But Nike has bet on Kaepernick — even if #NikeBoycott is trending.