Here's What We Know About The Coordinated Bombings In Sri Lanka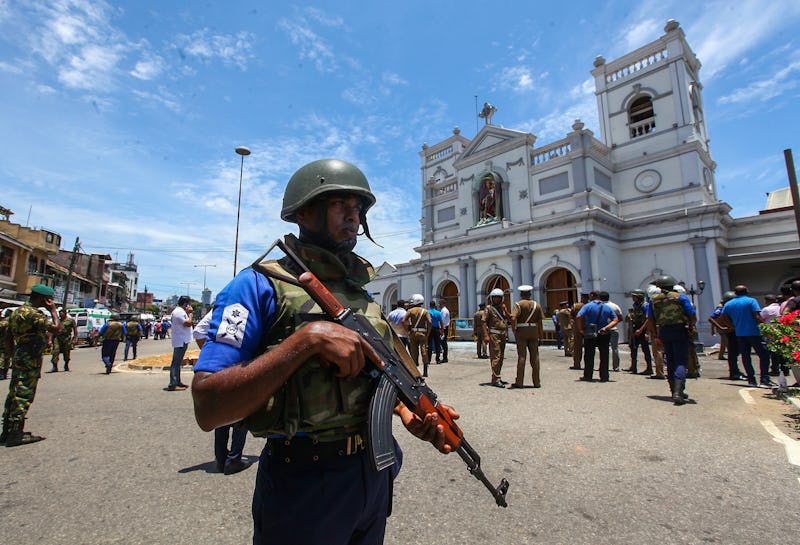 Getty Images/Getty Images News/Getty Images
More than 200 people have been killed with hundreds more injured in a series of coordinated bombings in Sri Lanka that targeted churches and hotels on Easter Sunday. Worshipers were gathering for Easter services when deadly explosions ripped through three separate churches spread across the country. Additional explosions followed at a zoo, a private house, and three high-end hotels.
According to The Washington Post, a wave of at least eight bombings on Sunday represent the deadliest day of violence Sri Lanka has seen since it was embroiled in civil war in 2009. At least 207 people were killed and 450 were injured in what authorities believe were coordinated attacks perpetrated by a single group, The New York Times reported a police spokesperson had said.
At least 36 foreigners hailing from Britain, India, Portugal, Turkey, and the Netherlands are reported to have been among those killed in Sunday's deadly attacks, The Guardian has reported. No one had claimed responsibility for the attacks as of early Sunday evening local time, the Associated Press reported.
In an apparent effort to boost security and quell the spread of misinformation in the aftermath of the attacks, government officials have reportedly implemented an immediate nationwide curfew and blocked multiple social media and messaging networks, The Washington Post reported. According to the paper, some in Sri Lanka reported being unable to access Facebook, WhatsApp, YouTube, and Instagram although it was unclear exactly which networks may have been blocked.
The churches targeted in Sunday's explosions included St. Anthony's Shrine, a Roman Catholic church in Sri Lanka's capital of Colombo; St. Sebastian's Church, a Catholic church in Negombo; and Zion Church, an Evangelical church in Batticaloa on Sri Lanka's east coast, according to the Associated Press. The news outlet also reported blasts at the Shangri-La Hotel, the Kingsbury Colombo Hotel, and the Cinnamon Grand Colombo Hotel — all luxury hotels in Colombo. The final explosions reported Sunday went off near the Dehiwala Zoo in Dehiwala-Mount Lavinia and outside of a private residence in Dematagoda's Mahawila Gardens, CNN reported.
Sri Lanka police were conducting an operation at the house in Dematagoda when the blast, which may have been caused by a suicide bomber, was reported, according to The Guardian. A police spokesperson said authorities had questioned several people in the aftermath of the bombings and had so-far arrested three people suspected to be connected to the attacks, Daily Financial Times editor Marianne David reported.
But authorities were, however, unable to discuss what may have motivated the attacks. "We cannot say who is behind the attacks and what their intentions were until the investigation is complete," David reported police media spokesperson SP Ruwan Gunasekara said.
Sri Lanka's prime minister, Ranil Wickremesinghe, condemned the attacks as "cowardly" in a statement shared on Twitter on Sunday, and urged people to avoid speculation and circulating unverified reports. "I call upon all Sri Lankans during this tragic time to remain united and strong," he tweeted.
President Donald Trump called Sunday's bombings "a terrorist attack" and extended "heartfelt condolences to the great people of Sri Lanka" on Twitter, saying the United States stood ready to help.