Apparently, 'The Bachelor's Corinne Olympios Would Totally Date Nick Again Even Now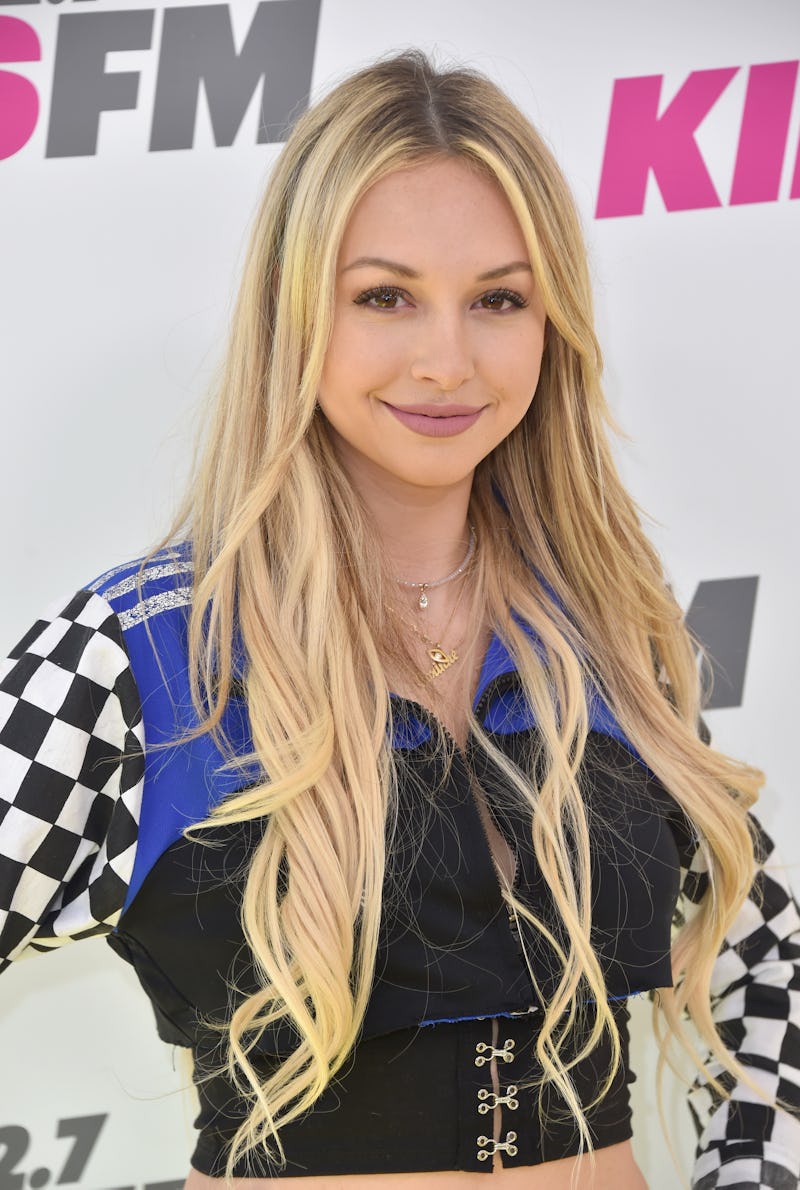 Frazer Harrison/Getty Images Entertainment/Getty Images
If there's one thing we should know about Bachelor Nation's most controversial blonde, it's that the franchise is lucky to have her — not the other way around. Corinne Olympios said she'd date Nick Viall again, but only on her own terms. And not to get too ahead of ourselves, but the way she outlines those terms make her total Bachelorette material. Even though the Season 21 Bachelor was the one rejecting her the first time around, that doesn't mean Corinne is ready to jump right back into his arms. As the reality star told Entertainment Tonight on Tuesday, she's open to a reunion, but she'd need to see some serious changes from her former beau first. You hear that, Nick? Time to get your act together.
The outlet interviewed the 24-year-old for their Bachelor-themed Roses and Rosé series, and Corinne shared she hasn't ruled out giving things another shot. "If I saw him getting back to the way he was when I first stepped out of the limo, I would seriously consider giving him a chance," she said. According to the business owner, there was a big difference between the Nick she met on the first night, and the Nick she said goodbye to after Hometowns. She explained,
"We clearly had strong chemistry, I was falling so hard and I remember when he changed completely. I went up to him, cameras not rolling, and was like, 'I just want to give you a hug before the night ends,' which is something we normally did. He was like, 'K, well, I'm gonna go give out this rose now.'"
According to Corinne, it was a real departure from their relationship, and she found Nick almost unrecognizable by the end of the season. She added,
"I was like, 'Whoa.' It was a slap in the face, like, 'I'm too busy for you right now.' I don't know why he got like that. … I feel like [in the beginning] I saw a different side of him than what [he] shows right now."
Well, well, well, sounds like someone may have gotten a little too big for his britches. It's almost as if Nick didn't realize it was Corinne and the other women who made his season so compelling. (Sorry, not sorry.) But you know who does realize it? Corinne, who's been capitalizing on that very fact ever since the show wrapped. She's confident, self-aware, and knows exactly what she brings to the franchise. And her awareness of what she brings to a relationship is no different.
On follow-up episodes like The Women Tell All or After the Final Rose, most contestants are eager to make the kind of impression that could land them a spot on a spinoff. But in Corinne's case, she was the one being begged to do Bachelor in Paradise, not the other way around. In February, Nick told E! News, "She will be in Paradise," pleading with her directly, "Corinne, please do Paradise!" But even at that point, the Miami native wasn't convinced. "I don't think so," she said, adding, "I think America is interested in me having a reality TV show with my family."
As you all know, Corinne did end up doing BiP Season 4, and while it didn't go the way anyone would have hoped or planned, she was right about one thing. America was interested in seeing more of the reality star, as evidenced by the fact that she currently has two shows in development. She makes the opportunities work for her, displaying the kind of savvy that we don't often see in the franchise. And it's the kind of savvy that would honestly make Corinne an ideal Bachelorette. She knows what she wants, she says what she means, and she is very well-acquainted with her worth. These men would be lucky to be meeting her, and she'd likely never be anything but her truest and most unapologetic self when meeting them.
Plus, she already has some of the verbiage down. When ET asked Corinne how she'd proceed if Nick wanted to meet up again, she responded, "I would meet up with him, have coffee, talk to him and see how he is. He just broke up with his fiancée; it can't be easy." Empathizing with a potential suitor like that? That's Bachelorette talk right there. It's only inches away from that old Bachelor Nation standby — "I know what you're going through, because I've been on the other side of this." Can't you just hear the business owner saying that as she contemplates handing over a rose?
A season of The Bachelorette with Corinne at the helm would be a season of fun, honesty, and absolutely no rules. And if that isn't great television, then who knows what is.