Cory Booker's Op-Ed About Him Groping Someone In High School Makes An Important Point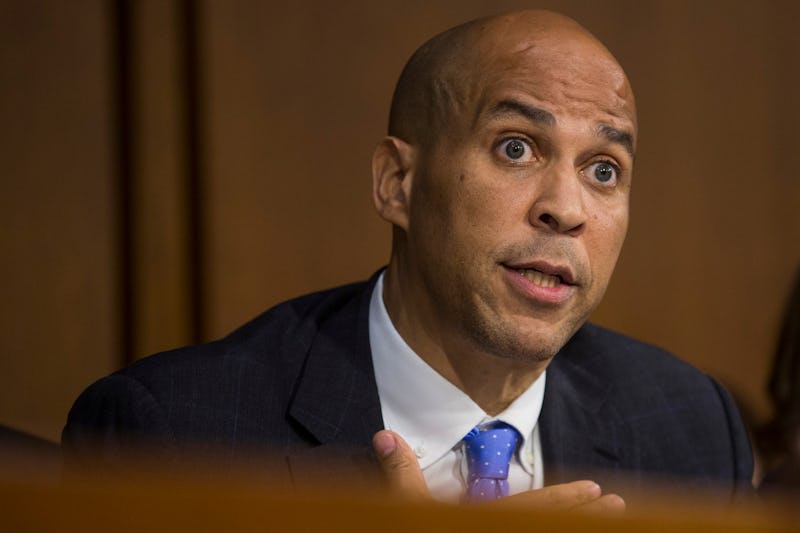 Zach Gibson/Getty Images News/Getty Images
In the midst of the fall out from the Brett Kavanaugh sexual assault allegation, which he denies, an incident is resurfacing from one Democratic senator's own teenage years. New Jersey Sen. Cory Booker groped someone in high school and later wrote an op-ed about it in his college paper suggesting that he'd acted inappropriately and that others could learn from his story.
The op-ed was part of a regular column that Booker wrote for The Stanford Daily, according to The Washington Post, in which he often wrote about issues of social justice (he majored in sociology and political science at the university). He published this particular piece on Feb. 19, 1992, when he was 22 and a master's student, and described an incident that took place on New Year's Eve when he was 15.
"As the ball dropped, I leaned over to hug a friend and she met me instead with an overwhelming kiss," he wrote. "As we fumbled upon the bed, I remember debating my next 'move' as if it were a chess game. ... I slowly reached for her breast. After having my hand pushed away once, I reached my 'mark.' Our groping ended soon."
Further in the op-ed, Booker wrote about how he was socialized to have a problematic relationship with sex as a young man. He described how people encouraged him to use a combination of "luck, guile, strategy or coercion" to have physical intimacy. He described his awakening once he got to college, in part through his service as a peer counselor. He credited the personal stories of rape victims with showing him the flaws in how he'd been approaching sex.
Booker ended the column with an admission that he doesn't have a "conclusion" of sorts, instead just "poignant visions," both of those who exploit others for sexual gain — including "myself at 15 trotting around the bases and stealing second" — and the victims: "the crowds, no, not the spectators, but the thousands, the millions who are rarely seen or heard." He also writes that he was sharing his own experience because "telling one's own personal story is often the most powerful way to make a point, or, more importantly, to make people think."
Booker's op-ed has been out in the open for years, though it is rarely referenced in liberal media, according to The Post. When he was running for his first term as senator in 2013, The Daily Caller publicized it, and it didn't stop him from winning the election that year.
Now it is recirculating following the allegations around Supreme Court nominee Brett Kavanaugh's own alleged sexual misconduct in his high school days (which he "categorically" denies). Many people are differentiating what Kavanaugh is accused of doing from Booker's admitted incident; liberal CNN analyst Chris Cillizza wrote that the "comparison is overly facile and just doesn't hold up," while conservative Paul Mulshine wrote it is "nonsense" to describe Booker's behavior as sexual assault. But Booker has received criticism, according to Mulshine.
"These attacks ring hollow to anyone who reads the entirety of the column," a Booker spokesperson told The Post, "which is in fact a direct criticism of a culture that encourages young men to take advantage of women — written at a time when so candidly discussing these issues was rare — and speaks to the impact Sen. Booker's experience working to help rape and sexual assault survivors as a college peer counselor had on him."
For his own part, Booker has generally refrained from publicly commenting on his column or the incident since 1992. But if he does decide to run for president in 2020 — as he keeps indicating he might — he will likely have more questions to answer about it.