Create A Halloween Costume Just Using Makeup With These Walmart.com Beauty Finds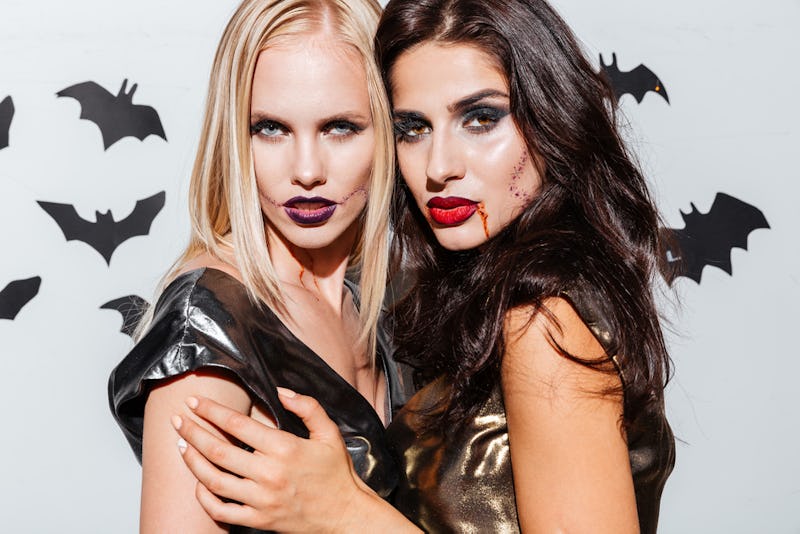 Dean Drobot/Shutterstock
If, for you, the end of October has seemingly snuck up without warning, you might just find yourself in a panic about what to wear this Halloween. But there's nothing to fear (besides, well, scary movies and other normal spooky things): if you saved your planning for the last minute, it's super-easy to create a Halloween costume with just makeup and a few choice wardrobe selections.
Taking a DIY route with your Halloween costume doesn't mean you have to invest a time and money to look cool (or frightening, or celestial, or whatever your vibe). Walmart.com's extensive beauty selection is filled with drugstore makeup for Halloween costumes. Whether you're going classic or want to try out something a little more experimental, a cosmetics-only costume can be fun, affordable, and inspiring.
The easiest Halloween costumes don't have to look like they took little effort—they just require a little bit of strategy. Sure, red lipstick may be a beauty staple, but have you thought about putting it somewhere other than your lips? Or have you considered the true potential of your favorite nudes palette? The Halloween potential of your beauty stash is greater than you may realize.
These 13 products from Walmart.com will help you to throw together a costume contest-winning look in a cinch. Just follow this advice, and you'll be able to create a look with the clothes you already have, and just a few new affordable beauty picks.
Pair Dark Red Lipstick With a LBD to Be a Chic Vampire
Pile on Glitter to Transform Into a Pretty Fairy
Layer Gold Eyeshadow and Throw on a Flowy Gown to Become a Goddess
Pair Green Eyeshadow With an All-Black Ensemble for a Witchy Vibe
Go Full Twiggy With Precise Eyeliner and a Mod Mini Dress
Use a Nude Palette to Create a Lioness-Worthy Warm-Toned Smokey Eye
Apply Rainbow Highlighter and Wear Pastels to Be a Unicorn
Pair Faux Lashes With a Peter Pan Collar to Transform Into a Victorian Doll
Match Blue Lipstick With Ocean Hues for a Mermaid Look
Use White Halloween Makeup to Become a Clown
Create a Holographic Strobe Look to Embrace Your Inner Alien
Get Creative With Red Liquid Lipstick to Be a Red Queen
Use a Zombie Prosthetic Kit to Live Your Best Undead Life
Bustle may receive a portion of sales from products purchased from this article, which was created independently from Bustle's editorial and sales departments. This article reflects price at publication and may change.