These 'Westworld' Halloween Costume Ideas Are So Perfect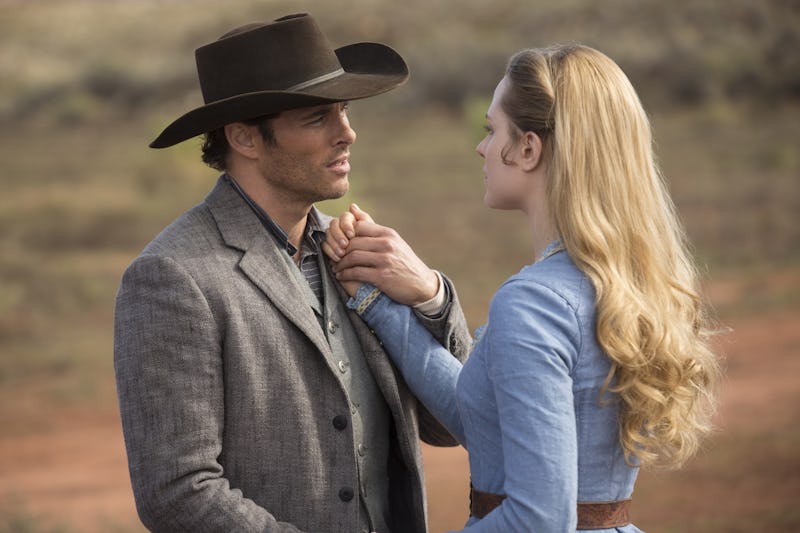 HBO/John P. Johnson
If there's a show that inspires its fans to get creative, it's Westworld. Inspired by the 1973 sci-fi film and its totally unique premise, the show certainly gets audiences to think outside of the box. In the futuristic theme park, guests play dress up all year around, so it's only right that fans of the HBO show honor it this Halloween. With the spookiest night of the year just around the corner, there are plenty of ideas for creative Westworld Halloween 2017 costumes that fans will appreciate and people who haven't watched will definitely be intrigued by.
Although the enormous cast has nearly 30 series regular characters alone, each role is unique, and their wardrobe reflects that. Even smaller roles have intricately designed outfits, which is why Westworld was nominated for an Outstanding Costumes Emmy this year. It may be easy to immediately resort to dressing up as the show's protagonist Dolores (Evan Rachel Wood), but no Westworld character, regardless of how big or small, should be overlooked.
Because the HBO hit is so multilayered with stories and characters, there are plenty of people (and things) to choose from to be this Halloween. Take the Westworld lab technicians, the show logo, or even a park horse. Costumes inspired by Westworld are limitless, and that's before the second season has even made its debut.
1. Cleaning/Lab Technician On Duty
Dressing up as a Westworld lab technician on duty is pretty simple and only requires a few pieces. Plus, if you have two or three friends who are also fans of the show, the squad costume will be on-point this year.
What you'll need:
TopTie Short Sleeve Everyday Scrubs Unisex Lab Coat, $9.49, Amazon; Bubble B Women's Juniors Plus Size Basic V-neck Long Sleeve Shirt, $8.99 - $18.95, Amazon; Norty Women's Hurricane Wellie - Waterproof Hi-Calf Rainboots, $23.90 - $28.90, Amazon; AMMEX Latex Gloves, $6.66, Amazon
2. A Concerned Theresa Cullen
Theresa (Sidse Babett Knudsen) is always worried while scrambling to keep things together. Fans who feel like getting theatrical this year can even channel her presence by teasing their hair, having a concerned face, and keeping their hands on their hip.
What you'll need:
Papijam Women's Fashion Solid Deep V-neck Peplum Crop Blazer Jacket, $13.00, Amazon; Chase Secret Women's V Neck Solid Loose Casual Cuffed Long Sleeve Blouse, $9.99-$14.99, Amazon; Briggs Belted Plaid Pants, $23.97, Old Pueblo Traders; Cricket Amped Up Teasing Brush, $5.99, Amazon
3. Host In The Making/Show Logo
Westworld's bold show logo is one that any TV or pop culture lover will recognize. Be a host in the making by wearing a tight, all white outfit and drawing on the muscles with a black marker.
What you'll need:
Women's Long Sleeve Bodysuit Round Neck Stretchy Leotard, $15.86, Amazon; Ultra Soft Basic Solid Leggings Pants, $8.99-$13.99, Amazon; Marker Marking Scribe Pen Fine Point Round Tip, $3.69, Amazon
4. Armistice and Hector's Incoming
Armistice (Ingrid Bolsø Berdal) and Hector (Rodrigo Santoro) make a great pair for a dynamic duo of Westworld fans. Plus, these outfits are comfy and warm for a chilly Halloween night.
What you'll need:
Authentic 6' x 5' Mexican Siesta Blanket (Brown), $16.90, Amazon; Women's Plus Size Super Stretch Leg Pull on Pant, $31.32 - $34.00, Amazon; Ladies' Hooded Cape with Fringed Hem, $19.99, Amazon
5. A Park Horse
Why be a person from Westworld when you can be a horse? They're everywhere in the park, and fans can even take it to the next level by dressing in all black (with a black cowboy hat) to channel the Man in the Black like in the photo above.
What you'll need:
Adult Inflatable Riding Horse Costume, $42.99, Target
6. Mae Taking Charge
Mae (Thandie Newton) has a few different outfits throughout the first season, but this one is overlooked. It's feminine and also badass, with pieces you can always wear even after Halloween.
What you'll need:
Women's Casual Blue White Stripes Button Front Slit Maxi Skirt, $6.99 - $17.15, Amazon; Women's Sleeveless Ruffle Front Tank Top, $16.99 - $20.99, Amazon; Gun Plastic Toy Costume Accessory, $10.99, Amazon
7. Park Demon
The Westworld park demons don't have much screen time, but when they do it's hard to forget. And nothing says Halloween like a scary mask (and comfy jacket).
What you'll need:
Antique Silver Goat Half Mask Horn Adult, $29.95, Amazon; Members Only Womens Faux Fur Collar Motorcycle Jacket, $17.99, Amazon; Women's Linen Comfort Buttons up Plus Size Long Shirts Coat, $21.60, Amazon
8. Injured Teddy
To be an injured Teddy (James Marsden), all you need is a basic top with pants, with body bandages and fake blood to smear around the torso area. If you could get a friend to carry you around all night, even better.
What you'll need:
Women's 100% Cotton Classic Long Sleeve Shirt, $27.95, Amazon; Buffalo David Bitton Women's Mid-Rise Super Soft Capri Jeans (Grey Wash), $5.99 - $39.93, Amazon; Rubies 16-Ounce Fake Blood, $5.98, Amazon; Cotton Elastic Bandage with Hook and Loop Closure, $5.95, Amazon
9. Teddy In Battle
This look is inspired by the Civil War era, which was just at the onset of the Wild West years. Teddy's battle outfit certainly pays tribute to the appropriate time period in which Westworld is set.
What you'll need:
Women's Military Crop Stretch Gold Zip Up Blazer Jacket, $16.79 - $29.99, Amazon; Women's 100% Cotton Classic Long Sleeve Shirt, $27.95, Amazon; Lee Women's Eased Fit Tailored Chino Pant (Vintage Stellar), $29.90, Amazon; Toy Gun Plastic Prop Adult Sized, $15.28, Amazon
10. Host In Interrogation
Fans can still be a host in interrogation without having to actually walk around naked. Full-length body suits in various skin colors are available to do the job, and an expressionless look will make it seem like you're a real-life park robot.
What you'll need:
JustinCostume Adult Lycra Long Sleeve Unitard Bodysuit Dancewear, $14.99 - $29.99, Amazon
11. Female Park Guest/Host
Without having to commit to a specific character, fans can pretend to be one of the many guests or hosts who make up the Wild West-themed park.
What you'll need:
Lightweight Two Tone Paisley Design Pashmina Fringe Scarf, $10.99, Amazon; Gypsy Boho Cap Sleeves Smocked Waist Tiered Renaissance Maxi Dress (Brown), $12.95, Amazon; Soda Women's Red Reno Western Cowboy Pointed Toe Knee High Pull On Tabs Boots, $10.37 - $59.99, Amazon
12. Dr. Robert Ford's Goodbye
Dr. Robert Ford's (Anthony Hopkins) final goodbye is perhaps one of his most memorable scenes. Wearing a similar suit and channeling his facial expression will actually make fans feel like the mastermind himself.
What you'll need:
Womens Formal 2 Button Blazer Jacket, $25.99 - $33.99, Amazon; Women's Basic Long Sleeve Cotton Simple Button Down Shirt, $9.99 - $23.99, Amazon; Chicwe Women's Plus Size Work Pants Trousers Curvy Fit Bootcut, $28.99, Amazon; Men's Classic Pre-Tied Satin Formal Tuxedo Bowtie, $8.99, Amazon
13. Original Host Child
Bring it back to where the glorious yet terrifying park all started by being Dr. Ford's original host. The wardrobe pieces are easy to obtain and a walking stick can even be found in the back yard.
What you'll need:
Vocni Women's Fully Lined 4 Button V-Neck Economy Dressy Suit Vest, $16.99 - $23.99, Amazon; Women's Basic Long Sleeve Cotton Simple Button Down Shirt, $9.99 - $23.99, Amazon; Exo Terra Forest Branch, $21.99, Amazon
This is Westworld, and Halloween is the time to get those thinking caps on and do the show proud.