Cynthia Nixon Got Out The Vote With An NYC Bar Crawl Two Days Before The Primary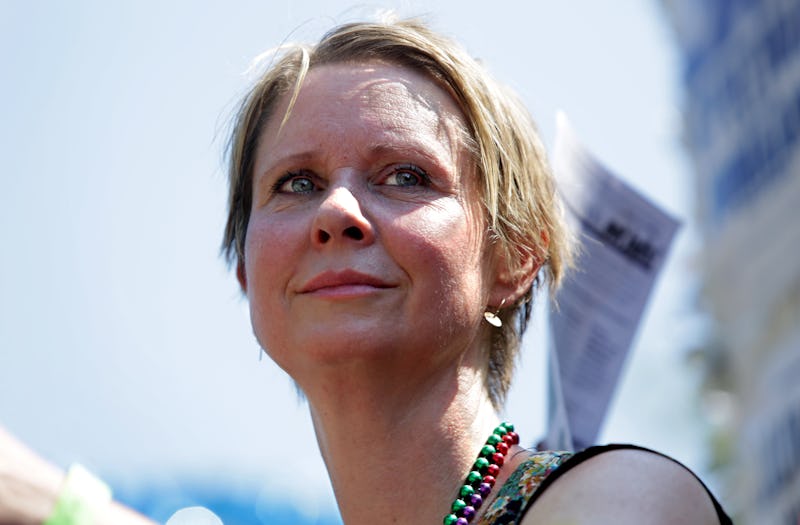 Yana Paskova/Getty Images News/Getty Images
Cynthia Nixon is running a purposefully unconventional campaign, so naturally she's choosing unconventional ways to promote it. On Tuesday evening, she spent the second-to-last night before the primary election traveling from bar to bar in New York City, surprising patrons and encouraging them to vote. Nixon called the excursion a "progressive bar wave."
"Cynthia is campaigning really hard — leaving no stone unturned," Nixon's chief spokesperson Lauren Hitt tells Bustle. "After all her other events yesterday, she figured this would be a good way to meet even more voters."
One of Nixon's stops was Elsewhere in northern Brooklyn, where Bustle spotted her at its large rooftop bar. Surrounded by a small crowd of young fans and campaign workers who were indistinguishable, Nixon welcomed anyone who approached her to talk politics or pose for a photo.
Hitt tells Bustle that it was a "GOTV bar crawl," i.e. "get out the vote." Nixon is down in the polls but making a last-minute push to turn out young, progressive voters on Thursday for the Democratic primary of New York's governor race in which she's opposing incumbent Andrew Cuomo. Despite the urgency, she appeared casual at Elsewhere and seemed to mostly let people come to her instead of approaching groups. When you're Cynthia Nixon, your celebrity is your advertisement — but what with her entrance's total lack of pomp, it's possible some customers didn't even notice she was there.
Hitt tells Bustle that Nixon visited two other bars, Midnights and the Metropolitan Bar, both in Williamsburg. The three spots were chosen because "they're usually busy." Nixon posted photos on social media from the crawl and called it a "progressive bar wave," a nod to the "blue wave" that could come this fall if liberal candidates win large numbers of seats from conservatives across the country.
Tuesday was far from the first time Nixon had made a night out of campaigning in New York City. Earlier this month, The New Yorker followed her for a week as she spoke at bars and CUNY campuses. One of them, an event at a bar in Bushwick, involved a large disco dance party.
Nixon moves about New York City in public all the time, and spotting her is no extraordinary occurrence. Social media users have broadcasted that they've seen her doing everything from campaigning next to the subway, going to activist rallies, ordering a bagel at a deli, to just riding the subway (as that user put it, Nixon was "just getting around being a New Yorker"). She seems to be trying to come across as down to earth and available to voters. One of her slogans, after all, is "A New York for all of us."
Many pundits think that Nixon won't have the chance to make her vision of New York a reality. The latest poll from Siena College shows Cuomo with a 41-point lead over her. But Nixon and her supporters are still holding out hope. According to The New Yorker, they're quick to point out that polls are often wrong and tend to focus on an older demographic, whereas many of Nixon's strongest supporters are young people.
At Elsewhere on Tuesday, I told Nixon that her campaign has been impactful "no matter what happens on Thursday." She didn't seem to take warmly to the hypothetical, and there was a touch of brusqueness in her voice when she replied, "Well, make sure you vote!"