Dana Boente Is Standing With Donald Trump — REPORT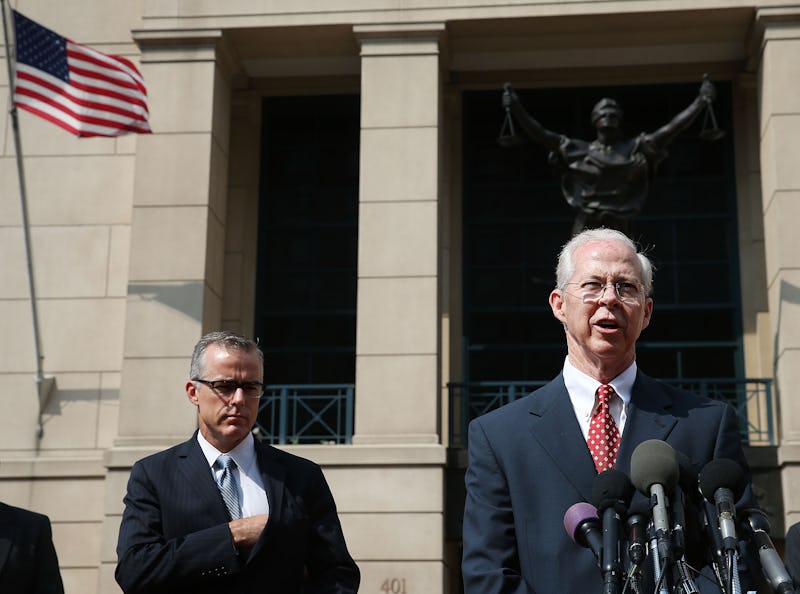 Mark Wilson/Getty Images News/Getty Images
Shortly after taking Sally Yates' spot as acting attorney general, Dana Boente told the Justice Department to stand with Donald Trump's executive order on immigration. Yates, on the contrary, had been fired by Trump's administration for not complying with that exact order. The White House retaliated by dismissing her and released an official statement explaining the decision:
The acting Attorney General, Sally Yates, has betrayed the Department of Justice by refusing to enforce a legal order designed to protect the citizens of the United States. This order was approved as to form and legality by the Department of Justice Office of Legal Counsel.
Ms. Yates is an Obama Administration appointee who is weak on borders and very weak on illegal immigration.
It is time to get serious about protecting our country. Calling for tougher vetting for individuals traveling from seven dangerous places is not extreme. It is reasonable and necessary to protect our country.
Thus, Boente's decision to defend the temporary immigration and refugee ban comes as little surprise. Though firing an attorney general for refusing an order is not common by any means, it has happened in the past under former President Richard Nixon during the 1970s.
Boente will act as attorney general until — and if — the Senate confirms Jeff Sessions. That hearing is expected to take place on Tuesday, meaning Boente may not spend much time as deputy attorney general – at least not under Trump. At the same time, it's possible that Sessions' hearing will be delayed.
It's unclear at this point how the Department of Justice staff will react to Yates' dismissal and Boente's advice to support Trump's order. However, the changes are certain to continue causing waves among the public. Protests against the immigration order have popped up in several international American airports and have even stretched to London. Just a few days after Trump announced the temporary travel ban on Friday, CNN reported that Londoners have taken to the streets to protest it.
Though Boente held a high profile position as U.S. attorney for the Eastern District of Virginia, this amount of national recognition is an adjustment. When being sworn-in in 2015 as U.S. attorney in Virginia, former U.S. Attorney General Loretta Lynch, who served under President Obama, had kind words for Boente:
He is that reliable middle child, the one you could always count on to be there for you.
Now, Trump will be the one expecting that from him.