Dark Veronica Is Coming to 'Riverdale' Season 2 & A Certain Character Is To Blame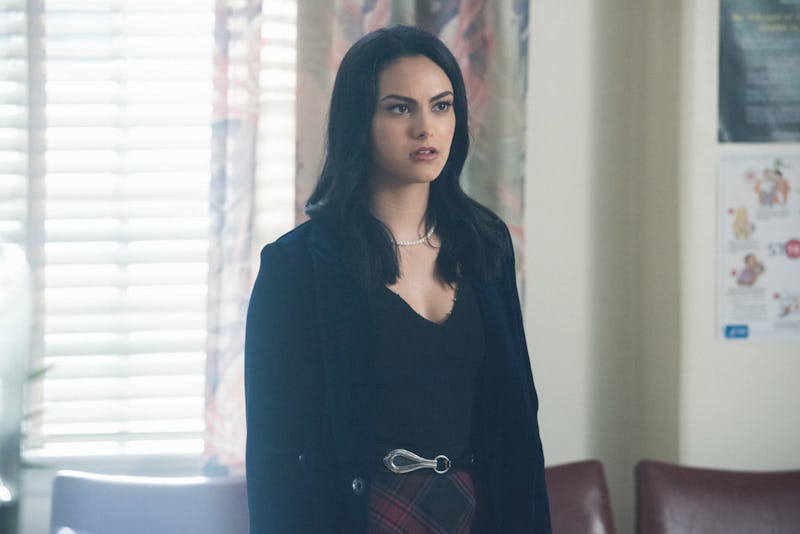 Dean Buscher/The CW
As fans get closer and closer to the Season 2 premiere of Riverdale on Oct. 11, they're learning a lot about where our favorite teens are now. According to Camila Mendes, Veronica is going to a dark place this season, and it has a little something to do with the return of her dad, Hiram Lodge (Mark Consuelos). Yes, get ready because dark Veronica is coming to Riverdale.
When talking to Teen Vogue, Mendes revealed that despite Veronica being happy that her dad is out of prison and back at home with her and her mom Hermione (Marisol Nichols), she's not so sure she can trust him. After all, he was a possible suspect in Jason Blossom's murder and certainly can't be ruled out in the shooting of Fred Andrews. And the mystery that surrounds Hiram may inspire Veronica to get her hands a little dirty.
Mendes told Teen Vogue,
"I don't want to spoil anything, but Veronica kind of takes matters into her own hands, and she's a little bit more involved in the mystery this season. You're going to see her fearlessness be confronted with danger."
This danger that the "little bit more grown up" Veronica is heading into is going to get dark, like really dark. "I think we're going to see her darker side a bit more, especially because her father has arrived," she continued. "He's out of jail, he's back in the family, and that kind of spices up their whole dynamic."
This season, fans are going to see Veronica's relationship with her dad first-hand. "She resents him a little bit," Mendes told Teen Vogue. "But she also admires him and wants him to take her seriously." And that need to be respected by her father may influence Mendes in the wrong ways.
"In this season, you'll be seeing her try to become more part of the Lodge family, and her parents keeping her in the dark and keeping secrets from her, because they don't want her to be involved in whatever shady business they're doing," Mendes said. "I think her darkness this season is coming from her willingness to be part of the dark world."
Hiram's dark past affecting his future is something Riverdale creator Roberto Aguirre-Sacasa teased to Entertainment Weekly. "Hiram is a family man, he loves and treasures his wife and especially his daughter," he said. "But there's no denying that we've built up someone who has very dark dealings and who has a criminal past."
Already, Riverdale fans have started asking what's the deal with Hiram Lodge? Some have even come up with some theories regarding Veronica's dad, including that jealousy caused him to take revenge on Fred. When talking to Entertainment Weekly, Aguirre-Sacasa made it clear everyone should be suspicious of Hiram. "The questions will be: Is Hiram truly reformed? What does he want? How does Veronica figure into his plans? How will Archie figure into his plans?" he said.
But, Hiram isn't the only Lodge to look out for. Tumblr user quirkanya thinks that Veronica's mom hired someone to shoot Fred, "because he was involved [with her] too much and not selling his business to her." Basically, the Lodge's are going to play a vital role this season.
Of course, Veronica isn't the only one who is going to the dark side this time around on Riverdale. Archie will be dealing with the aftermath of his father Fred's shooting, while Betty will don that dark wig once again. But, it's more than a new hair color that dark Betty will be dealing with when she returns. Lili Reinhart told Teen Vogue that Betty's mental health will also be tackled by Riverdale in Season 2.
From the beginning of the show, Betty has been "private about her dark side," choosing to keep her stress and anxiety to herself in a way that could be dangerous. This time around, Reinhart told Teen Vogue she hopes Betty will "find a way to communicate her mental struggles to Jughead, or to Archie, or to her mom."
Or maybe Betty could have a chat with Veronica. The two seem to have a lot in common this season.