Even David Beckham Is Starstruck When Meeting A 'Game Of Thrones' Actor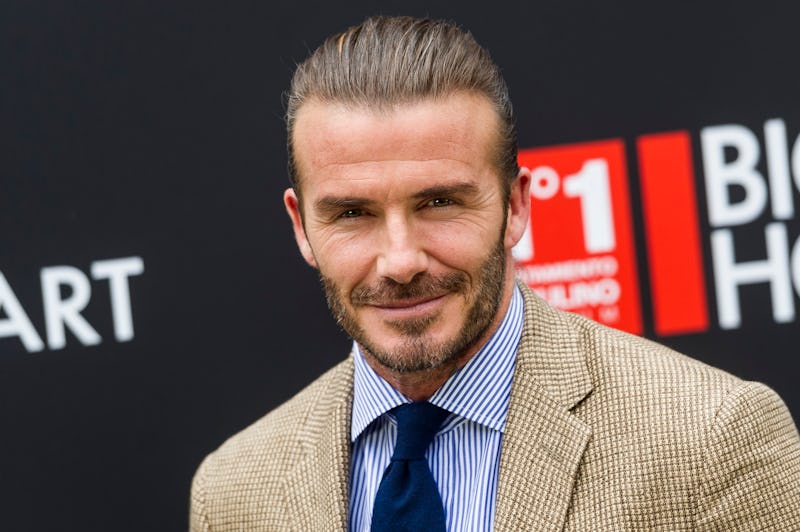 Juan Naharro Gimenez/Getty Images Entertainment/Getty Images
What can leave one of the most recognizable athletes in the world speechless? Meeting Samwell Tarly. On Saturday, David Beckham met Sam from Game of Thrones, and the legendary soccer player had a total fan moment. Thanks to his spoiler-filled Instagram stories during Season 7, Beckham's status as a Game of Thrones devotee is well-documented, but running into John Bradley West took things to a whole new level for the star. The sports icon shared a photo of himself and West on his Instagram page with a caption only an honorary citizen of Westeros could come up with.
Beckham captioned his photo, "This man is a maester, he knows things... Was tempted to ask for a little clue into what's next but was to [sic] star struck." You know he was serious about the moment because he failed to tease any spoilers out of West. As anyone who follows Beckham on Instagram knows, he's not great at keeping spoilers to himself. Throughout Season 7 he faced backlash from U.K.-based Game of Thrones fans who were outraged that Beckham posted details about new episodes on his feed before they had aired across the pond.
The humanitarian never seemed to be spoiling the show for others intentionally. Instead, it felt like Beckham couldn't contain his excitement at seeing new episodes of one of his favorite shows. In short, the man who has a classic teen movie named after him — Bend It Like Beckham — is just like everyone else: completely obsessed with Game of Thrones.
His face upon meeting West says it all. Beckham looks like he's absolutely psyched to meet Jon Snow's best friend. The most adorable part is that West was just as excited to meet Beckham. The Game of Thrones actor posted the photo on his Instagram page as well, only his caption read:
"This just happened!! The one and only @davidbeckham. What more needs to be said? I love this man."
Beckham is a legend in the United Kingdom and around the world. The retired footballer is now known for his charity work and his status as a family man. He and his wife, pop star and fashion designer Victoria Beckham, have been couple goals for more than 18 years. The man is kind of a big deal, but his excitement over meeting West just goes to show that even celebrities are not immune to the charms of Game of Thrones.
Leslie Jones, Kristen Bell and Dax Shepard, Prince William and Kate Middleton — they're all Game of Thrones super fans. In an era where TV is becoming more and more about niche shows, the HBO fantasy juggernaut remains one of the few series that still brings people together once a week to experience the action in real time. Whether you're a celebrity or a regular person, there's an excellent chance that you're invested in Jon Snow's race to defeat the White Walkers, Daenerys and her dragons, and Arya Stark's kill list.
The Beckham and West moment is wonderful not just because of the mutual appreciation going on, but because Beckham's love for the show is a reminder that even one of the most famous people in the world spends their Sundays in Westeros. People are so passionate about Game of Thrones that some of Beckham's followers vowed to hit the un-follow button on Instagram unless he stopped posting spoilers during Season 7. Game of Thrones is serious business — so much so that it has the power to make fans trade in their favorite celebrities just to maintain a pure viewing experience.
Being a fan of Game of Thrones is a basically a way of life, and it's clear Beckham is fully committed to the cause. All that's left now is to get this renowned athlete a guest appearance as a White Walker in Season 8. Come on, HBO, Beckham deserves it.