Even Police Officers Are Wearing These Pink Hats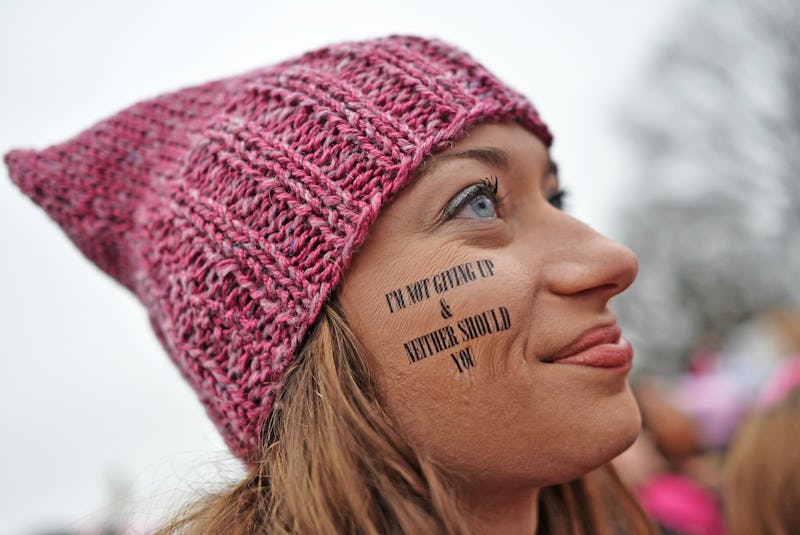 ANDREW CABALLERO-REYNOLDS/AFP/Getty Images
The Women's March happening across the country is not just for women, despite what the name seems to imply. These marches across the country are sending a really powerful message right now about standing in solidarity with one another. There are men marching, there are children marching — it's not just women. And even members of the police force are showing their support. A picture of D.C. police wearing pink hats to show support for everyone participating in the Women's March popped up on Twitter, and it's already going viral — most likely because it sends a really powerful message.
For the record, the pink hats aren't just a cute sartorial choice — there's a lot of meaning behind the headwear. The pink hats with cat ears are also called "pussy hats," and they've been around since November, when the Pussyhat Project first launched. The hats are a symbol of solidarity and, according to one of the project's co-founders, "about women refusing to be erased from political discussion." It's nice to see solidarity from D.C. police, especially given the current climate — it's uplifting to know they have the protesters' backs, and the backs of women everywhere. Plus, the hats just kind of look amazing. Check it out for yourself in the photo below:
D.C. police weren't the only people sporting pussy hats, though. Apparently, officers in other cities hosting sister marches could be seen wearing a hat as well:
It seems like it's safe to say that the pussy hats had the exact impact they were supposed to — you'll be hard-pressed to find an image from the Women's March that doesn't feature one of the bright pink hats. Protesters proudly displayed them across the country. Here are some of my other favorite photos.
1. Nasty Grandmas
I love this picture — it's proof that you don't stop fighting for what's right, no matter your age.
2. So. Many. Hats.
Seeing all that pink is making me all warm and fuzzy inside.
3. It's Like A Sea Of Pink
Solidarity is an amazing thing.
4. Pink Hats On Public Transportation
I love it.
5. Look In The Distance
I like to think that everyone ahead is wearing a pink hat, but maybe that's just me.
6. And Even More
It's pretty awesome.
7. A Flight Full Of Hats
Honestly I kind of want to know what the other 10 people are up to in D.C. today.
8. Celebs In Hats!
Celebrities, they're politically active, just like us.
Hopefully, the pink pussy hats are here to stay — we're all going to need something to cozy up to during the next four years of Trump's presidency.