This 'Bachelorette' Alum Just Perfectly Summed Up Your Halloween Costume Struggles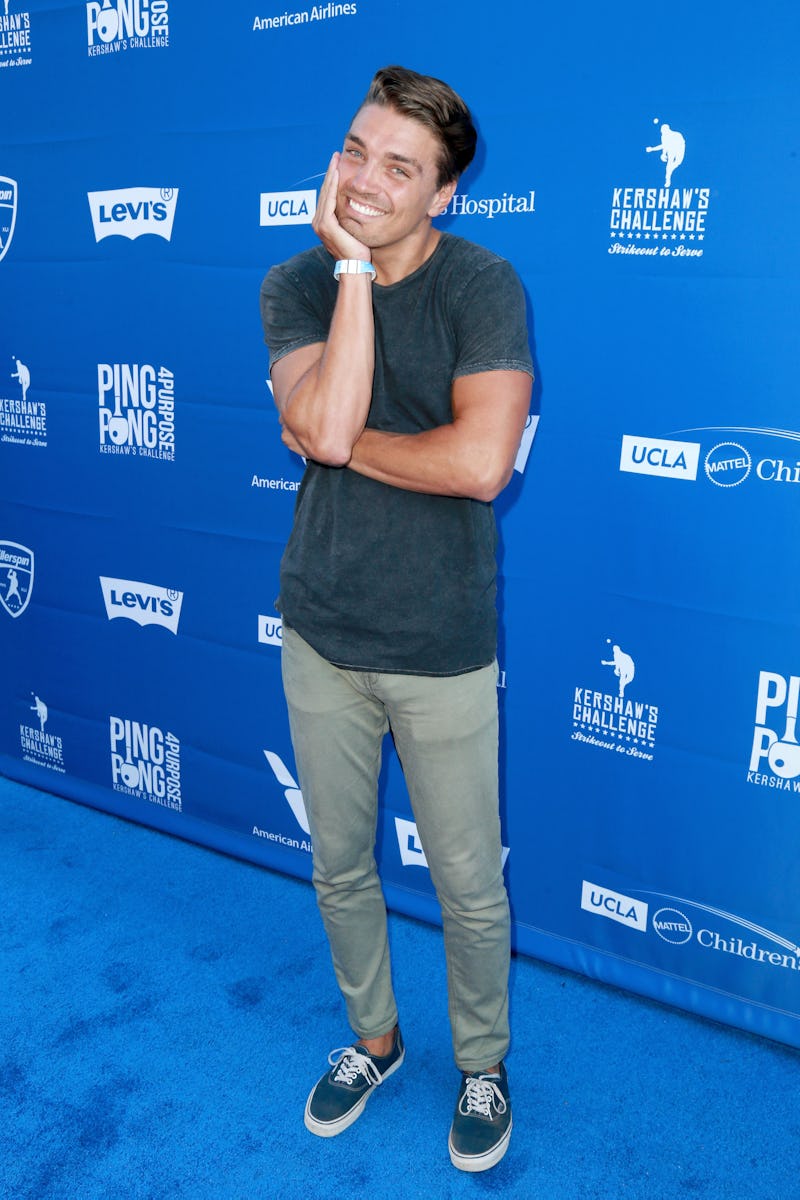 Leon Bennett/Getty Images Entertainment/Getty Images
Everyone who celebrates Halloween should know by now that the festivities surrounding the holiday can end up being just as disastrous as they are enjoyable. Just ask Bachelorette alum Dean Unglert, whose Halloween costume this year perfectly sums up the struggle of knowing that no matter how much effort you might put into dressing up, there's always a chance that your costume might not come out looking exactly the way that you planned for it to.
On Friday night, Dean shared a photo of his Halloween costume via Instagram. The photo in question shows the former Bachelor in Paradise contestant dressed up as a panda — or at least what was supposed to be a better version of a panda, considering the photo's caption that reads, "How you think your Halloween costume is gonna look >>> how your Halloween costume actually looks." He followed that up with three panda emojis to drive home the point, just in case any of his 800,000 followers happened to be confused about what to make of it.
Ah, yes, Dean. Finally, someone who gets it. There's nothing worse than spending weeks planning out your Halloween costume in your head, only for you to find yourself not looking how you pictured you would when the big night finally comes along. His costume proves that everyone (yes, even you) has experienced a Halloween fail at some point.
In Dean's defense though, it's not like anyone should have had high expectations about his Halloween costume anyway since he's not exactly known for being one of the many celebrities who go above and beyond when celebrating the holiday every year. These are people who employ entire hair and makeup teams to literally transform themselves into some of the most outrageous-looking characters imaginable using all sorts of crazy techniques.
Just look at all the celebs who are known for topping themselves every year despite how utterly insane all of their costumes are. Colton Haynes, for instance, dressed as a scandalous Ursula from The Little Mermaid back in 2015. He outdid himself this year though, with this Marge Simpson costume that's equal parts terrifying and sexy.
There's also Kim Kardashian and her bestie Jonathan Cheban, who replicated Sonny and Cher's look at the 1973 Academy Awards with their stunning custom-made ensembles. Even Cher herself approved, tweeting, "Woke To See You Are Me 4 [pumpkin emoji] You Look BEAUTIFUL Little Armenian Sister."
And, since we're on the topic of costumes, it would be completely unfair to leave out the Queen of Halloween herself, Heidi Klum.
So, yeah. Halloween is taken to the extreme and tends to be a bit intense when celebrities do it. It takes a lot of hard work and a lot more dedication to get a costume to come out looking like the exact thing you're trying to replicate. And even though Dean's look may not have turned out exactly how he planned, it's not like his panda costume was that hard to figure out, given the giant bamboo sticks and the costume set itself. No one ever said that dressing up as a panda required one to be able to pay great attention to the details, and Dean makes an adorable panda either way.
And at least a panda suit isn't the only costume he found himself sporting this year. He made an appearance on Andrea Russett's weekly talk show Apologies in Advance, where he dressed up as an astronaut. In the caption, Dean wrote, "Thanks to @andrearussett for letting me live my childhood dream of being an astronaut, bobbing for apples, and being a zombie all in one day. And to @rachelsafety for being the best bartender out there (sorry @wellsadams) #apologiesinadvance."
Halloween weekend isn't over yet, so there has to be at least one more costume for fans to expect from the former Bachelorette star. And considering how his panda costume turned out on Friday, Dean will probably try and up the ante with his next outfit to redeem himself a little.